Long-Term Unemployment Benefits Just Expired—Here's Which States Will Get Hit Hardest
California and New York are two of the biggest losers now that 1.3 million people have lost their long-term unemployment benefits.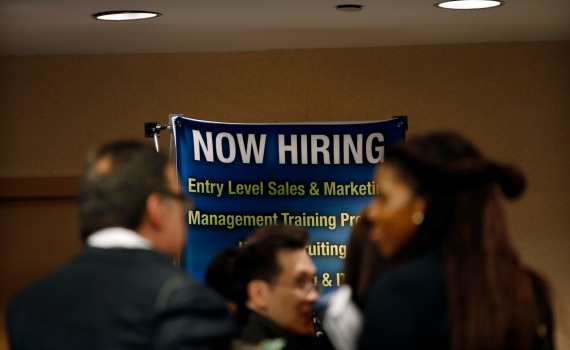 Reuters
On December 28th, 1.3 million people lost their long-term unemployment benefits. Over the next year, 4.9 million people will get fewer benefits than they otherwise would have.
And there are still nearly 3 unemployed people for every job opening.
When the economy imploded in 2008, Congress gave the unemployed a longer lifeline. It increased jobless benefits from a maximum of 26 to as many as 99 weeks. That time limit has since fallen with the unemployment rate, but things are still bad enough that there were states where you could recently get as many as 73 weeks of benefits.
No more. Republicans are refusing to extend these extended benefits any longer. They think we have to get benefits "back to normal" even if the economy isn't—that taking benefits away will give the jobless a needed swift kick in the you-know-what to go get a job.
That's why Republican-controlled North Carolina cut its unemployment insurance (UI) program last year from a maximum of 43 to just 19 weeks. As J.P. Morgan's chief U.S. economist Michael Feroli points out, there is some evidence this forced people to be a bit less picky, and take jobs they didn't like. But, as Evan Soltas counters, there's more evidence that more people still couldn't find work, and gave up trying to find any. After all, companies won't even look at the resumés of the long-term unemployed. So the only reason they had to keep searching was to qualify for benefits that required them to. Take those benefits away, and you take those people away from the labor force.
Now Republicans are turning the rest of the country into North Carolina. As you can see in the chart below from the Wall Street Journal, states like California, Georgia, and New York, among others, will get hit the hardest now that benefits are capped at 26 weeks. They had the highest percentage of people on extended benefits, and now they have the highest percentage of people on their own who employers won't hire.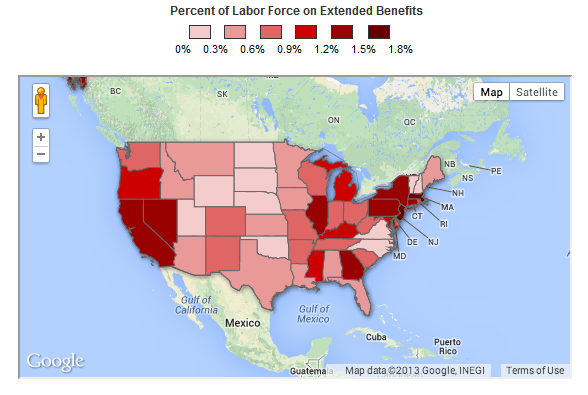 So don't be surprised if unemployment falls fast in 2014 as the long-term unemployed who have lost their long-term benefits drop out of the labor force. But don't mistake this hard-hearted policy for a real recovery.