Everyone You Know Really Did Just Get Engaged
A third of all engagements happen between Thanksgiving and New Year's Day. Here's why.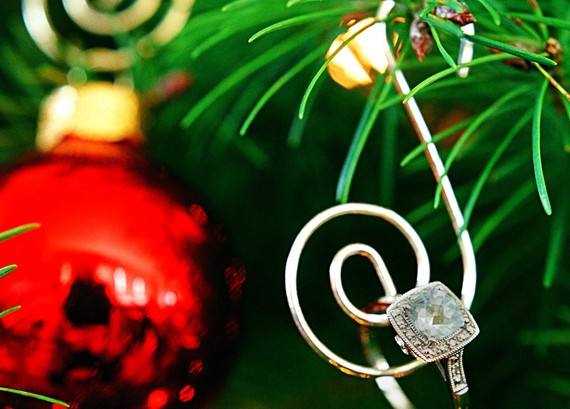 Among the photos of presents, parties, and booze-reddened relatives, another common theme seems to have emerged on Facebook in the past few weeks. A sizable chunk of my female friends, at least, have recently posted images of themselves grinning while holding up a jazz hand with a ring on it.
"Doesn't it feel like everyone is getting engaged right now?" a friend from home asked the other night.
It feels that way, it turns out, because they are.
According to WeddingWire, 33 percent of engagements happen between Thanksgiving and New Year's Day, making every January look a lot like Christmas for wedding planners, venue owners, and bridal shops facing a rush of newly engaged couples.
Jewelers, too, love the end of the year: They make 36 percent of their yearly sales from October through December, according to the Commerce Department. As the chart below indicates, there's a slight uptick at Valentine's Day, but the real spike in ring shopping occurs in late fall and early winter: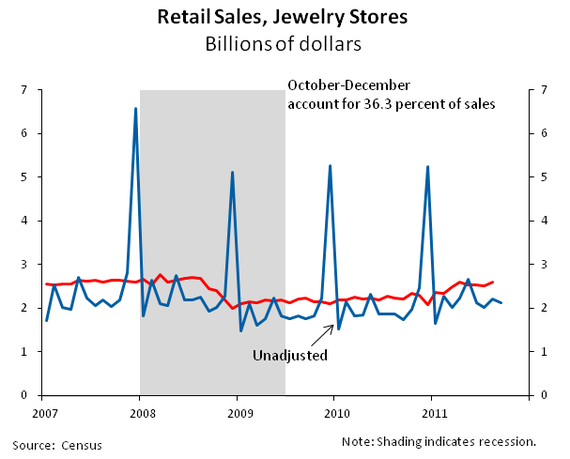 And according to the diamond purveyor IDEX, December is the biggest month for diamond engagement rings, with 12.3 percent of all sales:
So why are the coldest months so hot for proposals? One popular theory — let's call it the Love Actually Postulate — suggests that it's the season's cozy, twinkly atmosphere that prompts dramatic acts of romance. Others think it's because men like to pop the question when friends and family already gathered, to better share in the joy. Other, more pragmatic explanations hold that, because proposals take a while to plan and pull off, a few extra vacation days come in handy, or that Christmas bonuses make buying a $5,000 ring a bit easier.
On that note, it's worth mentioning that engagement rings were originally designed to function as somewhat of an insurance policy for the woman. Diamond rings didn't become popular until after the Great Depression, writes George Mason University law professor Margaret Brining. At the time, women had few economic opportunities outside of marriage, so a "breach of promise" lawsuit "entitled a woman whose fiancé had broken off their engagement to sue him ... for damages, including the actual expenses she had incurred in reliance on the marriage. She might also recover for her embarrassment, humiliation, and loss of other marriage opportunities." But by 1945, most states had banned breach of promise lawsuits, so women needed a new way to ensure their beaus followed through on engagements. Around the same time, DeBeers launched its "a diamond is forever" campaign, and Americans, spooked by bank runs, began to prefer storing their assets in physical goods rather than currency.
Engagement rings no longer serve this type of down-payment role, so perhaps modern men are just trying to save some cash by rolling future Christmas and anniversary gifts into one.
Interestingly, the holidays are also the slowest time for actual weddings—most of those occur in the summer months. And while most breakups occur in the early spring (during college Spring Break) or in late November/early December, if you actually make it to Christmas, you'll enter the statistically least-likely time of the year to end a relationship. The happiest—and bling-iest—season of all.