Why Washington's Growing Irrelevance Is Good for the Country
Congress will pass an utterly mediocre budget that won't save or torpedo the country and which neither party loves or hates. This is as it should be.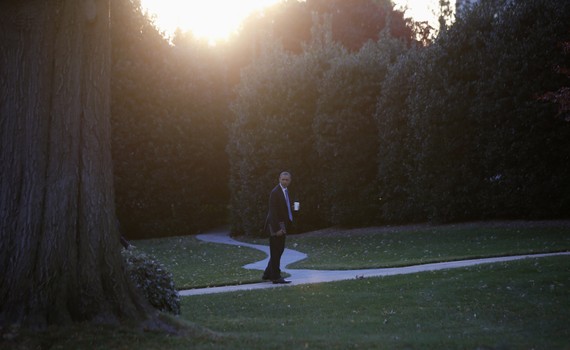 After three years of sclerosis, Congress is poised to at last pass an actual budget. We've been so consumed with the dysfunction of the parties on Capitol Hill that this feat appears significant. In fact, it should be routine. Yet in the context of the past few years, it is anything but.
The budget that passed the House still must wend through the Senate, and it is not exactly a study in legislative daring. It is, however, an actual budget, passed with substantial support from both parties by a vote of 332 to 94 and negotiated by two leaders, one from each party and each chamber — Representative Paul Ryan (R-Wisconsin) and Senator Patty Murray (D-Washington). The bill is the most modest endorsement of the current status quo, which stems from both the automatic and crude 2013 budget cuts known as the sequester, and from the chronic inability of either party to compromise over the past three years.
Even though the only real change over current spending is a modest $60 billion increase (meager in relation to the $15 trillion-plus U.S. economy), conservative groups still condemned it as too profligate and liberal groups assailed it as too draconian. Said Ted Cruz, who may be having mild limelight withdrawal, "The new budget deal moves in the wrong direction: it spends more, taxes more, and allows continued funding for Obamacare…I cannot support it." Paul Krugman argued the contrary — that the bill is too meager, and does nothing to address the problem of structural, chronic unemployment. Writes Krugman: "if you look at what has happened since Republicans took control of the House of Representatives in 2010 — what you see is a triumph of anti-government ideology that has had enormously destructive effects on American workers."
Partisanship aside, it's tempting to look at the budget deal in one of two ways: our political system has fallen so low that just doing the minimum amount required to be a functional government is seen as a victory, or the fact that it took three years to pass a budget that essentially makes no changes is proof that the system is broken.
A third perspective is even closer to the mark — and cause for optimism. Namely, that both parties' willingness to pass a budget that no one much likes is a sign that Washington neither can nor will torpedo the country. It is a sign as well that Washington neither can nor will save the country. That's a far cry from an activist government doing good, or a small government doing much less. But it should come as a positive sign.
The self-created Washington crises over the past years have created an image of government as the vital actor on the American stage. But these crises have failed to either impede or energize economic activity, and they have led large numbers of Americans to tune politics out. In the New York mayoral race, for instance, voter turnout was 24 percent, which appears to have been a record low. Similar numbers were seen in New Jersey and Virginia. The political class, from Washington to the local level, has managed to alienate voters and make government less relevant, except in its ability to spy on citizens and manufacture crises.
The result of the budget deal is to remove crisis from the agenda in 2014. Yes, the debt limit still has to be raised in February, but it is difficult to see Congress refusing to increase the limit on a budget that it passed. Crisis also creates a negative feedback loop with partisans such as the Tea Party and the media. You need crisis to fuel passion, and donations to the cause, and you need crisis to justify media coverage.
As proof, notice how little attention the budget deal received in the media, relative to October's government shutdown — which dominated the news and the airwaves. The budget deal didn't even merit a page one story in the New York Times when it passed in Congress.
And for all of this, we should be thankful. In an ideal world, we would be served by a political system of noble legislators attending to the public good with dignity and passion. There are many such individuals throughout government, on the local, state and federal levels. But Washington has become a morass of a system, and expecting and demanding the locus of societal change to emanate from that system is unrealistic and counterproductive. Lowering the volume, shifting the focus away from the goings on of government, and turning to what is happening outside of that realm, in a world teaming with billions of new entrants to the middle class and hundreds of millions of Americans navigating a changed workplace without daily reference to government, that is all for the best.
---
This post originally appeared on Reuters.com, an Atlantic partner site.