The End of Retail Is Overrated
The convenience of e-commerce is valuable. But even our most digitally savvy shoppers prefer shopping in stores.
Take a guess: What percent of total U.S. retail comes from online sales? With all the talk of brick and mortars shuttering and Amazon eating the world, you would think this number would be something like 20 percent, or at least in the double digits.
It's not. It's more like 6 percent. E-commerce has nearly doubled since the end of the recession, but as a share of the entire retail industry, it's still just a sliver.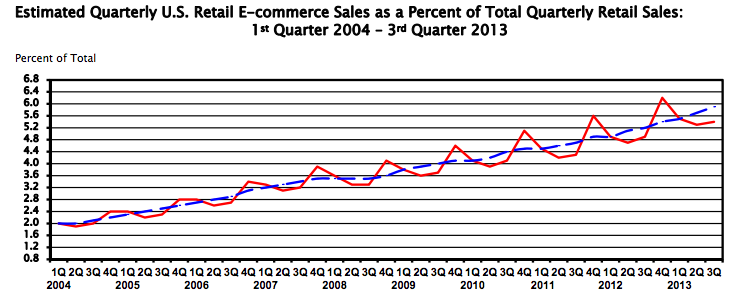 One reason for this is that there are still some big things you just don't buy online. Cars, car parts, gas, and food are among the largest retail categories. These are areas where e-retail companies are either uncompetitive, or not even trying to compete. Meanwhile, the classic brick and mortars have had trouble competing in smaller categories, like books and electronics, small durable goods that are easy to ship, and don't require the same sort of tire-kicking as, well, cars with tires.
The other reason is that, although stores can't compete with the convenience and easy browse-ability of a smartphone app, they still offer something that websites and apps don't, which is a fully social experience.
Teenagers, who can't possibly have a vestigial fondness for the days before smartphones and Amazon because they weren't yet alive, offer an interesting lesson. The vast majority of teens shop online—nearly 80 percent for both girls and boys. But an equally vast majority of teens prefer shopping in stores—nearly 80 percent, again.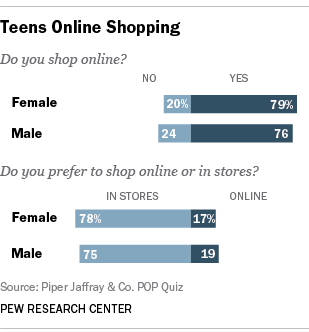 "In many ways, teens represent the leading edge of mobile connectivity, and the patterns of their technology use often signal future changes in the adult population," said Mary Madden, Senior Researcher for the Pew Research Center's Internet Project. But despite the optimism for a future that moves beyond the four walls and show-floors of stores, tech-savvy teens widely prefer the brick-and-mortar experience. 
There are stories that make the "end of retail" seem inevitable, like the growing dominance of Amazon and the race for one-day-delivery. But the reality is complicated by the fact that most people actually prefer the in-store shopping experience.