The Anatomy of a Cyber Monday Hustle
How fake prices can make it seem as if you're getting a deal, when you're really paying full price
Last year, my wife received a fancy blender as a thank-you gift for delivering a lecture. The Breville BBL605 XL is a nice blender with a built-in smoothie setting and everything.
When my dad came to visit, he employed this smoothie setting and was delighted with the results. (He makes a lot of smoothies.) So, I figured I'd get him his own Breville BBL605 XL for Christmas.
Like a good American I thought I might get a Black Friday/Cyber Monday deal on the blender this weekend. So, I popped the model number into Google.
Instead of a bargain, I found a Macy's hustle. It highlights the way retailers use the hype around these imaginary shopping holidays to dupe consumers into paying full price while they think they're getting a deal.
Here was the blender in Macy's mobile catalog on Friday: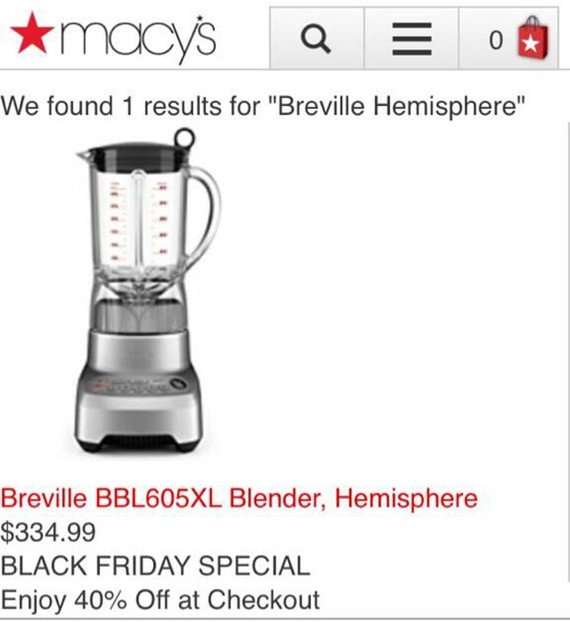 There are two things to notice:
1) Holy moly, this is an expensive blender!
2) And yet, a 40-percent discount seems like a lot! ​I did the math really quickly: 334.99-(0.4*334.99)=$200.99
Sorry, Dad, even with the discount, you're not getting a $200 blender. But hey, it seemed like a good deal.
At least until I googled around a little more for the blender. Every other store on the Internet was offering the same item for $200 or less!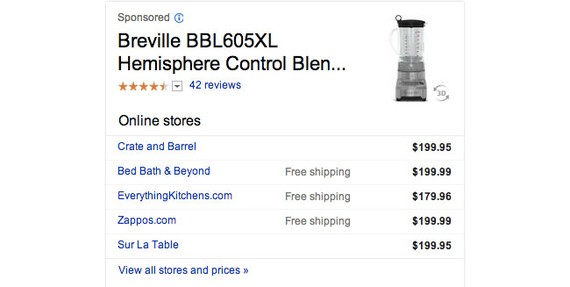 I went to Macy's again this morning on my computer (out of spite). Of course, the supposed Black Friday deal was not a Black Friday deal. And I noticed a link that wasn't available on the mobile site. It said, "Pricing Policy."
"'Regular' and 'Original' prices are offering prices that may not have resulted in actual sales, and some 'Original' prices may not have been in effect during the past 180 days," it read (emphasis added).
In other words, they may not have sold a single blender at $334.99 and they may not have even tried to price the blender that high. To call the price "Regular" is a lie. And they think they can tell it because they've added this link.
Perhaps they should change the name of the Pricing Policy to "Caveat Emptor."
If you still want to bargain hunt, I'd stop doing the research yourself and trust the folks at The Wirecutter, who are hand-selecting the best (real!) deals right now.