Stereotype, Fulfilled: 70% of Millennial Guys Say They'd Like to Be Your Boss
But don't worry, eventually reality will set in.
Pew is out with a giant survey of American attitudes about gender in the workplace, and it's full of all sorts of interesting nuggets on issues like discrimination and work-life balance. But for the time being, I couldn't resist pulling out this one chart, which seems to handily confirm every cliche you've heard from a hiring manager about young workers.
Practically all Millennials, it seems, really do want to be the boss. Among men who aren't already in charge at their jobs, 70 percent would like to be one day. Among women, it's 61 percent.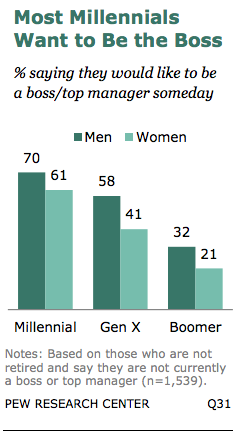 So we're ambitious little buggers. But are we more ambitious than previous generations were in their salad days? That's harder to say. One reason of the chart up above looks so lop sided is that many Gen Xers and Boomers who once aspired to be the boss now already are.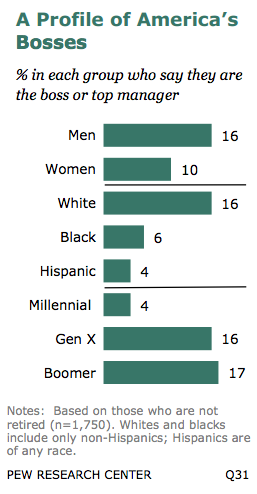 Moreover, research by the Families and Work Institute that both men and women become less likely to seek additional responsibility as they age, with a big drop off in their mid-to-late thirties, as children and family life take over (i.e., they lean back). Millennials may be irritatingly eager now, but we'll probably cool off in a few years, just in time for Gen Z to start gunning for our jobs.