Paying Food-Stamp Recipients to Eat Healthier Fare
One way to revamp the food-stamp program, which Congress is now debating, is to financially reward those who buy more fruits and veggies.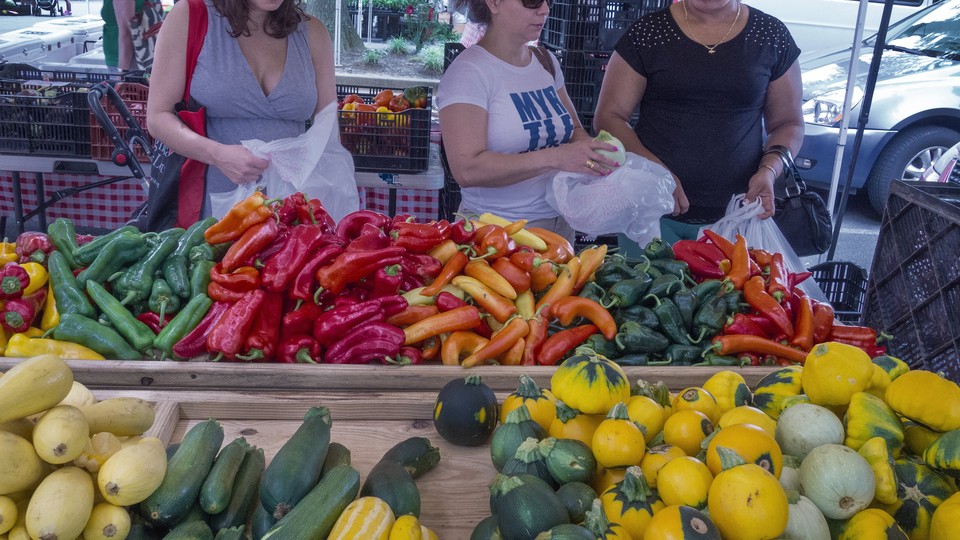 On a brisk fall day, 40-year-old Amelia Ojendis boarded the subway to travel across the District to buy vegetables. Clad in a winter hat and puffy coat, she clutched paper coupons and wound her way through the stalls of the farmers market.
She used the coupons to buy two bags of fresh produce like broccoli and zucchini — food that has helped to make her family healthier, she says, especially her kids ages 16, 12, 10, and 2. "It actually helped lower their weight," she explains in Spanish, as her 12-year-old daughter translates.
Ojendis began buying produce at the farmers market in Columbia Heights after she learned that it accepted food stamps, formally known as Supplemental Nutrition Assistance Program benefits. But her local market offers an even better deal than that. It matches Ojendis's purchase of healthy food dollar-for-dollar, up to $20 per visit, thanks to a grant from a Connecticut not-for-profit. So if Ojendis spends $10 of her SNAP benefits on zucchini and carrots one Saturday, then the local farmers market gives her an additional $10 to spend on more fruits and vegetables. "It helps people stretch those limited dollars," says Josh Levine, the market manager at the Columbia Heights Community Marketplace. The program also helps small local farmers by expanding their base of customers and boosting sales.
Giving low-income people more money to spend on healthy food (as well as financial incentives to eat better) is the brainchild of an unlikely pair: a former government bureaucrat and a James Beard Foundation award-winning chef. Gus Schumacher served as an under secretary of Agriculture under President Clinton and worked on food policy for the World Bank and the state of Massachusetts. His cofounder, Michel Nischan, owns a restaurant in the tony town of Westport, Conn., and frequently appears on TV cooking shows. Both men come from families of farmers.
"There is no question that the SNAP budget per family disallows people from getting anything healthy on a regular basis," Nischan says. "People in underserved communities want better food. They just can't afford it."
Together, these two launched a not-for-profit in 2007 called Wholesome Wave, dedicated to helping people of all socioeconomic classes eat better. The group is headquartered in Bridgeport, Conn., a former industrial city along the coast. One year after founding the organization and at the height of the recession, the not-for-profit launched a pilot program to give grants to local community centers and farmers markets to run a dollar-for-dollar food-stamp matching program.
Schumacher modeled it after a similar program, which he helped to develop and launch, that allows low-income women with infants or small children to spend their government-backed WIC checks at farmers markets in an effort to urge them to eat more nutritious food. It's a program that still continues today.
Now, the Wholesome Wave double-value coupon program, as the founders call it, has expanded to 24 states and the District of Columbia and is honored at more than 300 farmers markets. Donors to the not-for-profit include a number of foundations and other not-for-profits such as Newman's Own, as well as health insurance companies including Kaiser Permanente and Blue Cross Blue Shield of Massachusetts, according to the group's 2011 IRS documents.
Part of thinking is that it is more cost effective in the long run to give people money to buy healthy food than it is to treat people, years later, for obesity-related health problems.
The success of the Wholesome Wave program comes at a time of hand-wringing over the future of food-stamp funding. Congress is haggling now over the latest iteration of the massive farm bill, which funds SNAP. Few political observers think that Congress will add any additional money to the program, since the cuts being proposed by both Democrats and Republicans range from $4 billion to $10 billion over the next decade.
Already, food stamp recipients saw cuts to the program in early November when extra stimulus funding expired. Many conservatives argue that the food-stamp program contains waste and that some of its functions should be taken up by charities and churches instead of the federal government. Food-stamp proponents like Schumacher worry about any attempts to scale back the program at a time of great need. "The food banks and charities cannot make up the difference," he says.
While this debate occupies lawmakers in Washington, the number of people on SNAP remains at an all-time high. Forty-seven million people, or one out of every eight families, took advantage of the food-stamp program in 2013, during a sluggish economy. An average family receives $275 a month in benefits, while a single person receives $133, according to USDA data.
Wholesome Wave is not the only organization to hit on the idea of tweaking the food-stamp program to encourage people to buy healthier food. The USDA launched a one-year pilot program in Massachusetts from 2011 to late 2012 to test another novel idea. It gave some SNAP recipients a rebate of 30 cents for every SNAP dollar spent on fruits and vegetables. The extra money went back on the electronic card that people use as a payment method for food stamps. A preliminary USDA evaluation, released in July, cast the program as a huge success. SNAP recipients reported a 25 percent increase in their consumption of fruits and vegetables largely because they said the rebate made this food more affordable.
Professor Diane Whitmore Schanzenbach of the Hamilton Project wants to take this idea even further. In a new research paper, she advocates that the federal government should give rebates to all SNAP recipients for healthy purchases at any grocery store, not just farmers markets. "A really important piece of this is that people can buy food where they normally shop," she says.
Still, these innovative programs represent a tiny fraction of all of the food stamps being redeemed in America. The Wholesome Wave double-value coupon program serves 40,000 people at a cost of roughly $1.7 million, according to the not-for-profit's latest data, whereas the USDA's SNAP helps to feed 47 million Americans at a cost of close to $70 billion dollars.
Back at the Columbia Heights farmers market, Ojendis finishes her shopping. A nearby couple debates which type of squash to buy. Farmers, bundled in fleece and hats, sell apples, tomatoes, and herbs.
The double-value coupon program has been so popular at this particular market that the Wholesome Wave grant could not keep up with demand. The market ran through its $8,000 by the end of September, yet it continued to give people like Ojendis extra cash to buy fruits and vegetables through local private donations, raised for the holiday season.
By eating better, Ojendis hopes that she, her kids, and her husband, who works as a cook, will not face health problems. Already, they've shifted their diets by cutting out white bread and eating vegetables for dinner. "This has changed the way we eat," Ojendis says, before she walks back toward the metro and returns home with her two grocery bags bursting with fresh produce.