McDonald's to Its Minimum-Wage Workers: Here's How to Tip Personal Trainers and Nannies
By now, you'd think that McDonald's would have learned the perils of offering its workers financial advice. First there was the PR flap when it handed out a budgeting guide that suggested employees would need two jobs to survive. Then there was the help-line where franchise staffers could learn how to apply for food stamps.
But, apparently the lesson hasn't sunk in. Yesterday, as fast-food workers around the country went on strike yet again to demand a living wage, CNBC reported that McDonald's had published an etiquette guide on a company website full of advice from Emily Post on how families should tip their help during the holidays. If you were a McDonald's worker with a pool cleaner, a personal trainer, or massage therapist, corporate had you covered.
After the story ran, the guide was removed, but here's a screenshot courtesy of Time. (More after the image).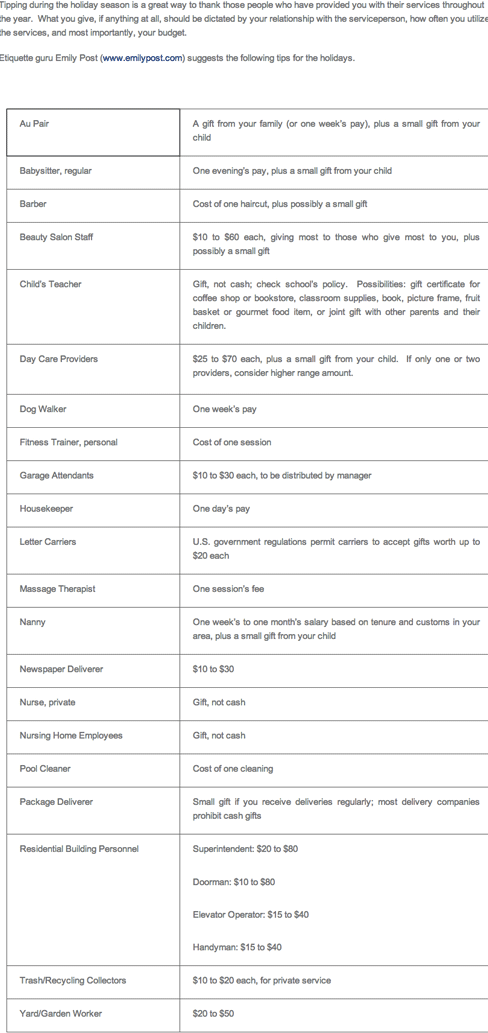 Let's acknowledge the obvious: Someone in the vast universe of McDonald's employees has a landscaper they need to tip. What's bizarre is the tone-deafness. McDonald's says the content was provided by a third party, but presumably someone inside the company vetted it (if not, why not?). And the same way telling employees to apply for federal welfare benefits, while thoughtful in its own way, looks terrible when your entire business model is identified with low wages, telling a cashier how to properly tip their dog walker comes off as callous.  It sounds like human resources telling is telling the company's entire low-wage workforce to go eat cake (bought, presumably, with food stamps).