Six of the ten richest counties in America are in Virginia and Maryland, clustered around the Washington, D.C., metro area. Six of the ten poorest counties in America are in Mississippi or Kentucky. These figures, from the Census, are in median household income dollars.
To be clear, this isn't telling you that the richest people in America live one commute from D.C. In fact, parts of Connecticut, New York, and California are much, much richer than the richest parts of the Greater DC Area. Instead, it's telling you that these counties, of varying sizes, have the highest median income, because there is a striking concentration of high-earning (if not quite vertiginously rich) households around the district.
On the Virginia side, Falls Church City (#1 richest county in the country) is enveloped by Arlington (#7) and east rim of Fairfax County (#5), which borders Loudoun (#2) on its west side. From Loudoun, you pass south through Prince William (#13) to Stafford (#9).
In Maryland, encircling Washington, you have, clockwise from the noon position, Montgomery (#12), Howard (#4),  Anne Arundel (#24), Calvert (#23), St. Mary's (#29), ​and Charles (#18). All of these counties border each other, forming a kind of reverse-C (or Hebrew Fe) around the District. 
And here's what that word picture looks like in an real picture (note: some of the counties here, like Falls Church City at #1, are too small to appear at this zoom level).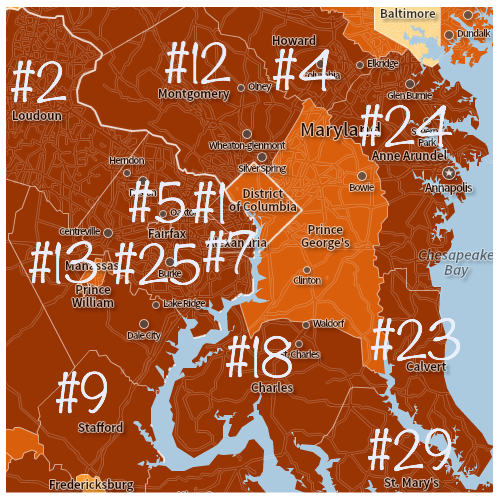 In sum, six of the top ten richest counties are in two states (as are nine of the top 20) and, even more impressively, 13 of the top 30 richest counties form a continuous circle around the nation's capital.
To see median household income and more in your own state, county, and neighborhood, check out Census Explorer. 
We want to hear what you think about this article. Submit a letter to the editor or write to letters@theatlantic.com.
Derek Thompson
is a staff writer at
The Atlantic,
where he writes about economics, technology, and the media. He is the author of
Hit Makers
and the host of the podcast
Crazy/Genius
.