LinkedIn combed through 259 million profiles and ranked the most commonly used words among 20 countries. Number one was responsible, which was twice as popular as any other word on the list. Here are the top ten:
1. Responsible 
3. Creative  
4. Effective
5. Patient
6. Expert
7.  Organizational  
8. Driven
9. Innovative 
10. Analytical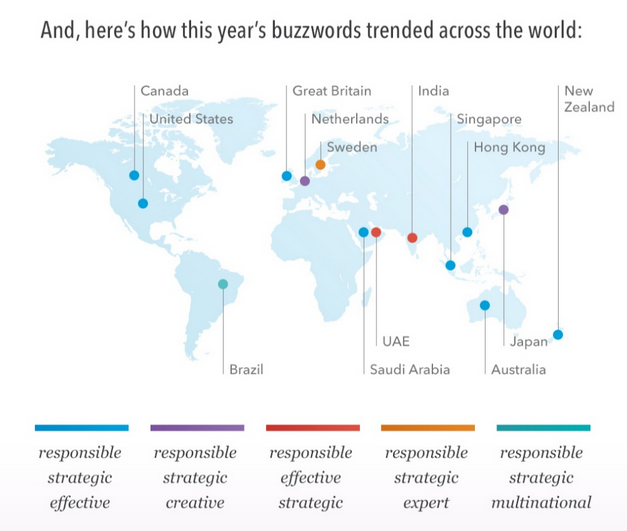 The most interesting finding? Patient, the fifth most-used word, appears in the top ten in just one country: ours. In fact, American profiles mention patience so much that we account for 50 percent of its worldwide mentions. Either we are uncommonly patient, or we think our fellow Americans are so impatient that it's a distinguishing quality. (The latter, certainly.)
Sustainable only made the top ten in the Netherlands. Enthusiastic only made the UK's list. Passionate is top-ten only in Australia and New Zealand. 
LinkedIn's report calls these words "overused." But the trouble with responsible is that it (a) is an essential quality, and (b) has no obvious synonyms. Trustworthy? You sound like an exceptional pet dog. Dependable? You sound like a car service, or perhaps a light bulb. Sensible? You sound like a moderately priced shoe. Mature? Just ... no. Update: As some pointed out on Twitter, many of the uses of responsible are probably job descriptions—as in "I was responsible for managing accounts for etc., etc."—which has even fewer applicable synonyms. 
We ought to be more patient with responsible.
We want to hear what you think about this article. Submit a letter to the editor or write to letters@theatlantic.com.
Derek Thompson
is a staff writer at
The Atlantic,
where he writes about economics, technology, and the media. He is the author of
Hit Makers
and the host of the podcast
Crazy/Genius
.