How to Make Money off of Internet Romance
Dating apps aren't just for hook-ups anymore: Some startups say they can compete with love factories like eHarmony and Match.com. Is there a business model to prove it?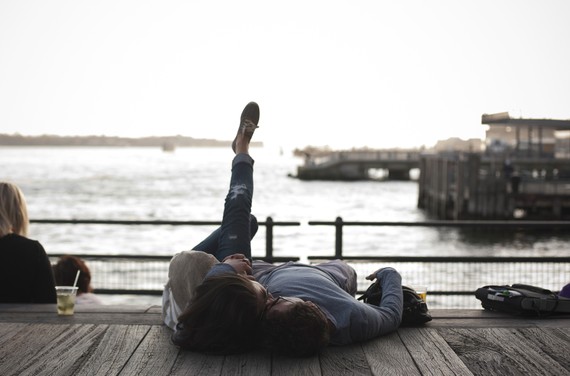 Reuters
Two billion dollars. That's how much online dating companies are expected to make in 2013 by helping lonely hearts find love on the Internet. The industry has been growing steadily for half a decade, so it's no wonder that older digital yentas like Match.com and eHarmony.com are seeing competition from app startups like the enthusiastic Let's Date, the gay and bisexual service Grindr, and the somewhat-forward Down (if you must ask the question "to do what?", maybe you're better off sticking with eHarmony). A number of these kinds of apps have earned the reputation of being meant for hook-ups rather than dating, whereas eHarmony and Match.com emphasize just the opposite: Both sites often crow about the number of marriages that started on their sites.
Hinge wants to be somewhere in the middle. It's a "social app" that helps people find and rate friends of people they know on Facebook, which they say is better than the free-for-all on sites like OkCupid. "Our goal is to create more high-potential first dates," said the company's founder, Justin McLeod, at The Atlantic's forum on small business on Wednesday.
Since potential dates share mutual friends, there's less of a risk involved in going out, McLeod argued. That means less time online and more time holding hands on cute, wobble-filled ice skating adventures or going on my personal dream date.  "You can stare at someone's dating profile forever but know within the first five minutes of meeting them whether it's going to be a fit," McLeod said.
For those wary of online creepers, the Hinge model seems appealing—it's like meeting a mutual friend at a dinner party, but on your phone. Investors certainly see a business potential: The company raised $4 million this fall. But their model is actually surprisingly hard to execute well.
"No one wants to say, oh, check it out, I just joined this dating site."
"Getting enough people in the room all at once that it has a critical mass—it's hard," McLeod said. "And when you limit it to friends of friends, it's even harder, especially in an industry where no one wants to talk about it—no one wants to say, 'Oh, check it out, I just joined this dating site.'"
But the company has managed to build a following. When the app first launched, people who got a match would receive an intro email from the intern, Sophie, who even made suggestions about where they might want to go on a date. Sophie's taste may be impeccable, but that won't work any more: 100,000 people now use the app in D.C. and New York.
So the question is, how can Hinge make money off of its massive online cocktail party? Traditionally, dating services have relied on two different business models: subscriptions and ads. But McLeod hinted that Hinge is looking at other ways to make bank off of online love.
"There are some things we're trying to prove over the next 12 months. One is that we can replicate what we've done in New York and D.C. and do it in a bunch of other cities," McLeod said. "The second is ... to build an efficient business model, which probably won't actually be advertising, and it won't be subscription—it will actually be a sort of in-app purchase."
McLeod was coy about providing more information, but he promised big things. "It's actually kind of a different model than what's been previously out there," he said.