How Paul Ryan Won the Budget War—in 1 Chart
Compromise prevailed in Washington only because both sides agreed to accept a conservative budget.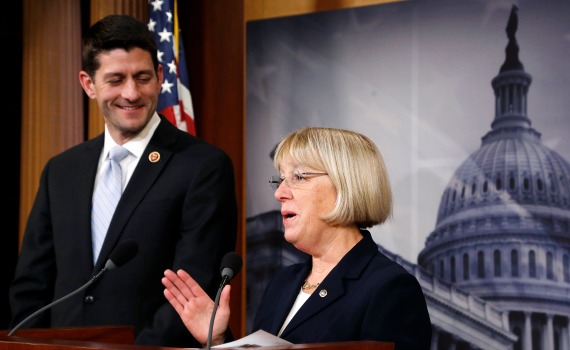 Reuters
The budget wars are over, and the austerians won.
They won despite being wrong about everything. We aren't Greece. Austerity doesn't help the economy grow. The bond vigilantes aren't coming for us if we don't cut Social Security. And there's no magic debt tipping point, above which growth disappears. No really, there isn't.
But they still won. They won because counter-cyclical fiscal policy is counter-intuitive. Because it's easier to convince people the government needs to act like a household and tighten its belt now, rather than loosen it. And because there's nothing Washington's professional "centrist" class loves more than a bipartisan deficit deal—preferably one that cuts Social Security and Medicare. As Ezra Klein points out, deficit reduction is the one thing that ostensibly neutral reporters can, and do, cheer for. As far as official Washington is concerned, it's beyond argument that balancing the nation's books is always good.
But I put scare quotes around the word centrist, because it's mostly a centrism of politics, not policy. It's about compromising for the sake of compromise. So if one side keeps moving further and further, say, right, they can eventually get a "compromise" that gets them more than they asked for at the beginning.
Like with the budget. You can see that in the chart below from Harry Stein and Michael Linden of the Center for American Progress that looks at proposed spending levels the last few years. There's been so much austerity that the new Patty Murray-Paul Ryan deal would actually have less discretionary spending in 2014 than Ryan's original budget called for.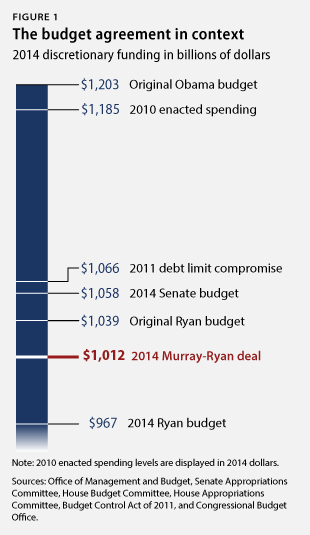 As Loren Adler of the Committee for a Responsible Federal Budget points out, the Murray-Ryan deal does have more non-defense discretionary spending than Ryan wanted. He wanted to boost the defense part of discretionary spending, and cut the rest—things like roads, research, and education—to absurd lows. So he didn't get it all. But he did get a lot. Non-defense discretionary spending will soon be lower than it was in 2008. And that's before adjusting for inflation. If we do adjust for inflation, that's an 8 percent real cut, deflated by core PCE, to the kind of spending the economy needs to grow long-term.
In other words, the austerians won, and the economy lost.