How One Mayor Pulled Back His City From Potential Bankruptcy
Providence's mayor tamed his city's money problems in just one term. Will that propel him to statewide office?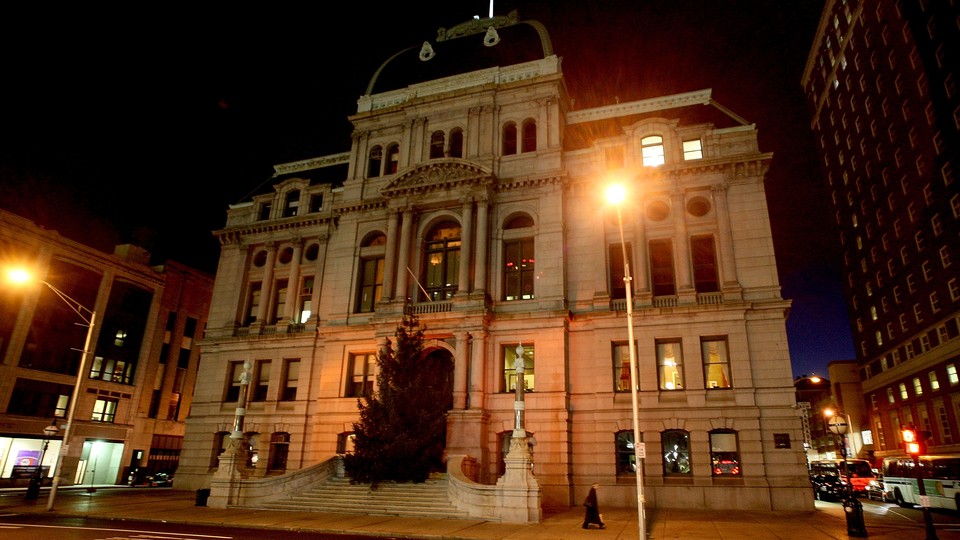 This article is part of a weeklong America 360 series on Providence.
PROVIDENCE, R.I. — Angel Taveras had been in office barely eight weeks when his chief of staff walked in with the news. Michael D'Amico had just come from a somber meeting with the city's municipal finance review panel. D'Amico sat in the ancient couch in the mayor's second-floor City Hall office. The window behind him looked out on Providence's "Superman building," a city icon strikingly like the Daily Planet tower of comic-book fame, which was on its way to total vacancy.
Hardly anyone in town foresaw the number that D'Amico brought with him: Providence was facing a $110 million structural deficit, a shortfall sizable enough to bankrupt the city in 2012.
"The number itself was surprising," D'Amico recalls, "but the percentage that that represented was even more shocking." Providence was looking at a $600 million annual budget that would now demand concessions from everyone — the firefighters, police, teachers, city union employees, taxpayers, retirees, and major community institutions.
Taveras, a lanky former housing-court judge with rimless glasses, had been elected mayor expecting a deficit maybe half this size. But Providence's ad-libbed measures during the recession — spending down reserves to keep services going and taxes low — were now about to catch up to the city shortly into his term. Well before Detroit would set off a rash of municipal bankruptcy fears two years later, Taveras and Providence would confront a confluence of a potential bankruptcy's worst signs: unfunded pension obligations, a disappearing industrial base, a burst housing bubble, and steep cuts in state aid.
"You go into survival mode," Taveras says. "This is about making sure that the city is able to survive."
On the eve of 2014, Providence no longer looks to be in imminent danger. And Taveras is running on the story of the city's turnaround in his bid to become Rhode Island's first Hispanic governor. His narrative is compelling: Taveras grew up in Providence the son of Dominican immigrants. He likes to say that he went from Head Start to Harvard before coming back home. By inheriting the city at one of its lowest points, he can also now claim the mantle of the mayor who refused to let Rhode Island's capital city fail even as questions remain about its long-term fiscal challenges.
The mayor's office was also a springboard for Taveras's predecessor, David Cicilline, who is now a U.S. congressman representing Rhode Island. He was widely criticized for obscuring the city's true finances when they came out on Taveras's time. Cicilline's congressional office did not respond to requests for comment.
Part of Taveras success in taming the city's deficit came from his demeanor, union and nonprofit leaders say. He does not yell. He did not stake out public demands of the unions. His staff shared bad news with them privately first. Union leaders were also invited to bring their own accountants to the city's books.
"There had been hundreds and hundreds of articles and opportunities where previous administrations had gone after us, demonized us, gone after certain benefits," says Paul Doughty, the president of the local firefighters union, who fought for years with Cicilline. "These guys had the chance to do that at a level never seen before, and they didn't even touch it."
The city instead gave each union a target for the savings it needed, and then asked them to design their own paths to achieve it. When Taveras publicly announced the scale of the deficit in early March 2011, he also cut his own paycheck by 10 percent. That yielded the uninspiring annual savings of $12,500. But the gesture later allowed him to say that of all the sacrifices the city demanded, the largest salary cut was his own.
The deals slowly rolled out over the next two years. The public-employees union agreed to 1 percent pay cuts and waived raises. The firefighters came next, offering larger health care co-shares, and later pensions for new employees. The school day got longer for teachers. Sick days were reduced. Dozens of public employees agreed to retire. One by one, the city's seven largest tax-exempt nonprofits agreed to make voluntary payments into the city's coffers. Taveras also enticed the City Council to raise property taxes by about 6 percent for the average homeowner.
The last settlement came in April of this year, when a Superior Court judge approved the city's pension agreement with retirees. The deal reduced the city's pension liability by an estimated $170 million, and, crucially, it permits Providence to shift its retirees older than 65 off of private insurance and onto Medicare.
"Without hesitation, if we lost that lawsuit, we would have filed Chapter 9," Taveras says. "There was just no way to avoid it"¦. I didn't have anything more that I could do." That April settlement marks the last time anyone around City Hall recalls discussing the possibility of bankruptcy, and it was a watershed for the city.
"He deserves a lot of credit for the turnaround, because he has a leadership style that worked very well," says Darrell West, a longtime Providence political observer and former resident, who is now the director of Governance Studies at the Brookings Institution. "He was able to bring together contending parties on pension reform and produce a deal that saved the city money without alienating valuable workers. That's something that's very difficult to do — and the state was not able to do that."
Unions are still challenging the state of Rhode Island's broader pension overhaul in court.
This fall, the ratings agency Standard & Poor's upgraded its outlook on Providence's debt from negative to stable. Just last month, Taveras announced a tentative budget surplus of about $1 million dollars, money that will start to restore the city's rainy day fund.
Yet, there's a case to be made that Providence isn't ready to let go of Taveras. A municipal deficit may be solved in three years, but the same can't be true for the underlying dynamics that led to it. "You can't fulfill a broad vision for economic development, for changing the course of a city, in one or two terms," says Hilary Silver, director of the urban-studies program at Brown University.
John Simmons, the executive director of the Rhode Island Public Expenditure Council, cautions that questions still linger about what will happen in Providence in 2014, in 2015, in 2016, should the broader economy start to unravel again. It will be tempting for another mayor to draw on whatever money Providence tucks away now.
The city's prospects are also closely tied to Rhode Island's trajectory. If the state continues to struggle, then the city will too — with aid drying up and problems passed down to local government.
Taveras sounded upbeat, though, the week after news ran in the Providence Journal that the city had acquired a surplus again. He also delivered a keynote speech at Brown University to a small conference on the role of Latino politics in this changing state. His message sounded like a dry run of his pitch to the state: a pitch in which he emphasizes his Rhode Island upbringing as well as his fiscal chops.
"I want people to look back on my tenure as mayor and see that it was a time of great challenges, great difficulties, but that we brought people together, we faced them head on," he said. "And were able to really solve a lot of our problems."
Still, it won't be possible to judge the core of his argument for several more years — well after voters decide on their next governor.