How 'Indie' Bookstores Survived (and Thrived)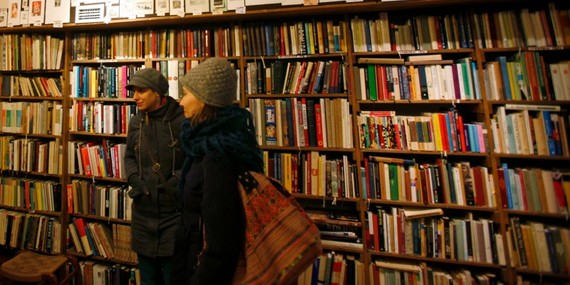 In 2012, Publishers Weekly chose E. L. James as its Person of the Year. James's Fifty Shades soft-porn trilogy was a sensation that boosted global print and e-book revenues, with at least 100 million copies sold (and counting). According to Forbes, James topped its annual list of bestselling authors with earnings of $95 million, including movie rights.
This year's selection for PW's Person of the Year represents a wholly different approach to the honor. It is Oren Teicher, CEO of the American Booksellers Association, and the ABA's board of directors, the organization that represents the country's independent book stores. The fact that these traditional brick-and-mortar, mainly locally owned bookstores are being recognized as outstanding contributors to publishing is not merely a sympathetic gesture to old-fashioned commerce in a generally downward trajectory. The accolade is justified by results defying the odds that so heavily favor the Amazon juggernaut and the chain stores, still led by (the struggling) Barnes & Noble.
Here is Publishers Weekly's tribute to Teicher and the ABA board, written by Jim Milliot and Judith Rosen:
The independent bookselling community has been counted out more than once over the past three decades as the arrival of superstores, online retailing, and e-books have each led to predictions that most independently owned bookstores would become extinct. To be sure, since 2008 the Great Recession, the exponential growth of e-books and intense discounting from online retailers put independent booksellers under severe pressure. But in 2010, the American Booksellers Association saw its first increase in many years and by 2013, the sector had recovered enough that independent bookstores are once again seen as critical to the success of the book industry. For their role in leading the resurgence of independent bookselling, ABA CEO Oren Teicher and the ABA board have been chosen as PW's Person of the Year.
Teicher joined the ABA twenty-four years ago as associate executive director and served twelve years as chief operating officer before being named CEO in 2009. The search committee of leading booksellers chose Teicher from among hundreds of submitted resumes because of his "encyclopedic knowledge of everything associated with the ABA's past and current programs, coupled with his thoughtful and insightful analysis of how ABA can meet our future challenges." The basis for that confidence has proven to be Teicher's and the board's astute management of multiple developments that have successfully blended time-honored tradition and change at a pace that has proven to be dynamic rather than overwhelming.
The ABA's current roster of 1,600 members is considerably less than it was in the past, when chains belonged and the association owned the annual national book fair that attracted vendors for whom books were at best a sideline. Book Expo, as the annual convention is now called, was sold to Reed Exhibitions in the 1990s. According to Teicher, this has enabled ABA's existing membership to focus on their core role in the industry: serving communities with an emphasis on expertise in the selection of books and the ability to attract readers who choose to browse and enjoy the camaraderie of neighborhood shopkeepers.
In an interview, Teicher attributed the endurance and recovering influence of independent book-selling to these factors:
The growing popularity of the shopping local movement, in which booksellers were at the forefront. For all the apparent pricing and location advantages of big boxes and chains, in which books are a minor item at best, many consumers across the country find the grassroots accessibility of indies appealing. (The surge in farmer's markets is another feature of this trend.) Steve Bercu, CEO of Austin BookPeople and the ABA's current board president was a founder of the Austin Independent Business Alliance twelve years ago. Now there are such organizations nationwide that through collaboration are intended to strengthen small businesses and local ownership. Bercu told PW: "The scale of the world has driven localism back. . . . Nobody has to go to bookstores to buy books, and yet people do. Humans want interaction." To support the movement, the ABA has initiated a variety of programs that underscore the benefits of partnerships among booksellers, such as the IndieBound online community, which highlights favorites as they are released. The ABA's nine-year-old Winter Institute, where booksellers gather to share experiences that are unique to their mission, is in such demand that places sell out in a matter of weeks.
The many ways in which technology has made book-selling efficient that are not merely about selling e-books (which, after some hesitation, the independents are gradually accepting, through a partnership with Kobo). Booksellers now have and use a full range of technology tools to track sales, order and replenish inventory, and improve store management. Bookstores have active websites that enable them to communicate with customers, and their adoption of social media is a significant plus. "We can use these ways to reach our customers as well as any of the 'big guys,'" said Teicher. There has been a generational shift in recent years with a number of bookstores changing ownership to new proprietors who are adept and entrepreneurial when it comes to innovation. In this time of change, Teicher said, "the indies have learned to use internal technology and external communication to their full effect."
The recognition among publishers of a revived environment for independents that has led them to work more closely with the stores on improved sales and marketing terms and incentives. Implicit in Teicher's comments is that publishers realize how well the independents have adjusted to the disappearance of Borders, the continuing problems at Barnes & Noble, and the daunting power of Amazon. Josh Marwell, president of sales at HarperCollins, told PW: "Now we are enjoying an indie revival which we couldn't be happier about. This generation of independent booksellers is a critical force in our industry as they skillfully help their communities hear about and read our authors' books."
In 2012, with Fifty Shades (among other titles) driving their business, sales at the independents were up almost 8 percent. Now that the holiday season is underway, Teicher and his ABA colleagues have every hope of matching or exceeding that growth, not with soft porn, perhaps, but rather from expert book-selling for which they have been duly saluted by Publishers Weekly.