Homelessness Is Up in New York City, but It's Down Everywhere Else
The Secretary of Housing and Urban Development says he's optimistic about the homelessness trends in many places.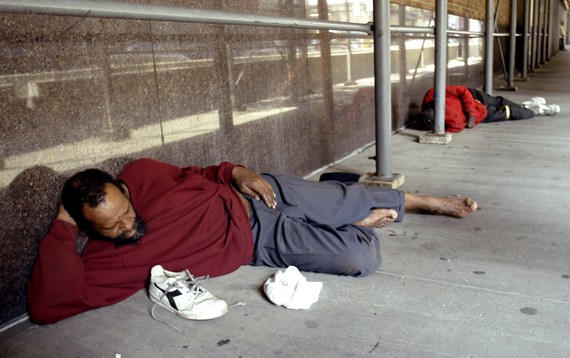 This week, the New York Times published an in-depth look at homelessness in New York City. It follows the story of Dasani, one of the city's 22,000 children without housing, humanizing the statistic that the city's homeless population grew by 13 percent from 2012-2013 alone.
But in most other cities and states, homelessness has actually decreased over the last year and the last half-decade. Just two cities—New York and Los Angeles—account for a fifth of the country's entire homeless population. "The trend that is happening in New York City is not happening in lots of cities around the country," said Secretary of Housing and Urban Development Shaun Donovan at an Atlantic summit about energy and infrastructure on Thursday. He pointed to an extensive report released by the department last month which describes changes in the U.S. homeless population from 2012-2013 and 2007-2013. Agencies all over the country got head counts of how many people were homeless in their areas on a single night last January, and HUD combined those findings with available data about the number of people living without a home over an extended period of time. Comparing those counts to the past, here's what HUD found:
Since 2012, homelessness has declined by four percent nationwide. Since 2007, it has declined by 9 percent.
Areas around the country's 50 biggest cities account for slightly less than half of the U.S. homeless population. Not counting New York and Los Angeles, homelessness in these cities decreased by five percent during the last year.
The number of people living on the streets, rather than in shelters, has decreased dramatically: 7 percent since 2012 and 23 percent since 2007.
This last statistic is important for understanding nationwide trends in homelessness: While the number of people living in shelters has remained relatively stable since 2007, the number of people living on the streets has decreased noticeably. This can be explained partly by programs designed to move homeless people living on the streets into shelters. At the federal level, Donovan said, this has been a particular area of focus.
"It's more expensive for someone to live on the streets than it is for them to be housed. Why is that? Because they get their medical care in emergency rooms, they end up spending lots of time in prisons or other institutions. If you house someone, you can reduce their health costs by 40 to 60 percent," he said.
State by state, a few trends are also striking. Just five states (California, Florida, New York, Massachusetts, and Texas) accounted for more than 50 percent of the country's homeless population.
Across the country, states have had mixed success in reducing their homeless populations. Since 2012, 20 states have seen increases in homelessness, with the biggest growth happening in New York and California. Since 2007, 23 states plus D.C. have seen a rise in homelessness. It's important to keep scale in mind, though: 24 states each accounted for less than one percent of the country's total homeless population, and together, these states accounted for only 11 percent of the total. In general, states that saw increases in homelessness tended to see smaller changes, while several states experienced much more significant decreases.
Again, New York was an exception to this trend: The state has seen a 24 percent increase in homelessness over the last six years.
Donovan says that New York's situation is the result of policy failures. "This is an area where, unlike so many of the debates you hear in Washington, we know what works," he said. "Rapid re-housing: It is really the leading edge of how families that are living like Dasani and her family in the New York Times piece, that are living in terrible conditions in shelters, how you quickly get them as soon as they fall into homelessness [and put them] into housing. A lot of what's driving what's being described in New York is that there was a program like that that ended up being eliminated that has accounted for a lot of the increase in family homelessness there."
He was referring the city's now-defunct Advantage program, which provided subsidies to help people living in shelters afford their own apartments. The program was cancelled in 2011 after the state government decided to stop funding it. As the program's future was being debated, Mayor Michael Bloomberg weighed in on its effectiveness. "You never know what motivates people," he said. "One theory is that some people have been coming into the homeless system, the shelter system, in order to qualify for a program that helps you move out of the homeless system."
During his interview, Donovan emphasized that this kind of policy choice isn't in line with the federal government's plan to reduce homelessness, which includes the strategic goal of supporting "additional rental housing subsidies through federal, state, local, and private resources." The Times story about Dasani is important, he said, but doesn't necessarily illustrate what's going on outside of New York.
"We are, despite stories like that, making real progress," he said.