At $114,651, the 12 Days of Christmas Are an Extremely Impractical Gift
Way too many birds, for starters.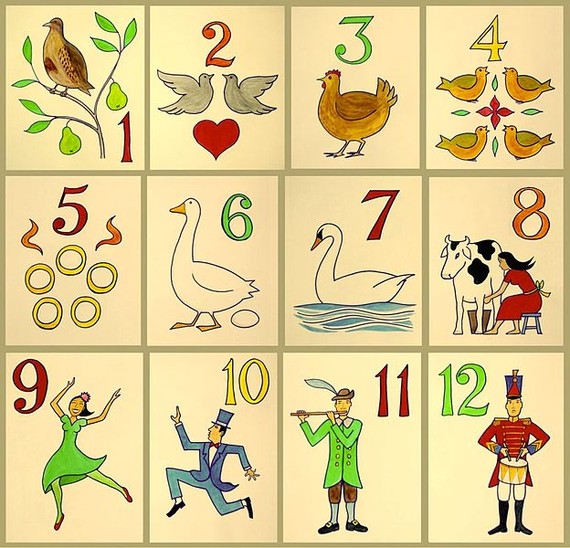 To begin December on a humbug note: "The 12 Days of Christmas" plays a dubious role, both as a carol (it takes approximately half an hour to sing) and furthermore as a shopping guideline. Geese are lovely creatures, but there's no reason to buy somebody six of them for seven consecutive days, no matter how true your love.
To drive home the latter point, the folks at PNC annually calculate the rough cost of each round in the "12 Days of Christmas," from the partridge in the pear tree ($199.99) to a dozen drumming drummers ($2,854.80). This year, they report the full Christmas Index at $27,393.17.
How does one calculate the cost of a milking maid? A piping piper? A leaping lord? The PNC team explained that the Pennsylvania musicians union shares wage information for its drummers and pipers. Pittsburgh's National Aviary provides the cost of most of the birds. PHILADANCO, a modern dance company in Philadelphia, shares the cost of one performance with nine lady dancers. The maids, considered unskilled labor, are thought to receive Pennsylvania's minimum wage.
What you get, in the end, is a faintly representative mix of low- and middle-skilled human labor, commodities (gold), and food staples (poultry). Maybe that's why the 30-year change of the Christmas Index is very similar to overall inflation (116 percent vs. 122 percent). Or maybe it's just pure happenstance.
In calculating the true cost of this ridiculous song, remember that the total haul isn't each alliterative line item, but rather each alliterative line item over and over again until you get to the 12 drummers drumming. That means, not seven swans-a-swimming, but 42; not five golden rings, but 40; and so on.
The total cost of the 12 Days of Christmas in 2013 comes out to
$114,651.18. Stick with Amazon gift cards.