Why Some Americans Buy Stocks and Others Don't
The latest Allstate/National Journal Heartland Monitor Poll helps explain the divide.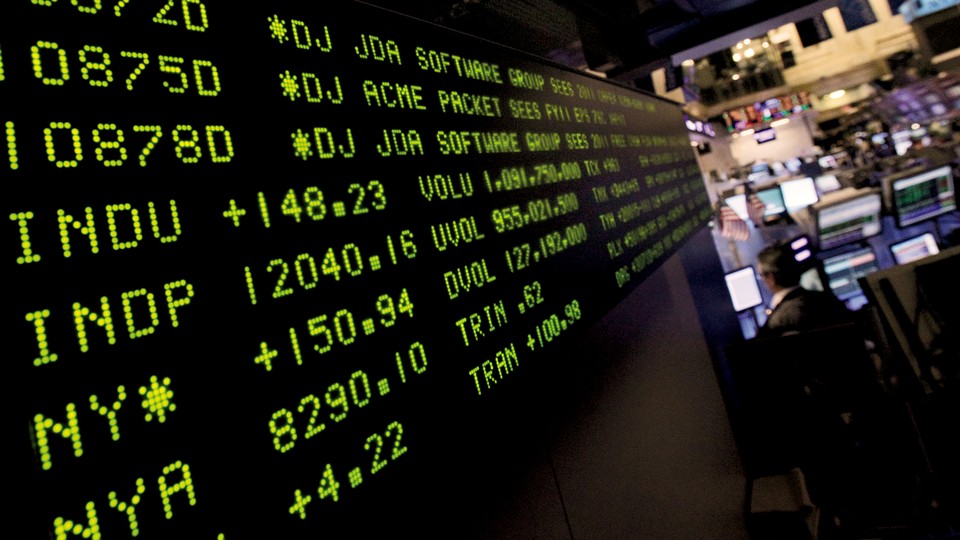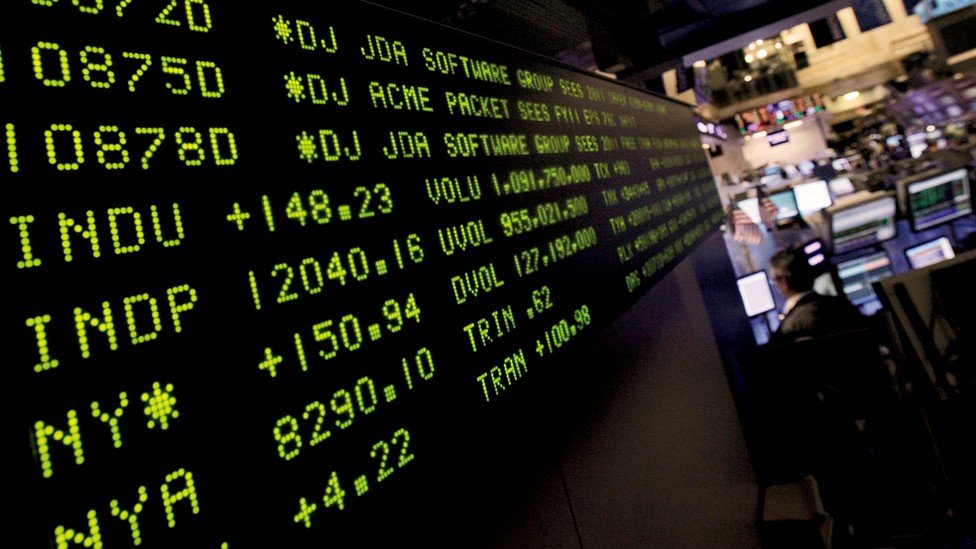 Five years after the crash of 2008, Americans are sharply diverging across lines of income and education in their attitudes toward the financial system and experiences with it, the latest Allstate/National Journal Heartland Monitor Poll has found.
Down one path, most adults with college degrees are employing a wide range of financial tools with confidence that they are strengthening their family's security, the poll found. Down the other, far fewer adults without college degrees are accessing these same tools — and many more of them are viewing the financial system with skepticism, hesitation, and even suspicion. Similar, if sometimes less pronounced, differences are evident across income levels, as well.
This divergence rings through contrasting attitudes held by those with and without degrees on everything from confidence in their ability to manage a home purchase, to participation in 401(k) retirement plans, to the use of credit cards, to individuals' self-assessments of whether they are making sufficient progress on key goals such as saving for a child's education.

These differences are rooted in varying economic circumstances: Adults without college degrees were twice as likely as those with them to say they have no money to spend each month after paying their bills. But the divergence also reflects very different attitudes across educational and income lines on whether debt does more to expand or inhibit opportunity and whether the financial system offers an effective opportunity to build wealth — or a white-knuckle trip through excessively turbulent waters. "The financial system is volatile," said Alvin H. Pearson, an assistant general manager for a public transportation agency in Memphis, Tenn., who responded to the survey. "I only invest a portion because I can only afford to lose a portion."
The contrasting attitudes emerged in a survey that carried a biting early-winter chill in assessments of President Obama, Congress, the nation's direction, and the economy's trajectory. With a solid majority of those polled rating their personal financial situation as only fair or poor, a majority declaring that the economy remains mired in recession, and fewer than three in 10 expecting conditions to improve over the next year, Obama's approval rating in the survey has tumbled to the lowest level the Heartland Monitor poll has ever recorded, just 38 percent (see "Down, Down, Down," p. 16). For Congress, even that meager number looks mountainous: Only 9 percent approved of its performance. For the political system, these numbers suggest, October 2013 was about as good a month as October 1929 was for the financial system.
LEVELS OF ENGAGEMENT
The latest Allstate/National Journal Heartland Monitor Poll is the 19th in a series examining how Americans are experiencing the changing economy. This poll, which explored how Americans use, and relate to, the financial system, surveyed 1,000 adults by landline and cell phones Nov. 2-6. The survey has a margin of error of plus or minus 3.1 percentage points. The survey was supervised by Ed Reilly, Brent McGoldrick, Jeremy Ruch, and Jocelyn Landau of FTI Consulting's Strategic Communications practice.
The poll found that substantial numbers of Americans are employing several basic financial tools. Generally, respondents to this survey reported somewhat higher levels of participation in the financial system than the Federal Reserve Board recorded in its most recent Survey of Consumer Finances in 2010.
Asked to pick from a list of common financial tools, majorities in the new Heartland Monitor poll said they now owned a checking account (84 percent); savings account (73 percent); credit card (63 percent); and life insurance (58 percent). Participation fell sharply after that, with much smaller shares reporting that they possessed an employer-sponsored 401(k) retirement plan (37 percent); a personal investment account (30 percent); an employer pension other than a 401(k) (26 percent); an automatic paycheck withdrawal for purposes other than retirement (24 percent); or an annuity (13 percent). Just 8 percent said they owned a trust fund.
Access to these financial tools varied little across racial lines; virtually identical shares of whites and nonwhites, for instance, reported having  savings accounts or life insurance. But the survey revealed substantial differences by income and education even on use of the most commonly available financial tools.
Some 94 percent of college-educated adults reported they have a checking account, compared with 78 percent of those without degrees. The gap was even wider between those with and without four-year-college degrees on possession of a credit card (81 percent of those with degrees versus 51 percent of those without); life insurance (70 percent versus 50 percent); and savings accounts (84 percent versus 65 percent). On choices involving investments in the stock market, those with degrees were twice as likely (or more) to report involvement as those without. Forty-five percent of those with degrees reported an investment account, for instance, compared with only 19 percent of those without degrees. And while just under half of those with degrees reported having a 401(k), only three in 10 of those without advanced education did so. Comparisons by income showed a similar pattern, with upper-income respondents more likely than less affluent families to report using these tools. But even here, education levels exerted a clear influence: At the same income level, those with college degrees were generally more likely than those without to report employing these tools, with the differences especially pronounced among workers earning less than $50,000 annually.
Brian Desso, who repairs hospital equipment in Crown Point, Ind., was one of several poll respondents who said the education gap in use of financial tools partly reflected a cultural divide. "You can still be successful and not have a college degree," says Desso, who has a bachelor's degree in electrical engineering. "You just don't end up working around people who are willing to talk about where their finances are going. The people around here who didn't get their college degree are working at the steel mill or the refinery, and they're not going to talk about investments." Desso says he learned this lesson close to home: Neither his father, who was in construction, nor his mother, who worked in optometry, obtained a college degree, and both "waited too long" before seriously investing for retirement.
Gary Thomas, who lives in Monroe, Ga., and has retired from a landscaping business, largely agrees. Thomas, who never received his degree, says those with advanced credentials are more likely to travel in circles where financial strategies and investment opportunities are discussed — and more likely to have excess cash to devote to them. Thomas says if he had money to invest, he would more likely put it into houses or gold than the stock market. "I'd rather make a little bit of profit than get in with some risky investment," he said.
Experience with debt produced a more varied pattern. Upper-income respondents (from families earning at least $100,000) were more likely than lower-middle-income families (earning between $30,000 and $50,000) to report possessing a home mortgage and a car loan, but similar proportions of the two groups reported credit-card and student-loan debt, unpaid personal loans, and no debt at all. One clear difference: Lower-middle-income families were three times as likely as those at the top (33 percent compared with 11 percent) to report unpaid medical bills.
The evidence that better-educated and more affluent families engage the financial system more comfortably resurfaced on a question about where people turn for guidance in managing their money. Similar proportions of those with degrees (45 percent) and without them (48 percent) said they relied on friends and family members. But those with at least a four-year college education were about twice as likely to say they have consulted a professional financial adviser as those without a degree (46 percent versus 24 percent); again, even at the same income level, those with degrees were far more likely than those without to report consulting financial advisers. Smaller portions of the overall sample reported turning to advisers at their local bank (24 percent), a credit union (17 percent), financial publications (13 percent), websites (11 percent), or television programs (only 8 percent).
When those who haven't used a financial adviser were asked the principal reason why, nearly two in five of both those with and without degrees said it was because they handled their finances themselves. Those without advanced education were more likely to say they stayed away because they didn't have enough money to invest, while those with degrees tilted slightly more toward reluctance to pay advisers' fees or doubts that advisers would invest in the interest of the client.
Just over half of adults (55 percent) expressed confidence that they "have a solid plan" for their finances. Not surprisingly, more-affluent families and those with degrees were again more likely to believe they have their finances under control, but the differences were not vast. Similarly, across the educational and class divides, overwhelming majorities said they were confident they "understand the information" they need to make important financial decisions.
On specific financial challenges, though, the survey found more-pronounced confidence gaps. About 85 percent of those with college degrees expressed confidence in their ability to understand the information needed to buy a home or plan for retirement; about 70 percent of those without degrees shared that view on each question. While lower-middle-income families were nearly as confident as the most affluent about their capacity to manage a home purchase, they were much less certain about their ability to navigate retirement.
Adam Wickander, a former Marine now attending college in Oregon, said that while he was in the service he saw starkly different attitudes toward managing money and decisions such as home-buying. "I saw a gulf between the people who had an education or who had parents who educated them on the whole process and kids who came from situations where nobody cared," he said. "Usually the officers are coming from just out of college, and they know how financial institutions work, they know how to take out a loan. The guys that just enlisted out of high school, they didn't really know how to do those things."
MEASURES OF WELL-BEING
Across a wide range of groups, the poll found, most Americans identified the same key ingredients of financial health. About three-fourths or more of those surveyed said "paying off and avoiding new debt" and "sticking to a monthly budget" were "very important" steps toward meeting their personal financial goals. About two-thirds said the same about maintaining an emergency contingency fund and saving for retirement. Just about half placed that same priority on four other goals: writing a will, purchasing life insurance, contributing to a 401(k) or Individual Retirement Account, and saving for their children's education. Just one-third viewed it as very important to save ahead for nonnecessities, and, strikingly, only about one in eight said it was very important to invest in the stock market. Only one-fourth termed it even "somewhat important" to enter the market; nearly three-fifths described it as not very or not at all important. That was the only option that a majority termed to be not important.
Those with and without degrees differed little on most of these goals. Again, the stock market provoked the greatest divergence. Those without degrees (at 29 percent) were much less likely than those with them (51 percent) to view investing in the market as "important" to meeting their financial goals; even at the same income level, college graduates were much more enthusiastic about participating in the stock market.
Desso is one of those. After having "been burned" in the housing market, he considers stocks a better long-term bet, so long as "you're willing to put blinders on in case the market goes down" and not panic. "It's a lot better than putting money into a house," he believes. "The housing market is a crumbling investment." Emily Blue, a college-educated marketing official at Purdue University, is also confident that investing in the market offers long-term opportunity. "I know I can do things that people without higher education or a specialized skill set could not do," she said. "I have that ease knowing that I'm pretty secure in my career path."
When the survey next asked respondents to report their progress at actually meeting these financial goals, the results again pointed toward a two-track experience. For seven of the 10 goals, at least two-fifths of adults self-reported that they are "behind" where they would like to be. Consistently, respondents without degrees, or those from families of modest income, were much more likely than those with advanced education or more income to report they are falling behind.
Overall, Americans expressed the most confidence about paying off and avoiding debt (with 54 percent saying they are on track, and 21 percent saying they are ahead of where they hoped to be); sticking to a monthly budget (65 percent on track, 15 percent ahead); and buying life insurance (43 percent on track, 21 percent ahead). Even among those without degrees, only about one-fourth define themselves as behind on the first two measures, and just over one-third believe they are lagging on the third.
Survey respondents offered considerably more-equivocal verdicts on their progress on other key tests. At least two-fifths of adults described themselves as behind where they need to be on such measures as contributing to a 401(k) (42 percent); saving for their children's education (43 percent); saving for retirement or stockpiling funds for non-necessities such as a vacation (44 percent in each case); maintaining an emergency savings fund (47 percent); investing in the stock market (50 percent); and organizing estate planning (54 percent).
Repeatedly across these measures, those without degrees, and with smaller family incomes, were more likely to describe themselves as behind. About half of those without degrees, compared with only about one-third of those with them, termed themselves behind where they needed to be in saving for retirement or their children's education. Almost exactly half or more of working-class families earning between $30,000 and $50,000 said they were behind where they needed to be in saving for retirement, contributing to a 401(k), saving for college, and investing in the stock market (though based on their other answers, those families see that as a luxury, not a necessity.) By contrast, only about one-fourth or less of those with six-figure incomes said they are lagging on those same goals.
What makes that contrast especially striking is that the families of more modest means are almost exactly as likely as their wealthier counterparts to report they are on track toward sticking to a monthly budget. On another question, those families of more modest circumstance (whether measured by income or education) were almost exactly as likely as better-situated families to say they put whatever extra money they have toward paying off debt rather than making new purchases. For families of modest means, their problem, as they report it, is not failing to properly manage their money, but rather not having enough money to manage.
Responses to another question dramatically underlined that point. The poll found substantial agreement across class lines about the "most financially responsible use of any money "¦ left over after paying your bills." But it found jarring contrasts in the number of many people who felt they ever reached that desirable state.
Both those with and without degrees identified the same three fundamentally conservative options as the best use for any excess cash: paying off debt, saving in a bank, and adding to an emergency fund. Those ranked as the top three options as well for both the working-class and the most affluent families. Strikingly small percentages of those near the top and the bottom of the educational and income ladders said their top priority with any extra cash would be investing in the stock market. All of this underscores how the crash of 2008 has lastingly tilted many Americans toward conservative views about managing their money. Pearson, the Memphis transportation official, expressed the conviction of many in the poll when he said, "In these economic times, you have to live within your means. You cannot live to the standard that society says you should." His top financial priority is to build a bigger emergency fund.
The breathtaking contrast on this question was in the number of respondents who said they "rarely have any money left over" after paying their bills. More than twice as many of those without degrees (41 percent) as those with degrees (19 percent) picked that option, as did more than three times as many of those earning from $30,000 to $50,000 (36 percent) compared with those earning $100,000 or more (11 percent). At the same income level, those without degrees were again more likely than those with them to say they had no leftover funds. The gap was just as dramatic on questions that asked respondents how realistic they thought it was for them to maintain a comfortable standard of living in retirement, save for their children's education, or stockpile enough income to meet six months of expenses if they faced a job loss or health emergency. In each case, lower-middle-income and noncollege respondents were far more likely to say they did not believe they could realistically achieve those goals. "People without college," says Thomas, the retired landscape-business owner, "they're living paycheck to paycheck."
VOTES OF NO CONFIDENCE
As in other Heartland Monitor polls, very few adults in the new survey expressed much confidence in any large institution to help them navigate these choppy waters. Not more than about one-fifth of those polled said they have more confidence than a year ago that any of 10 groups the survey listed is making decisions that will improve their personal financial situation. Local banks scored the best on this measure, with 21 percent saying they were more confident in these banks' decisions than a year ago and 18 percent saying less (with 57 percent saying their views haven't changed).
For all nine other institutions or groups measured, the share of adults who said they are less confident than a year ago exceeded the proportion who expressed more confidence. Often this disparity was overwhelming. For stock brokers, 5 percent expressed more confidence and 32 percent less. For investment banks, the numbers were 8 percent  more and 31 percent less; for insurance companies, 10 percent and 34 percent; for national banks, 9 percent and 36 percent; for major corporations, 7 percent and 40 percent. Respondents didn't exempt themselves and their neighbors either: Just 13 percent expressed more confidence in the "American consumer," compared with 30 percent who are less confident.
But, by far, the loudest roar of disapproval was aimed at "elected officials in Washington." Just 4 percent said they had more confidence in their decisions than a year ago; fully 70 percent said they had less. That continues a steady rise in the share of adults reporting diminishing confidence in elected officials to make decisions that benefit the public: The proportion expressing such doubts has increased all five times the Heartland Monitor has asked this question since September 2009, rising steadily from just over half that first time. "I don't want to sound too extreme, but I'm definitely less confident than I was a year ago about them making any decision, really," said Wickander, the former Marine. "There's such a division that to me it feels like a cold civil war — you've got two dominant parties that won't find agreement. They see themselves as a party first and a nation second. It should be a nation first and a party second."
These opinions didn't vary much by education level or income. But those persistent divides reemerged on a final range of questions that measured broader assessments about the financial system's workings.
One question probed attitudes about the potential risks and rewards of 401(k) investment plans, which have largely replaced pension plans that guaranteed workers a fixed sum upon retirement. The poll found Americans closely divided on whether this shift has brought more costs or benefits, just as the survey did when it last measured this question in 2009. In the new poll, 50 percent said workers are better off relying on the 401(k) plans "rather than depending on pension programs from employers or government," while 42 percent said that, given the volatility of the stock market, "it is too risky for people to rely primarily on the success of their personal investments to pay for their retirement."
That close split masked much wider divides along the same lines that defined so much of this survey. While those with four-year college degrees gave 401(k) plans a 54 percent to 38 percent thumbs-up, those without them split almost exactly in half; likewise, while families earning under $100,000 divided closely, those earning more endorsed the shift toward self-directed investments by about 2-to-1.
That same chasm cut through an overarching question about the role of debt and credit. The survey asked adults whether in their own lives the ability to "take out loans and have a credit card" has expanded their opportunities "by allowing you to make purchases you couldn't afford from your income at the time" or "reduced your opportunities by burdening you with bills that you couldn't really afford to pay." The last time the Heartland Monitor asked that question, in October 2011, respondents split almost exactly in half. This time, more expressed a favorable view about the role of debt, with 51 percent saying it had increased their opportunities and 32 percent saying it had reduced them.
But those standing on different rungs of the socioeconomic ladder continued to view debt from very different perspectives. While about three-fifths of those with at least a four-year degree said debt had expanded their opportunities, only about two-fifths of those without one agreed. Similarly, while more than three-fifths of those earning at least $100,000 viewed debt as enlarging their options, slightly less than half of those earning between $30,000 and $50,000 agreed. Those with degrees were somewhat more positive toward debt than those without them, even at the same income level. Minorities were also much more skeptical about debt's value than whites.
The poll's broadest measure of attitudes about the financial system capped the portrait. In a summary question, 58 percent of those surveyed agreed that "participating in the financial system through saving, investing, and acquiring assets like a home, is the safest and most reliable way for people like me to provide a secure financial future [for my family]." Only 35 percent endorsed the negative verdict that "even if people like me save, invest, and acquire assets like a home, the financial system is too volatile, complicated, and unreliable to provide a security financial future for me and my family."
Especially when compared with the endemic suspicion of large institutions that echoes throughout all 19 Heartland Monitor polls, that's an undeniable vote of confidence. Yet it obscures continuing cracks. While whites expressed faith in the financial system by about 2-to-1, minorities split closely between 49 percent positive and 43 percent negative. Among college graduates, those with positive views about the system exceeded those with negative assessments by almost 3-to-1; among those without degrees, positive responses exceeded negative ones by only 50 percent to 42 percent. Three-fourths of those earning at least $100,000 saw the financial system as the best way to accumulate assets and security, but the numbers dropped to 55 percent of those earning between $30,000 and $50,000 and to just 43 percent of those earning less than that. "I don't trust the financial system," said Kelly Haskell, a Jacksonville, Ala., homemaker whose family income has plummeted as her husband has endured nearly three years without steady work. "I just feel like there is such a divide between the rich and the poor, there seems to be not much left of the middle class"¦. Now, it's just a scary world."
With the stock market soaring, home prices recovering, and borrowing costs low, this survey suggests that Americans with means and credentials once again see the financial system as a reliable channel for achieving their goals. But for many Americans struggling to stay afloat after a decade of stagnant incomes, the financial system still looms like a cloud on the horizon — opaque, unpredictable, and vaguely menacing.
---
Stephanie Czekalinski and Michael Mellody contributed to this article