Why D.C.'s Skyline Is a Flock of Cranes
The capital's economy is so much more than just the federal government. Deputy Mayor Victor Hoskins explains how that happened.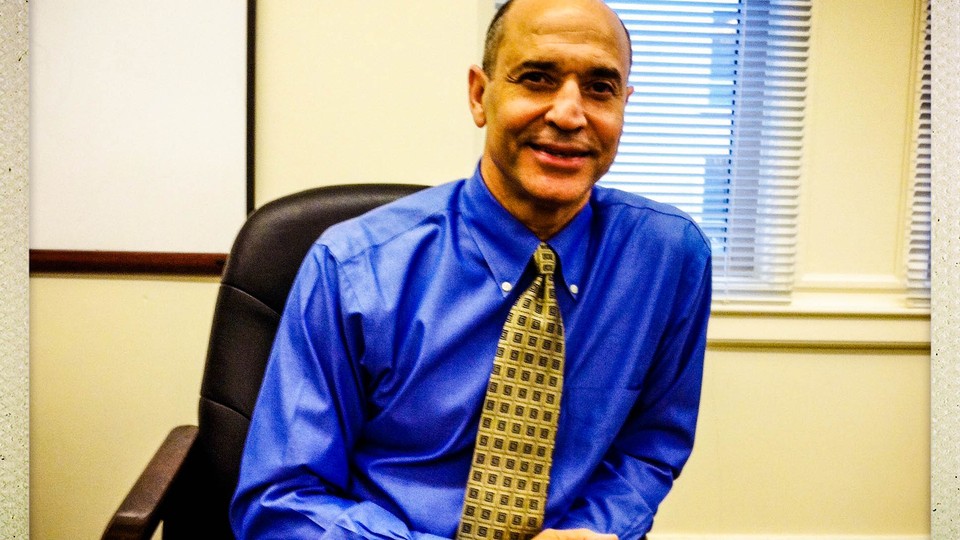 This article is part of a weeklong America 360 series on Washington. 
In the years of the Great Recession, Washington seemed miraculously immune to the economic troubles roiling the rest of the country. The nation's capital weathered high unemployment along with the rest of the country, but simultaneously enjoyed explosive economic growth, with sprawling developments taking off across the city and condos rising one after another to accommodate the 1,200 new residents who enter every month. Along the way, it's also become the most popular location in the country for millennials, most of whom now come here to do something other than work for the federal government.
National Journal recently sat down with Victor Hoskins, the city's deputy mayor for planning and economic development, to talk about some of the latest projects transforming D.C.'s economy, and whether they will benefit the entire city or just the newcomers. Edited excerpts follow.
So many people outside Washington think that the city's economy is basically the federal government, period.
Well, we do have 280,000 federal jobs — that'll make you tied to the federal government! But let me walk through some of our demographics. There are 100,000 students in the District of Columbia, and 632,000 people. That tells you something right there. It's a young city. Just hearing that number should push out the idea that this is an older, conservative, government city.
The second thing is that there are 2,200 technology companies in D.C., and approximately 24,000 technology employees in the city. That's part of the transition, and people are beginning to notice. In January of this year, Forbes said that we were the No. 1 tech hotspot in the country.
And we have 1,200 new residents coming in every month. That is more than any time since the 1950s, when we peaked in population. We're moving forward very fast. The cultural environment is changing as well. In 1994, when I moved to the region from L.A., there were very few restaurants to eat in, and everyone went to them. Everyone. Now in the District of Columbia there are thousands of restaurants. Add to that how the arts community has grown. Those kinds of changes have happened so fast — most of them in the last three years.
I can't keep track of all the new buildings popping up on every block. What happened?
I've been in economic development before, I know what a few transactions can do. But you need a strategy to transform a city. You need some serious, sustained effort, and you need some financial discipline. Mayor [Vincent] Gray went about financial discipline — he tightened our budget and now we're working on our third budget surplus. It's also allowed us to build our reserves. They were $700 million when the mayor came into office; now they're $1.5 billion. Why is this important? It's important because when you borrow, you want to borrow at the most competitive rates. We do some borrowing — which is really our investing in infrastructure — in order to create these economic opportunities. Since the mayor has been in office, we've cut ribbons on 26 projects, and we have currently 37 under construction.
I live within three blocks of three of them.
I'm sorry! But you are going to do so well when you sell your house. So we have this huge volume. That's equivalent to about $4.6 billion in total development value. We've created over 21,000 jobs through these projects — either construction jobs or permanent jobs. It's really starting to pay off substantially. If you look at the One City One Hire program, the mayor wanted to connect D.C. residents with D.C. jobs. We have the Department of Employment Services now, they work very closely with us. We connect them to the company, and they basically end up being like the pre-HR office. They prescreen people for qualifications, they test them, they make sure they have the writing skills, the customer-service skills. And then they send this prescreened group to the employer.
As a result, 7,600 employees have been hired at over 930 companies in the District of Columbia. This all started with something very simple, asking businesses: "Would you hire one District of Columbia resident?" As a result, our unemployment rate dropped from 11.2 percent when we started down to 8.7 percent now.
All of this really started with City Center [a retail, condo, and office development in downtown D.C.]. Everything was flat-dead when the mayor came on. It had been sitting around for 12 years, right in the middle of the city. We needed to create momentum, and that was the best place to begin it. They were having some issues, and the mayor asked me to go in and see what I could do in terms of getting that thing closed. And in six weeks, they closed it.
What was the issue there?
It had to do with our government structure, and the difficulty that the Office of Taxation and Revenue sometimes has in coordinating with the government that actually operates here. They are money, revenue, and treasury, but they're separated from us. Sometimes we don't communicate. By the way, this wasn't new. Twelve years of waiting — obviously, problems had happened before. The key was, how do you unravel it? Because I had worked in the public sector and the private sector, I had skills on both sides of the table, and understood what the real hiccup was. And I just focused on that. Within six weeks, we were breaking ground on the largest single project in the history of the city.
Creating that momentum was important because we were trying to create a confidence in the private sector that the public sector was not only serious, but that we could actually get these things moving. So when that broke ground, we immediately went up the street to O Street Market and sat down with that developer and said, 'OK, what are your problems?' He listed his problems. This time we worked with the office of the chief financial officer — this was all about how you structure the financing. We managed to resolve that, and as you know, it's well on its way now.
Now remember, that O Street Market burned down 40 years ago. Shops at the Dakotas — where the new Costco is — that had been sitting around for 28 years. We have two Wal-Marts ready to open, and a third under construction that will deliver next year out at Fort Totten. Now we've got this momentum going.
Do you feel like you've reached a tipping point, at which you don't have to make the same kind of pitch to businesses for why they should locate in the city? 
For years, Maryland and Virginia just assumed they could pick off D.C. Well, they don't think that anymore. But that just means we need to figure out the next innovation to stay ahead of them. This year for the first time we went down to South by Southwest. It was so great because we had 35 area CEOs down there — from little companies, as small as 10 guys and gals, to people like Steve Case [the former CEO of AOL] and Michael Chasen, from Blackboard. We also did a tech meet-up and 550 people signed up. The mayor was there, Evan Burfield from 1776 was there.
But going back to the mayor's original idea of investing in the entire city and not just the areas that are already affluent, how do you make the argument to a company to invest in a place like Fort Totten, which is a very different opportunity than pitching, say, City Center?
For us, it's all about market. If the market's not there, then we have to incent more. If the market is there, then we incent less. We try to make all the points about what the market opportunity is, and then let the deal stand on its own. Fort Totten right now is not a hard sell. St. Elizabeth's [a development on the campus of the old St. Elizabeth's hospital in the southeast Anacostia neighborhood] is still a difficult sell.
The first wave of Homeland Security from the Coast Guard just moved in across the street from St. Elizabeth's location with 2,600 people. And we've built a food and retail pavilion that they could use. The difficulty is, though, how do you take that demand off that campus and get it to come to your campus? We're doing that with programming.
We're going to have this big fall festival this month — there will be giveaways, there'll be games, hay rides, pumpkins, free coffee for adults. That kind of thing. Remember, the building has been closed for 30, 40 years or so, and there has been no construction on the site in over 100 years. I believe it's the finest piece of architecture in the city right now. And it's in Ward 8. It's in a "difficult" neighborhood. It's in a high unemployment area. You have to make this community feel how special they are. So at this beautifully designed pavilion, we're going to have an ice rink this winter. Every Saturday, there will be free exercise boot camps for people to get in shape. It's really to draw people there first.
There's room in your budget for things like this?
Yeah, we budgeted for all of this. That's how you do it!
That's not normally what people think of when they hear economic development.
Right. It's more organic than the normal economic development. A lot of people, like you said, think of downtown and the City Center as economic development. But part of this is trying to figure out what is the organic thing that you can grow there. We have a metro station on site, we have all these employees right around there, we have this food pavilion. Then add to that the three innovation centers we're working on there, including one we're working to finalize with Microsoft. It would be their second innovation center in North America — the other is in Redmond, Washington.
Not so long ago, there was native Washington and then transient Washington made up of people who moved here and planned to leave. Now it feels like there's actually a pretty big community of people who think of the city as a place they've moved to stay.
I try to explain to people how I perceive economic development. Part of it is an intellectual exercise, but part of it is emotional. When you are really getting transformation, the people get involved from a community standpoint. That cultural part is what's taking place now. That's kind of the aftermath. It's when you become proud of the thing that you are. That kind of thing is what's happening in the District. That's when you've got the real magic. And that is what will make people want to be here, stay here, and grow here. That's the economic development I'm looking for. That's what it's building toward.
All of a sudden, your home becomes a special place. To me, that is the powerful part, when people are so happy that they're in this town. I want everybody who left to wish they'd stayed. Because if they didn't, it's getting harder for them to get back in.