Why Can't the 'Best Shoppers in the World' Buy Health Insurance Easily?
The CEO of the world's third-largest generic drug company thinks U.S. health care needs more consumer spirit.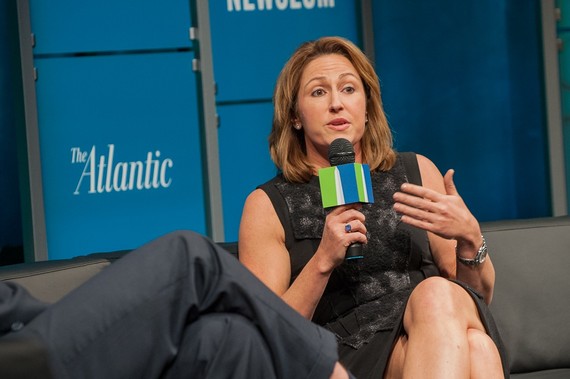 Heather Bresch has been the CEO of Mylan, a large generic drug company, for almost two years. But she still has trouble understanding her personal health care choices, she said during an interview at the Washington Ideas Forum on Wednesday. Although she expressed reservations about the Affordable Care Act, she thinks the legislation got at least one thing right: It taps into Americans' world-class shopping talent.
"If you think about us in the United States, we're the best shoppers in the world," she said. "We want the best, we demand the highest quality, and we want it for the least expense. Health care is the one thing, from pharmaceuticals to hospitals, we don't shop for, and even if you wanted to, you can't."
In a perfect world, she said, health care would be all about consumer choice.
"I work in a health care company, I've grown up in the pharmaceutical industry, but it's probably the one thing—my personal health care—that I have the least knowledge about: What is actually happening in the doctor's office [and] what you're being charged, whether it's an MRI or a preventative check-up or you're sick. If you go back on our country's foundation, our medical system was founded to take care of the sick. I think we've hurt our country but not having individuals have ownership in their health care.

I think we missed the mark with Obamacare—I think it tried to be more of a Band-Aid than a holistic fix. But we have got to… make individual owners and responsible for their personal health care so they know where products are made and what they cost, so they can demand the best."
Purchasing new health insurance plans on Healthcare.gov has been notoriously difficult over the last month—but it's nothing a little consumer gusto can't fix. Shop on, America.