Let's begin with the fact that black unemployment is higher than Hispanic unemployment, which itself is higher than white unemployment. This hasn't just been true for the last year, or the last decade. It's been true for the last four decades and beyond.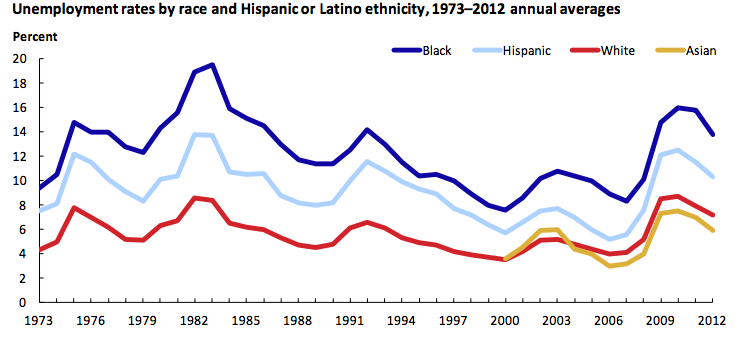 And we'll continue with the fact that, when you look at participation rates over the same 40 years, Hispanic men work more often than white men, who consistently work more than black men. Among women, the trend has been the mirror opposite and just as unchanging. Black women have consistently worked more often than white women, who have consistently worked more often than Hispanic women.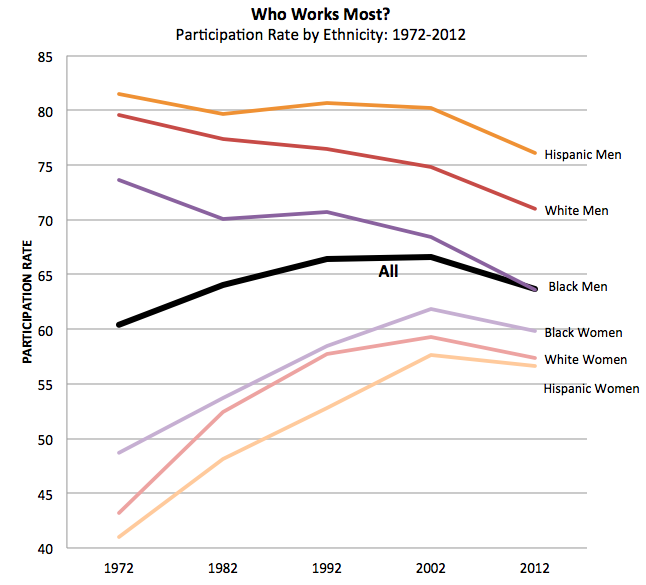 And we'll end with a snapshot of 2012, showing average weekly earnings by race and gender. White men and women out-earn black men and women, who themselves out-earn Hispanic men and women, among full-time workers—even though Hispanic men have the highest participation rate.
The numbers reveal a workforce stratified, if not calcified, by race, with whites seeing higher wages and lower unemployment, while blacks and Hispanics constantly stuck behind them. 
According to the BLS, whose data provides the backbone for this piece, the labor economy isn't merely stratified at the macro level. It's stratified at the job-by-job level. Different races and ethnicities cluster in different sectors.