Poll: Obama Down but Congress Is Down Further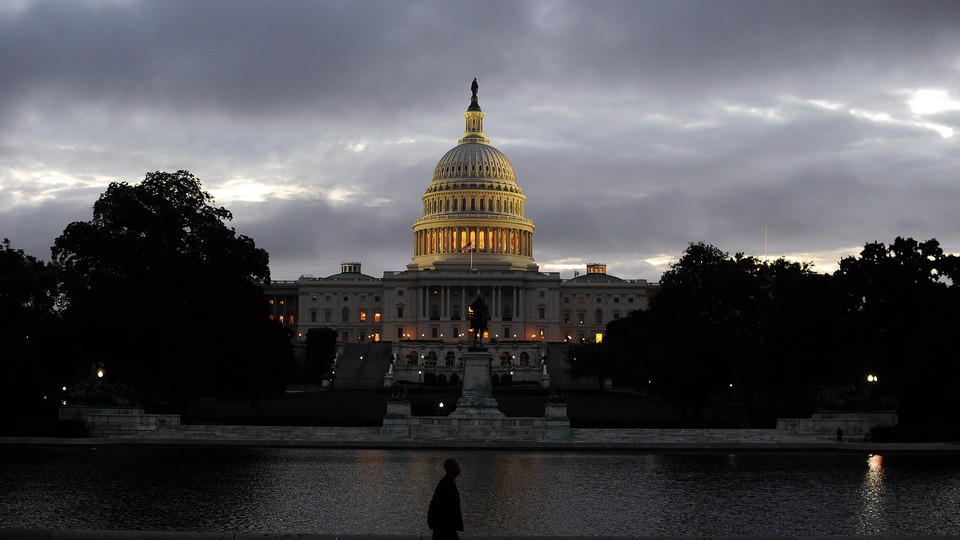 The bottom has fallen out for everyone in the nation's political leadership.
That's the message from the latest Allstate/National Journal Heartland Monitor Poll, which shows that after a government shutdown, near-default on the federal debt, the calamitous debut of President Obama's health care plan, and continued sluggishness in the economy, Americans aren't feeling much holiday cheer about the country's direction or anyone setting it.
Just 38 percent of those polled said they approved of Obama's job performance, with 55 percent disapproving. That's the lowest approval, and highest disapproval, the Heartland Monitor poll has recorded for Obama in the 19 times it has measured his standing since April 2009. The latest numbers continue a slide for Obama that had taken his approval rating from 54 percent immediately after his reelection last November to 40 percent in September.
Americans are even more dubious about Congress. Just 9 percent of those polled (down from 21 percent last November) approved of its performance. Fully 84 percent disapproved. Almost nine-in-10 of those who disapproved of Obama's performance also gave Congress a thumbs-down; 56 percent of those who disapproved of Congress also flunked Obama.
For good measure, just 23 percent of those polled said America is moving in the right direction; 65 percent said it's on the wrong track. After the 2012 election, those numbers stood at 41 percent right track and 51 percent wrong track.
Other measures continued to produce consistently grim verdicts. Just 23 percent said Obama's agenda would increase opportunity for people like them to get ahead, while 47 percent said it would diminish their opportunities; 25 percent said it would have no impact. That was essentially unchanged since September, but a significant decline since fall 2012, when two surveys found adults split about evenly on whether Obama's plans would improve or diminish their chances.
Likewise, just 34 percent of those polled said Obama's economic policies had helped "to avoid an even worse economic crisis, and are fueling economic recovery"; a 52 percent majority said instead he had "run up a record federal deficit while failing to significantly improve the economy." That continues a decline over the past year and represents the smallest share expressing a positive view about Obama's economic impact since the Heartland Monitor began asking this question (and a similarly worded predecessor) in 2009.
This poll surveyed 1,000 adults by landline and cell phones from Nov. 2-6. The survey, supervised by Ed Reilly, Brent McGoldrick, Jeremy Ruch, and Jocelyn Landau of FTI Consulting's Strategic Communications practice, has a margin of error of plus or minus 3.1 percentage points.
Still, in a clear-cut forest, Obama is managing to stand slightly taller on one key measure. Asked whom they trust to develop solutions to the country's economic challenges, those polled preferred Obama over congressional Republicans by 36 percent to 33 percent. That's a smaller advantage than the president has enjoyed in most of the past two years, though comparable to his standing through 2011.
Not that Americans see anyone offering many answers for the economy. Just 11 percent said they consider the economy in excellent or good shape, while a resounding 88 percent describe it as only fair or poor. The official scorekeepers may have declared the recession over in 2009, but 53 percent said they believe the economy is still in recession; only 41 percent believe it has lifted. Just 29 percent said they expect the economy to improve over the next year (while 30 percent expect to remain the same and 36 percent expect it to deteriorate). That's much glummer than even last June, when 37 percent expected improvement and 26 percent were bracing for decline. (Immediately after the election, 44 percent expected improvement.)
Americans are slightly more optimistic about their personal financial situation, but hardly euphoric. Just 44 percent described their finances as excellent or good, while 56 percent said they were only fair or poor. Those numbers have remained remarkably stable since the Heartland Monitor first asked the question in April 2009. Looking forward, about two-fifths expect their situation to improve over the next year; that's down slightly from last summer.
Obama's tumble reflects a decline both among groups skeptical and traditionally supportive of him. Among two groups that have consistently resisted him, Obama set a new low in approval among whites without college degrees (23 percent), while tying his nadir among college-educated white men (32 percent). But the poll also shows him attracting his lowest approval rating ever among nonwhites (only 59 percent) and tying (at 40 percent) his weakest performance with college-educated white women, the portion of the white electorate historically most open to him. Obama also hit an all-time low among independents (at 29 percent).
Whites say Obama's agenda will decrease, rather than increase, their opportunities by a thumping 56 percent to 15 percent, and they prefer congressional Republicans over him for solving the country's economic problems by a 12-point margin. Minorities are still roughly twice as likely to say his agenda will increase rather than diminish their opportunities, and they prefer him over the GOP for solving the nation's economic challenges by almost 4-to-1.
There's little optimism in any corner that the two sides will solve a key fiscal challenge looming on the horizon. Just one-fourth of those polled said they are confident Obama and Congress will reach a deficit agreement and avoid another government shutdown next year. Almost three-fourths say they don't have much confidence Washington can reach a deal. With insiders in both parties generally discounting the possibility of another shutdown, that suggests Washington, if nothing else, has succeeded in lowering the public's expectations to a point where it might finally surpass them.