On Obamacare, Sylvia Mathews Burwell Sticks to the Big Picture
But she gets specific on the sequester's ongoing ramifications.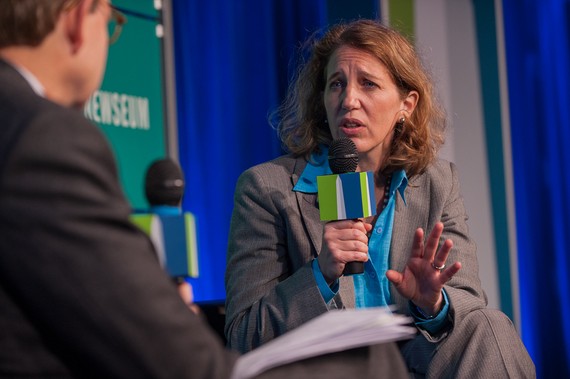 It's clear that Sylvia Mathews Burwell, the director of the Office of Management and Budget, has a hard job. Her administration's singular achievement, Obamacare, is a technical disaster that could become a political nightmare (not to mention, for Americans, an economic calamity, as well). Her former boss, President Bill Clinton,
announced yesterday
that he thinks the White House should change the law to let people who've lost coverage keep their insurance. And finally, there is the issue of that last word in her title: budget, a relic of past decades, which today's representatives seem fundamentally incapable of passing.
Fielding questions on these three issues this morning at the Washington Ideas Forum, Burwell repeatedly broadened the scope. Asked about Clinton's comment, she insisted that both Obama and Clinton "agree on fundamental things." Asked about about Obamacare's harsh rollout, she emphasized the big picture: the 55 million Americans who don't have affordable health care today. Asked about the prospects for a budget deal, she repeated the White House's annual line: focus on growth, roll back the sequester today to help the economy, reform entitlements to reduce the long-term debt.
Asked by interviewer Steve Rattner for evidence that sequester is hurting the country today, Burwell got specific. First there are the furloughed government workers. Then the 56,000 children kicked off Headstart and the 30,000 administrators who've seen lower pay or reduced hours, or worse. Then the cuts to research at the National Science Foundation and the National Institutes of Health. "Another element is readiness," she said, pointing to the drop in Air Force units training.