How Washington Is Wrecking the Future, in 2 Charts
Policymakers have left public investment fall to its lowest level since 1947, keeping unemployment high today and growth low tomorrow.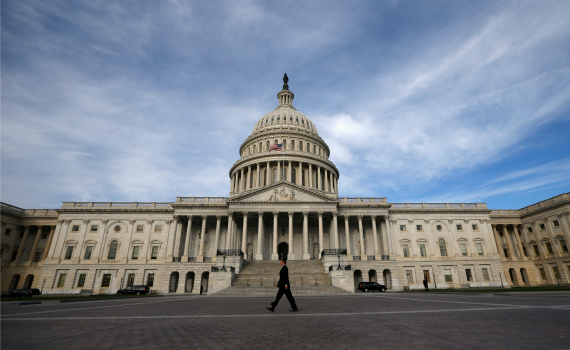 Reuters
The era of trillion dollar deficits is over. The era of deficient investment is here.
Rand Paul may not have noticed, but we've actually cut quite a bit of spending the past three years. Unfortunately, though, we've only cut quite a bit of the best kind of spending. Things like infrastructure, schools, and scientific research. The kind of things the economy needs to grow, but the private sector won't invest enough in.
In fact, we've cut more than just a bit. We've cut so much that, as the Financial Times points out, public investment is at its lowest level since the demobilization following World War II in 1947. And if you account for the disinvestment from roads and bridges decaying, net investment has barely been positive. You can see just how historically low overall investment (red) and net investment (blue) have been in the chart below, also from the Financial Times.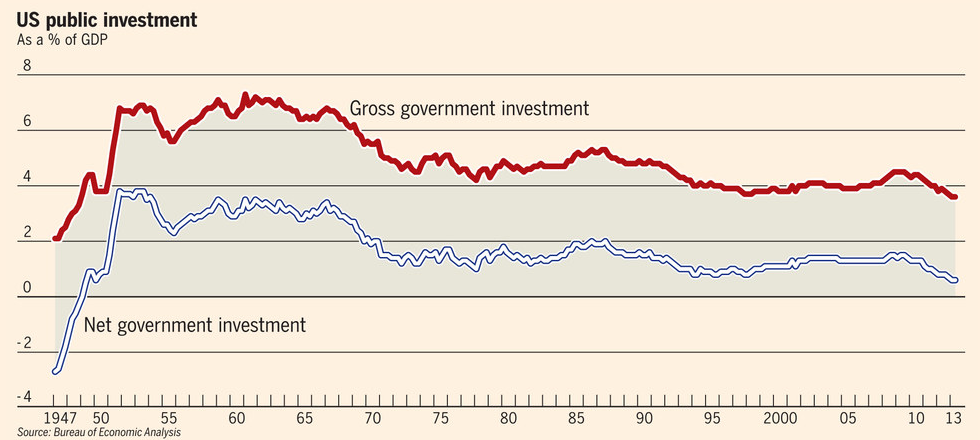 That dip down the past three years is what the stimulus running out, the first round of budget caps, and then the second round of budget caps (aka, "the sequester") looks like. See, even without the deliberately stupid sequester cuts, non-defense discretionary spending would be headed for a 40-year low. With the sequester cuts, it's headed for absurd lows. That's why Republicans and Democrats might finally be giving up on their failed revenue-for-entitlement-cuts framework, and just going for smaller-cuts-for-sequester-relief instead. Cuts to agriculture subsidies and increased user fees, as is rumored, probably aren't sexy to professional deficit hawks. But if it lets us put more money into roads and research, it's a good deal.
But remember, even that would only let us live in a world where the government is only barely more fulfilling its basic responsibilities. As you can see in this second chart from the Financial Times, only the Congressional Progressive Caucus has a budget that keeps public investment from falling to even more historic lows. Every other budget calls for less and less of the spending that we need—with Paul Ryan, of course, calling for the least.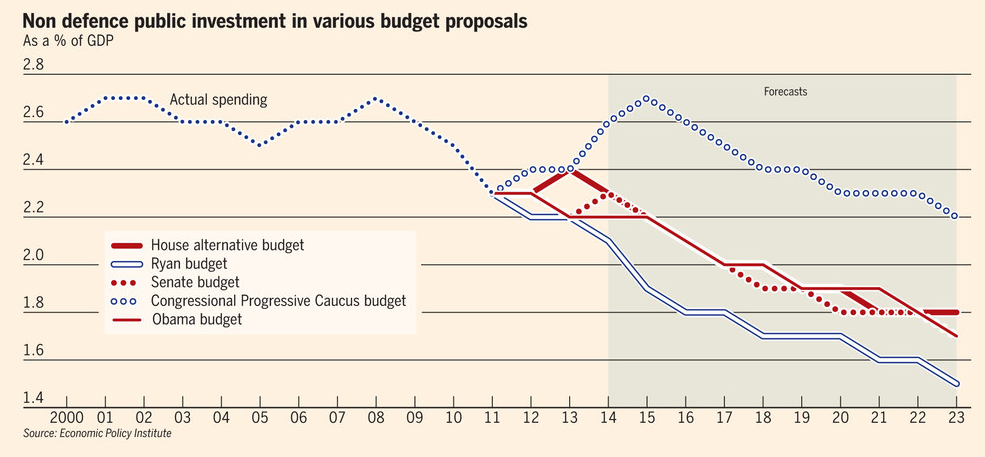 So I hope you like the taste of seed corn, because that's what our policymakers keep putting on the menu. The only question is how big the portions will be.