How Washington Abandoned America's Unpaid Interns
A legal labyrinth has trapped millions of young Americans who work every year without pay, because they are called "interns" rather than "employees."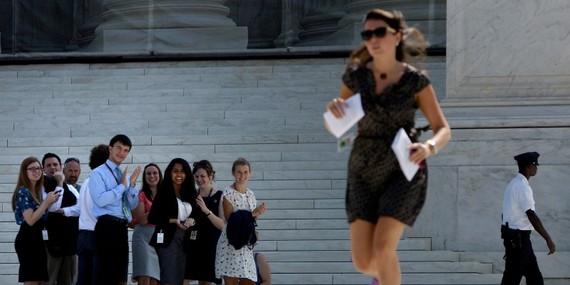 There's an unattractive, neglected poster hanging somewhere in your office. Maybe it's in the kitchen, tacked up above the microwave or next to the coffee pot. It's the leviathan of US labor law–the Fair Labor Standards Act.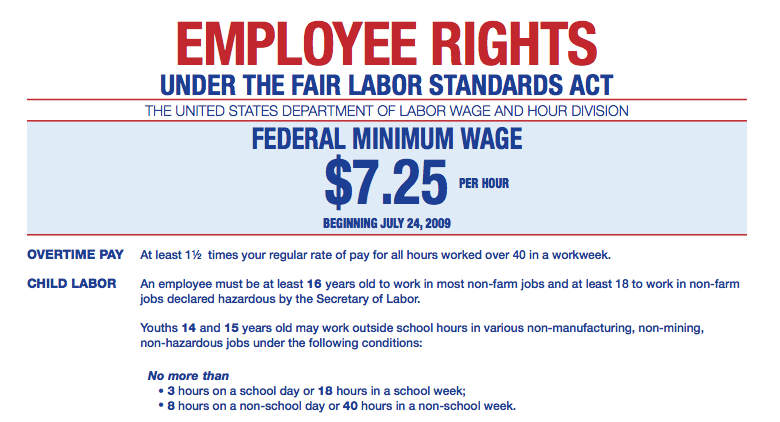 While the most common FLSA workplace notice reminds employees and employers of the minimum wage and regulations about overtime pay, child labor and tip credit, the act itself is far more expansive. But, ironically, the "employee" who has probably spent the most time pondering it—as they brew a pot, or perhaps clean the kitchen—isn't really covered by the law at all.
The intern.
The Act is painstakingly specific, with a separate section for seaweed harvesters [Section 213 (a)(5)], switchboard operators [(213 (a)(10)], wreathmakers [(213 (b)(15); 213 (d)] and even child actors [(213 (c)(3)]. But it doesn't offer one word for the estimated two million interns left to dredge the most unpleasant of tasks (not unlike a seaweed harvester, in fact). At a time when intern abuse is provoking a litany of lawsuits and complaints, this is plain negligence.
Internships have expanded to become a rite of passage for young workers. But often, they are entry-level jobs that pay entry-level salaries of exactly zero. For a country with minimum wage laws and a general sense that equal work deserves equal pay, this strikes many—but not all—as scandalous. In June, a Federal District Court judge ruled against Fox Searchlight Pictures, deeming their unpaid internships illegitimate. But in October, another case concluded that inappropriately treated interns cannot file suit for sexual harassment because they are not, technically, employees. Other suits, for example against Conde Nast (which has ended its internship program), and homemade insurrections, like at The Nation (who will now pay interns), have had scattered success.
Although some unpaid internships provide valuable training, all of them face the same systematic issues. By withholding all compensation, unpaid internships both discriminate against low-income students who might benefit from the experience and skirt the basic principle of a minimum wage. By operating in a legal gray zone, they are prone to nepotism and lack key protections given to all other laborers.  The problems with modern internships are expansive, and the possible remedies—from lawsuits, to open letters, to interesting financing options—have been creative. But we've directed our attention except the most natural target: the Department of Labor itself.
If there's going to be a systematic change to exploitative labor practices used on interns, Labor will have to lead the movement. At the moment, they're not even taking part.
The History of Intern Law (It's Very Short)
Senator Hugo Black didn't have a cadre of interns in his office when he drafted the Fair Labor Standards Act in 1932, which makes their absence from the original document understandable. Less understandable is that, 80 years later, interns have multiplied and the law hasn't adapted to cover them. The Department of Labor responds that the FLSA doesn't have to cover interns, because interns aren't technically employees. "In order for the FLSA to apply, there must bean 'employer' and 'employee' and the act or condition of employment," a Department spokesperson told me. Well, the FLSA defines "employ" as "to suffer or permit to work." Internships, paid and unpaid, certainly feature work—and often suffering—so it's unclear why they are deemed exceptions to the law.
In 2010, the Wage and Hour Division of the Department of Labor issued "Fact Sheet #71" to establish a "test" for unpaid interns at for-profit companies, in an attempt to clarify their position. The test said that companies could derive "no immediate advantage from the activity of the intern." In other words, unpaid interns are not allowed to be useful, and yet they always are. This one provision makes illegal nearly all unpaid internships in the private sector.
The Fact Sheet isn't an official regulation that judges can use to determine whether an internship is legal. Rather, it's a toothless and incomplete document that doesn't cover the many internships in the non-profit and public sectors. A mere footnote suggests that the WHD is "reviewing the need for additional guidance" for these sectors. Asked about progress since 2010, a spokesperson said that "WHD continues to review the need for additional guidance alongside other agency priorities." Given no movement on the issue within the Department, it doesn't seem to be much of a priority at all.
In other words, nothing has changed.
O Labor, Where Art Thou?
Interns have been abandoned, not only by a vague law, but also by a vacant administration. The Wage and Hour Division, which enforces the federal minimum wage, record-keeping, and other issues related to internships, has been without a director for the entire Obama presidency—and when it comes to internships, without a clue. The President recently put forth his third nomination for the post, after the first two withdrew because of expected GOP resistance. Even without a director, it's clear that internships aren't a priority for the WHD in the first place. The spokesperson told me that since 2009, it has secured a record $993 million dollars in back wages through investigations into more than 1 million workers whose conditions violated FLSA statutes. But not $1 of those back wages was won on behalf of unpaid interns. Instead, the spokesperson told me, the WHD chooses to focus its enforcement efforts on "workers who are at a greater risk of exploitation."
There is still so much low-hanging fruit. You could start with advice and metrics. If interns are not going to be considered full-fledged workers, they need to be accounted for somewhere. The WHD's Youth Rules! Program, which doesn't address internships at all, could raise awareness of illegal internship practices and extend its focus beyond the age of 18. The Division's data management system, which does not track interns or intern-status when complaints are filed, could begin to survey and count internships to give us a clearer understanding of where and how their numbers are growing—and what's going wrong.
But without a law, a regulation, a division head, an administration advocate, or an official statistic, interns will continue to work, often without pay, in a legal vacuum. Creative solutions will help some interns, but not enough. Similarly, compared to the advantage some individuals may gain in an internship, the structural damage done to the workforce is far greater. Interns'  presence outside of the law leaves all young people exposed to harassment and discrimination. Forget the buzzwords and legal maneuvering: Interns are doing the work of employees. They belong in the kitchen, not merely fetching coffee, but on the FLSA legal poster tacked up behind the pot.