ESPN Is Still 2X Bigger Than Every Other Cable Sports Network Combined
In a very, very valuable business, it's got the most valuable assets.
ESPN is the richest media brand in the U.S. today not only because cable television is practically the best business in the country, but also because among cable sports networks, ESPN has a virtual monopoly on the best games, and, subsequently, your attention.
Here's a look at ESPN vs. non-ESPN sports cable networks (broadcast, TNT, and TBS not included) and their average primetime viewership the last three Septembers, when baseball nears the playoffs and football starts.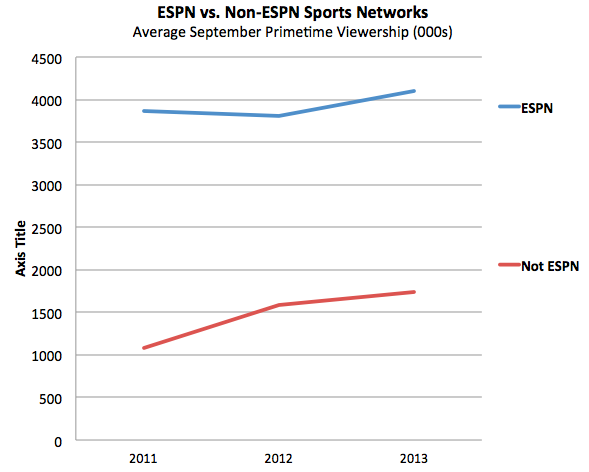 Being number one has cascading benefits in an entertainment industry like this. ESPN gets the highest subscription fees ($6.4 billion each year in subs, and that's before selling a cent of advertising), so it has the most money, so it can afford the most popular live sports rights, so it has the highest viewership, so it gets the highest subscription fees, and around and around we go.
Fox Sports 1 isn't ESPN's competition, no offense to Fox. ESPN's competition is stagnant wages and slow household formation that turns the cable bundle into luxury good.