Census: Medical Expenses Put 10.6 Million Americans in Poverty
That's more than food stamps or unemployment benefits lifted out.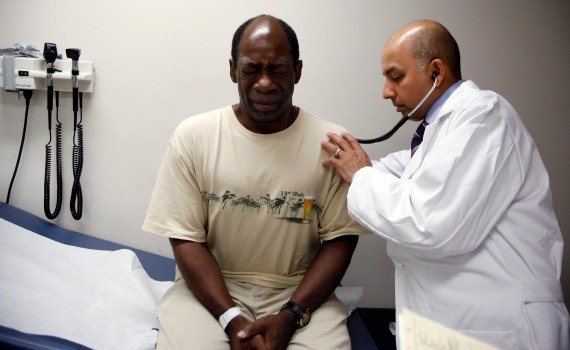 Here's a tidbit to remember next time you're in an argument about U.S. healthcare: according to a new Census report, medical expenses currently leave more than 10.6 million Americans in poverty, according to a fairly recent innovation known as the Supplemental Poverty Measure.
The SPM is designed to provide a better detailed sense of America's economic wellbeing than the official poverty rate by accounting for more of the benefits people receive through government welfare programs (think food stamps), as well as financial burdens like unusually high housing costs and out of pocket medical expenses.
The official and unofficial poverty rates are actually fairly close to one another overall—15.1 percent and 16 percent, respectively. But the unofficial rate gives us a useful perspective on what specifically keeps families in or out of poverty. As shown on the graph below,  Social Security alone knocks about 8.5 percentage points off the unofficial poverty rate. Food stamps shave about 1.6 percentage points off.  On other hand, medical expenses, charmingly referred to as MOOP down below, actually add 3.4 percentage points onto it. Multiply that by 311 million Americans in 2012, and you get around 10.6 million who have been left broke by premiums, co-pays, and doctor's bills.