Can Tesla Sell the Pickup Truck of the Future?
Not if it can't conquer Texas, first.
Elon Musk has already taken on the auto industry and space travel. But is he ready to take on Texas?
It seems we're going to find out, judging from the news that Tesla Motors, Musk's media-darling electric car company, is planning to build a pickup truck within the next five years. To date, Tesla has carved out a profitable niche selling eco-friendly luxury sedans to wealthy techies. It's still working on a crossover SUV for 2014 and a cheaper sedan for 2016 (not to mention dealing with a spate of battery fires). But, never short of ambition, Musk told Business Insider yesterday that Tesla intends to eventually produce a pickup modeled on the Ford F-150, America's top-selling vehicle.
Pulling that off would be a rather remarkable design feat. Ford, for its part, is aiming to have a mere hybrid version of the F-150 ready for 2020.
But making a viable Tesla pickup could be an even more daunting marketing challenge. While California, Tesla's home base and the source of half its customers, is by far the largest market for electric cars, Texas rules pickups. The state is responsible for one in six sales nationally. As Automotive News recently wrote, more pickups are sold in Dallas and Houston combined than any other state.
The upshot: if you want to sell a truck to Americans, all roads lead to the Lonestar State. As General Motors' North America Vice President Mark Reuss told Businessweek, "The opinion and recognition of how good the truck is starts in Texas." (The map below is also from the magazine).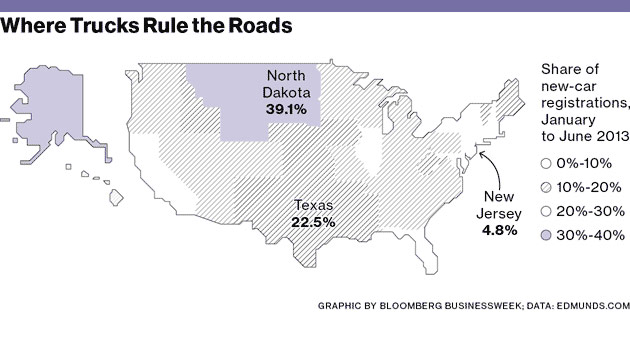 Unfortunately, Texas poses at least two big hurdles for Tesla. The first is cultural: As of now, green vehicles just aren't that big in the land of BBQ and oil rigs. Texans buy more than 9 percent of all vehicles in the U.S., but only around 4 percent of electrics and 6 percent of hybrids. That said, culture changes. And it's not hard to see buyers in tech-friendly Austin deciding to shell out for a truck that indulged their inner cowboy and eco-warrior.
But the second, much higher hurdle is legal. As of now, Texas has effectively banned Tesla from marketing its cars in state, thanks to a statute that bars vehicle manufacturers from selling directly to customers. Why does that amount to a banishment? Because instead of working through local dealerships, like most automakers, Tesla sells all of its cars online and through company-owned showrooms. It even has ones set up in Houston and Austin. But its sales reps there aren't allowed to offer test drives, quote prices, or even send customers to the website.
Tesla already lost a lobbying battle to change the law earlier this year, thanks to pushback from dealers. Unless it finds a Plan B, it's plans for a pickup may just stall out.