23% of Americans Would Prefer a Female Boss (and That's a Record High)
Workers' preference for male bosses fell dramatically in 60 years, but the groups with the strongest male preference today are Republicans and women. (Yes, women.)
In 1953, Gallup asked Americans if they would prefer a male or female boss, and the guys won in a landslide. But the U.S. was a different country back then. Eighty-five percent of men worked compared to just 35 percent of women, and a female CEO was practically unheard of.
In the last 60 years, the male/female boss gap has narrowed from 61 points to just 12 points. Americans still prefer male bosses over female bosses. But today, two-thirds of respondents say they prefer female bosses or just don't care in the first place. "The 23% of Americans who would opt to work for a woman is the highest in the history of Gallup's asking this question since 1953," Gallup reports.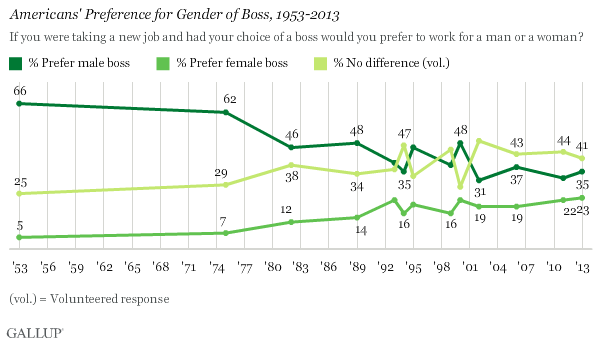 There are three more fascinating points to make from Gallup's more detailed data that breaks down respondents by gender, education, age, party, and current boss.
(1) More than 50 percent of every group has no preference or prefers a female boss, as you can see in the graph below. This is a far cry from the days when two-thirds of workers clearly preferred male bosses.
(2) ... but the two groups with the lowest combined scores are Republicans and women. Yes, women.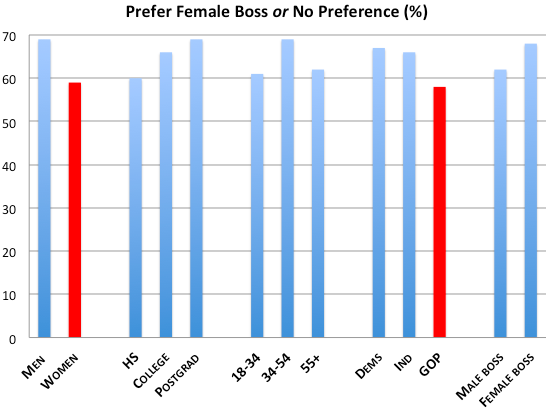 The idea that women prefer to work for men might strike you as counter-intuitive, but it's not a rare finding. Two recent surveys out of the UK found that women prefer male bosses, because men are perceived as having more relatable personalities in positions of power. This opens up so many cultural trap-doors—that women withhold their personality because they feel they can't show too much emotion at work; that men can get away with flashes of attitude and anger that women can't; and so on—that I'm not going to spend much time unpacking the finding, but there it is.
(3) Another way to see which groups feel strongest about having a male boss is to ignore the "no preference" crowd and simply find the gap between male and female preference. In this version, it's Republicans (again) and older workers with male bosses who most prefer men over women.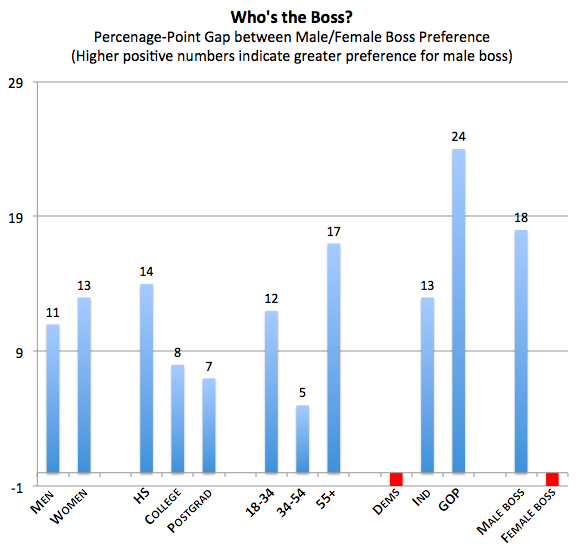 (4)  ... and there are two categories that slightly prefer to have female bosses, as you can see in red. Those are Democrats and respondents who already have a female boss.
The upshot, which Gallup emphasizes, is that most Americans work for guys today, and as more women become bosses, more Americans will probably feel comfortable with women as their boss—or, just as likely, decide it doesn't really make a difference in the first place.