Why McDonald's Killed the Dollar Menu—in 1 Chart
A dollar ain't what it used to be
The sad news that McDonald's is ending its Dollar Menu after eleven years reflects a simple truth: You can't make any money selling burgers for $1, any more.
Accounting for about one-seventh of the chain's total sales, the Dollar Menu, once a brilliant marketing gimmick, is now an anchor—both economically and metaphorically, speaking—enraging franchisees who can't make any money selling 2013 processed cow meat at 2002 prices. McDonald's has experimented with raising prices and tweaking its offerings to appease owners, but by November, the Dollar Menu will be gone, essentially.
The fact that the Dollar Menu has lasted this long might make you think fast-food prices have lagged behind other items, in real terms. But the price of beef and other staples has been turbulent. With some help from the inflation pros at BLS, I graphed this chart of "fast food" inflation (technically "limited service meals and snacks") versus all food for home consumption and core inflation minus housing, which is different from the more commonly used core inflation, but subtracts housing's recent boom.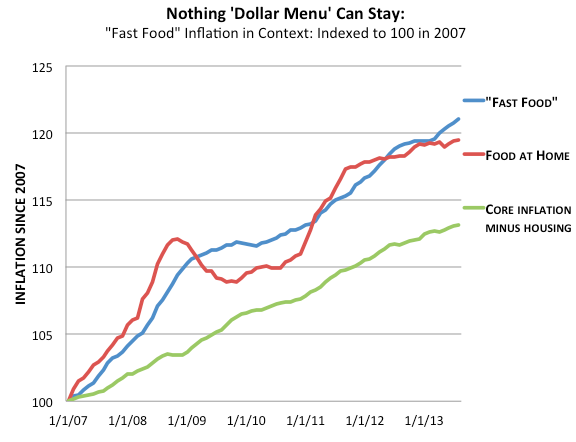 ...  and remember: these are prices for end-consumers, so you're not seeing what truly angered McDonald's franchises, which is that the price of Dollar Menu items like double cheeseburgers was rising slower than the cost of ingredients, like buns and cheese and onions and manufactured mammal-based consumables, or whatever the official term is for a fast-food patty.
In January, Wendy's turned its 99-Cent Menu into the Right Price Right Size menu. Now McDonald's has turned its Dollar Menu into a Dollar-and-Up Menu, which is an awfully multisyllabic synonym for "a menu." As fast casual restaurants like Chipotle and Panera continue to expand, McDonald's should be relieved that they've taken away the promise to anchor all their food prices to $1.