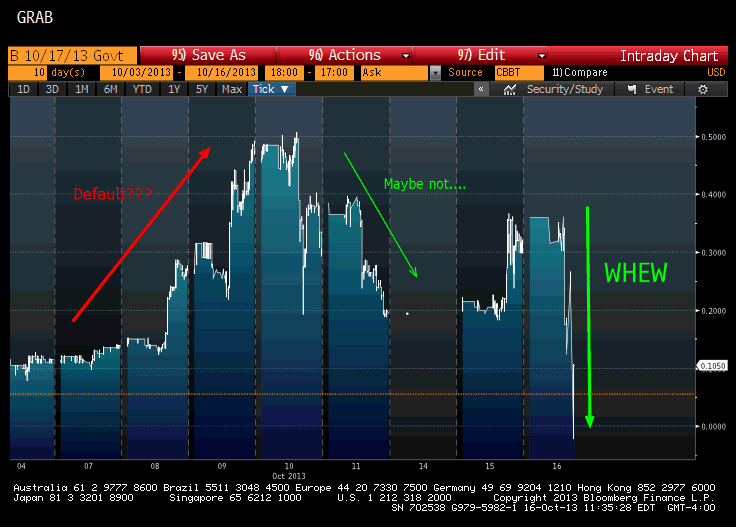 Yesterday, I guessed that Congress, while immensely silly and mostly broken, was not quite crazy enough to actually blow through the debt ceiling deadline (which isn't technically for another few weeks).
Apparently, I was right. And so was Wall Street. John Boehner is ready to accept a compromise from Mitch McConnell and Harry Reid that would fund the government and raise the debt roof, according to Senate sources.
There isn't much evidence that Wall Street ever thought this eleventh-hour deal wouldn't happen. The graph at the top, via Bloomberg's Nicholas Johnston, shows the gyrations in Treasury bill yields. The debt ceiling showdown sparked fear, then uncertainty, then relief, but never outright panic.
The stock-market story paints a similar triptych: fear, then a breath of calm, followed by outright relief. The S&P is up 40 points (2.4 percent) since the start of the month and has steadily climbed the last few days. Its low point, which mirrors the October 9 spike in yields, was just 2 percent off its September close. Investors didn't quite yawn at the debt crisis, but they weren't exactly sweating spinal fluid, either. Unfortunately, Washington's unusual behavior has become, in the eyes of investors, something like business as usual.
So this debt ceiling fight was no big deal, huh? Not so fast. The shutdown cost the economy billions of dollars, inflicting pointless pain on medical research, government data, public services, and low-income families. Consumer sentiment fell more sharply than any month since the Lehman bankruptcy. Budget crises like this and the 2011 showdown have cost the U.S. an estimated 900,000 jobs in the last three years, which is the equivalent of five extra months of typical job creation.
That Washington is stupid but not quite suicidal is Wall Street's correct assumption. But that is not quite the same as permission.