The GOP Might Lose the Shutdown Battle, but It's Already Won the Spending War
Don't say Democrats aren't compromising. Their bill last night (rejected by the House GOP) would have funded government at Paul Ryan-levels.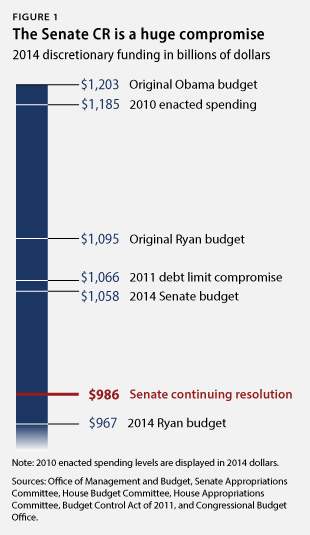 The government shut down this morning, after House Republicans repeatedly rejected plans to fund operations for two months unless Democrats agreed to defund and delay President Obama's health care law. (That's right: This is a fight about 61 days of funding.)
But today's news is a data point in a much larger story: Republicans have, in the last two terms, masterfully whittled down federal spending, often with precisely this form of brinksmanship.
The Senate bill funds the 2014 government at a level 18 percent below the president proposed five years ago; 17 percent below the Democratic Congress proposed four years ago; 10 percent below Paul Ryan and Republicans proposed three years ago; and 8 percent below the debt ceiling compromise two years ago (see graph, via Michael Linden and Harry Stein). The Senate bill is less than 2 percent away from Paul Ryan's own 2014 budget.
The Austerity Caucus has won the biggest fights in Washington since 2010, and now, having achieved the fastest-shrinking deficits since demobilization after World War II, some of its members are threatening to shut down the government and break our promises to creditors and families unless the president unwinds his signature first-term achievement. It is, as Jim Fallows wrote, as if 2005 Democrats threatened to shut down Washington and stop paying Social Security unless President George W. Bush tore up his 2001/'03 tax cut. "This would have been called extreme and unreasonable under an imagined Nancy Pelosi House in 2005," Fallows said. "It is extreme and unreasonable now."
Republicans have won round after around of the spending wars, from the debt ceiling negotiations, to small cuts in continuing resolutions, to the across-the-board cuts under this year's sequestration. Now they're refusing to do their job (fund the damn government) unless the White House concedes yet another round. Democrats aren't negotiating with a party, any more. They're negotiating with a child who, after four servings of ice cream, says he shouldn't be forced to do any chores or homework until he gets a monogrammed cake.