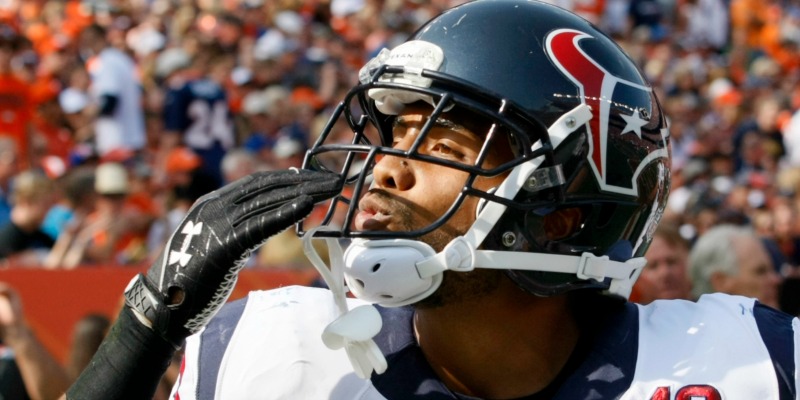 Kiss your money goodbye | Reuters
Arian Foster, the star running back for the Houston Texans, is now the first athlete to go public. He has sold a 20 percent stake in his future income to Fantex Holdings, a stock market for buying and selling shares in the earnings potential of athletes. 
It works like this. Arian Foster gets a check for $10 million. In exchange, Fantex gets a 20 percent "tax" on all future Arian Foster income. That means if Foster earns more than $50 million starting now, Fantex and its investors stand to make money. If Foster earns less than $50 million, he just signed a sweet deal.
Actually, forget if. Foster just signed a sweet deal. With just over $20 million left on his current contract ending in 2016, Foster will be 30 when he's up for another contract. For work-horse backs like Foster who carry the ball 300-400 times a season, 30 years old might as well be 90. He will never get another $20 million contract, which means anybody betting in his future is hoping Foster gets on ESPN and slowly works his way toward $50 million over the course of the next few decades.
But let's dig deeper. There are at least three sports reasons and three business reasons why Arian Foster is an awful investment for you. Here are the sports reasons, moving from the general to the specific.
Athletes in high-contact sports have highly uncertain careers. Anybody who has ever played fantasy football knows how rare it is to make it through four weeks without multiple injuries to your starting line-up. It's one thing to "invest" in 14 players in a paid-fantasy league and hope enough of them will stay healthy to field a competitive fantasy team. It's another to invest all of you money in one player and hope he's immune to all head, arm, and leg injuries during the course of your investment.
 
Running backs are not immune to head, arm, and leg injuries! In fact, they are among the most susceptible. Especially every-down backs like Foster, who not only carried the ball 405 times last year including the playoffs (more than any other back) but also caught a handful of passes in heavy traffic each game. Foster just suffered an injury last year that kept him out of the pre-season and slowed him in the first three weeks of the season. 
 
Foster, a 27-year old running back, isn't just coming off an injury and slogging through a mediocre year (for him). He's also getting old in running-back years. Of the best running backs of the 2000s (let's take: Shaun Alexander, Clinton Portis, LaDanian Tomlinson, Edgerrin James), none had more than two seasons with more than 1,000 yards and 4.0 yards-per-carry or above after they turned 27. For some, like Alexander, the numbers fell off a cliff around 28. For others, it was a slower tumble down the back hillside of their career. An elite 29-year-old back is an exotic talent. For Foster to make more than $50 million over the rest of his career, he'll probably need endorsements that could only come from a Super Bowl championship. That won't happen unless he's unexpectedly traded to a contender in the next 24 months.