Marriage Makes Our Children Richer—Here's Why
Young people from less-privileged homes are more likely to graduate from college and earn more if raised by two married parents.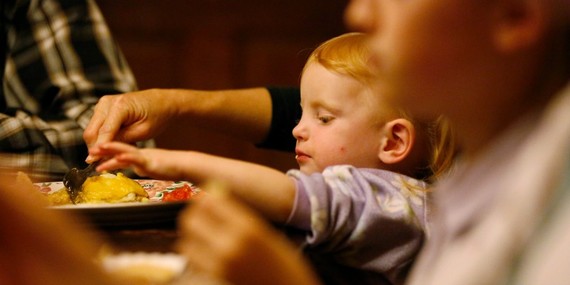 The United States' reputation as "the land of opportunity" is a cruel bit of false advertising.
Americans are 
less
 likely to experience relative economic mobility than our peers in countries like Canada, Denmark, and Sweden. Children born to poor and working-class parents are considerably 
less
 likely to reach the highest rungs of the economic ladder than their richer classmates.
But why? One of the most promising new groups working to answer this question is Opportunity Nation, a group committed to working across partisan and ideological lines "to expand economic opportunity and close the opportunity gap in America." Their newly released Opportunity Index includes 16 indicators, from high-school graduation to income inequality. But not one indicator relates to the family.
In fact, the opportunity story begins with our families—in particularly, with our parents. As the Nobel-prize-winning economist James Heckman recently noted, "the family into which a child is born plays a powerful role in determining lifetime opportunities." My own research using individual-level data from the Add Health dataset for the Home Economics Project, a new joint initiative between the American Enterprise Institute and the Institute for Family Studies, indicates that adolescents raised in intact, married homes are significantly more likely to succeed educationally and financially. The benefits are greatest for less privileged homes—that is, where their mother did not have a college degree.
As the next graph indicates, young men and women who hail from intact, married homes are much more likely to graduate from college. More precisely, young adults are at least 44 percent more likely to have graduated from college if they were raised by their married parents. This is important because a college degree is associated with better work opportunities, lower odds of unemployment, and a substantial wage premium.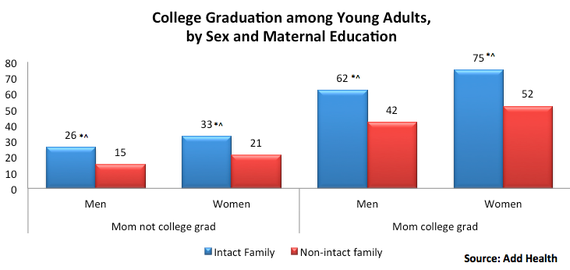 The marriage bump is strongest among families where the parents didn't go to college (the left half of the graph above). Among less-educated families, the children of married parents earn about $4,000 more than their peers from non-intact families, as the next chart shows. The association between intact families and income is not significant for children of college-educated parents.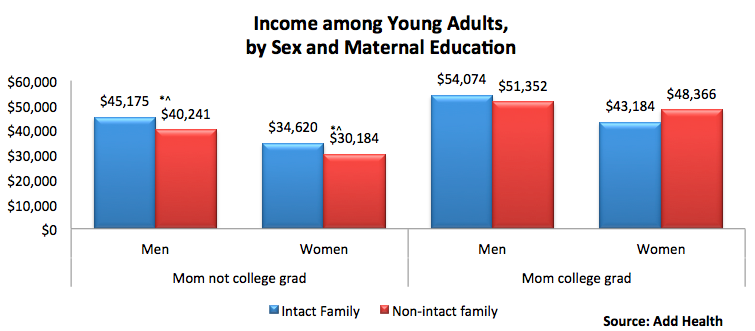 Adolescent family structure also has important implications for family formation among young adults. The next graph indicates that men and women who hail from intact families are about 40 percent less likely to father or bear a child outside of wedlock. This is important because nonmarital childbearing reduces your odds of successfully getting and staying married down the road, maximizing your income, and of providing a stable home to your children.

Marriage might even have economic benefits at the citywide level. A recent
study
from Harvard and UC-Berkeley found that the most important predictor of economic mobility was the low share of single moms in a community. Mobility for poor kids was
highest
in the Salt Lake City metro area, which also happens to have one of the
lowest
rates of single motherhood of any major metro area in the country.
The idea that marriages have such strong spillover effects strikes some as a spurious correlation. But there is evidence of a causal relationship, too. MIT economist John Gruber, studying the effect of divorce on later incomes, found that adults "exposed to unilateral divorce regulations as children are less well educated, have lower family incomes, marry earlier but separate more often, and have higher odds of suicide." Indiana psychologist Brian D'Onofrio, relying on a study of twins, also found that young adults from divorced homes did worse than their cousins from intact homes (the cousins had parents who were twins) when it came to substance abuse and behavioral problems.
The intact, two-parent family seems to be particularly important for children hailing from less privileged homes and a powerful force for economic mobility when it's the family norm at the community level. Policymakers who feel more comfortable talking about metrics than marriages need to understand that marriage could be one of the most important metrics.