If You Offer Free Rent, They Will Come
Oakland looks to build a downtown retail district with start-up, rent-free leases in already vacant spaces.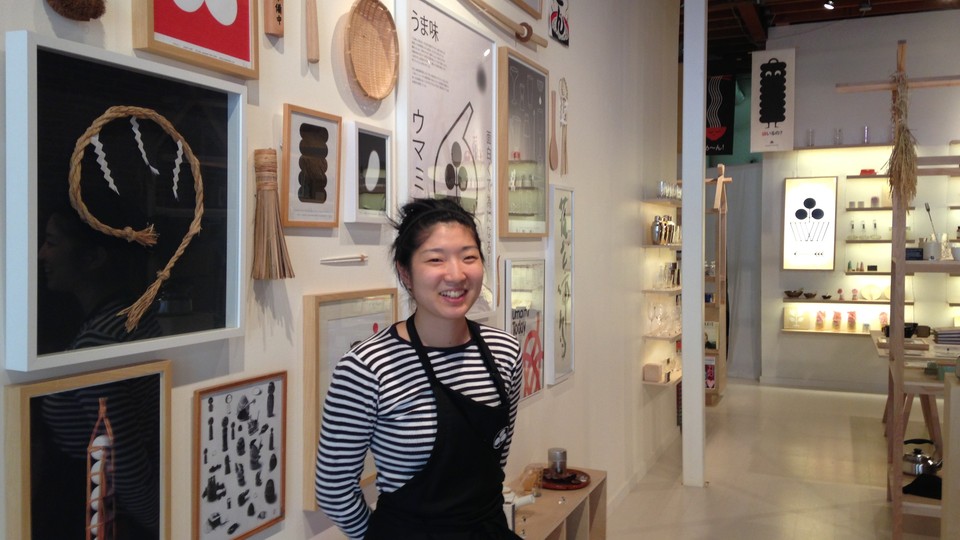 This article is part of a weeklong America 360 series on Oakland.
OAKLAND--The city of Oakland wants to emerge as the Brooklyn to San Francisco's Manhattan. It's getting there. Thanks to a hipster exodus from more expensive San Francisco, Palo Alto, and Silicon Valley, a lot of tattooed millennials are riding around downtown Oakland on fixed-gear bikes. The bar and restaurant scene is taking off. A massive festival called Art Murmur draws thousands of people on the first Friday each month.
And yet retailers still largely struggle to survive in Oakland's downtown. "There aren't enough people here," Brian Kendall, project manager for the Oakland Redevelopment Agency, explained on a walk last month. Downtown is a major professional center featuring Kaiser Permanente's regional offices, the seats of city and county government, and music-streaming company Pandora. But for much of its history, it has been a commuter center, with few residential or shopping opportunities.
There's not much foot traffic. Kendall pointed out blocks where many ground-floor spaces are either vacant or offices that turn shuttered blinds to the street. On Telegraph Avenue, a major thoroughfare, two new shoe boutiques rely on online sales for 30 to 50 percent of their revenues, he said. Meanwhile, city officials estimate that Oakland residents spend $1 billion each year shopping outside Oakland, often taking their wallets to neighboring towns with already-flourishing shopping districts.
City hall, local entrepreneurs, and a small business incubator called Popuphood see retail as the final stage of Oakland's urban revival. And they're helping merchants with creative solutions that could apply to Main Streets and downtowns nationwide.
Alfonso Dominguez knows how hard it is to survive as a retailer in downtown Oakland. While his restaurant in historic Old Oakland — an authentic Mexican place he co-owns with his mom — survived the 2008 recession, his nearby denim store and home-goods store did not. As Dominguez watched the bad economy wipe out emerging businesses, he worried about the neighborhood's future, and about decreased foot traffic to his restaurant.
So in 2011, Dominguez teamed up with artist Sarah Filley and approached his landlord with a new concept: instantly reviving a whole block in Old Oakland by giving five vacant storefronts to retailers for six months, rent-free. The goal was to lower the start-up costs of opening a store, and to help entrepreneurs ease into paying full rent. By opening alongside other restaurants and boutiques, a store owner also wouldn't have to wait for other retail outlets to take a chance on the neighborhood. "You can't expect someone to go and set up shop in a transitional neighborhood and wait five years for it to come up around them," Filley says. Dominguez and Filley called the concept 'Popuphood,' a word that's now the name of their consulting company.
"We didn't feel like we were sacrificing much," says Martin Ward, asset manager for the building owner, Peter Sullivan Associates. The company had been trying to lease the spaces for years. Ward believed that activating ground-floor space with retailers would make the area more attractive to office tenants.
Two years later, the storefronts in Old Oakland have hosted seven businesses and a traveling art library, selected by Dominguez and Filley from a pool of applicants. They lean toward businesses that support or reflect Oakland's creative economy — such as a former gallery owner who sells goods handmade by American artists, and a pair of Japanese-American lifestyle bloggers whose store specializes in imported barware. Participating retailers meet monthly, share communal resources like Wi-Fi, and are mentored by Dominguez and Filley.
So far, two participants have gone on to sign leases in their Popuphood spaces, and a third recently signed a lease at another Old Oakland location. Retailers that succeed in the incubator tend to have two qualities: they come into it with an existing online following or as a second location for an existing business, and they turn their stores into experiences. Crown Nine, a jeweler, hosts classes and makes custom engagement rings. Umami Mart, the Japanese purveyor, hosts events like sake tastings. Entrepreneurs that succeed go beyond brick-and-mortar: they have online stores, wholesale businesses, blogs, and Instagram accounts. They hustle like crazy.
A venture like Popuphood requires landlords willing to take risks and hardworking entrepreneurs. But retailers setting up shop in Oakland have also benefited from state redevelopment funds for downtown façade and tenant improvements, managed by City Hall's Kendall. Such money has been strategically deployed in Oakland for years to combat urban blight — notably in the 2000s, when then-Mayor Jerry Brown spent lavishly to restore the art deco Fox Theater and finance new apartments. In 2012, now-Gov. Brown eliminated the program, forcing the city to explore other options for helping entrepreneurs.
The City of Oakland recently partnered with Kiva Zip, a crowdfunding platform. The city will endorse local businesses on the site, with the hope that the stamp of approval will help them attract more capital. The redevelopment agency has also taken a Popuphood-style approach to some downtown property it owns. That includes Dominguez and Filley's current office space, which the city has offered them rent-free in exchange for their entrepreneur-incubation work.
Popuphood has subleased most of the space it gained from the city to HUB Oakland, an organization that provides coworking locations throughout the city. What was once an empty bank branch is now humming with entrepreneurial activity. Across the street, a store called Oaklandish prints T-shirts and other gear emblazoned with unabashed Oakland pride. And down the block, Awaken Cafe serves up lattes and avocado toast, and it's often so crowded with people working on laptops that all the wall outlets are taken.