Fixing Public Schools for Everyone
As Oakland gentrifies, incoming middle- and upper-class families are rallying around schools — public schools.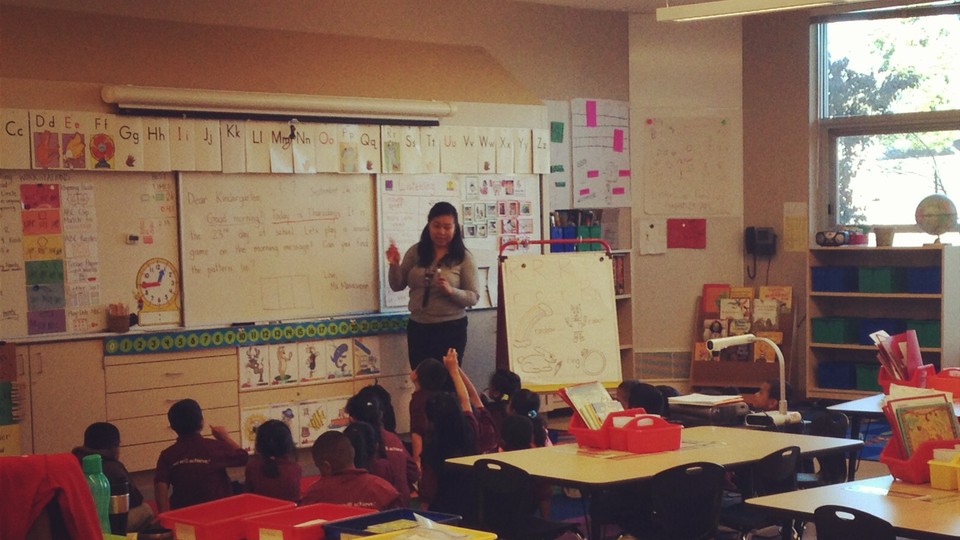 This article is part of a weeklong America 360 series on Oakland, Calif.
OAKLAND, Calif.""Kathy Cash has promised her 7-year-old daughter that — from kindergarten through college — she'll fight to keep her in the best schools. So Cash went into panic mode when she realized that Sophia's public elementary school was threatened with closure. In the spring of 2011, 16 out of 17 teachers at Learning Without Limits, a college prep school in Oakland's heavily Latino Fruitvale neighborhood, received layoff notices. Most LWL teachers are young and new to teaching, and have zero job security when budget cuts hit California's seniority-based system.
Cash, a stay-at-home mom, started convening weekly parent meetings soon after Sophia entered kindergarten in the fall of 2011. Eventually, advocacy from Cash and other concerned parents helped push the Oakland Unified School District to reach a compromise: Learning Without Limits would become a partner charter school, maintaining its ties to the district but gaining more autonomy over staffing. "You don't just get to make a decision on my child's future without my consent," Cash says of the school district.
Oakland's low-performing urban schools have been whipsawed by a steady stream of crises and education-reform efforts for more than a decade. "The general theme for me is how much change has been done, how hard they've worked, and how little there is to show for it," says California State Board of Education President Michael Kirst of Oakland schools. There are high-performing public schools in Oakland, innovative programs, and committed teachers. But absolute outcomes remain abysmal. Only 32 percent of African-American and 28 percent of Latino third-graders read at grade level. Less than half of high school students pass courses they need to apply to a state university.
Now there's a sense that the district may be shifting toward a more collaborative, potentially more effective approach to improving education. It's a change that has been fueled by parent leaders like Cash, a new school board, and a politically active community organization called Great Oakland Public Schools, popularly known as GO.
Local education leaders know all too well that there are no silver-bullet solutions for improving urban schools. That's why GO is focused on charting a middle course. "We're not the charter people. We're not the district people. We want to be the quality people," says executive director Jonathan Klein.
Since its founding in 2009, GO has focused on disseminating clear information about progress in the district's schools, convening education leaders, and organizing the grassroots. During the 2012 school board elections, 300 people showed up at GO's offices to make calls on behalf of candidates endorsed by the organization's members. When layoff notices hit Learning Without Limits, GO was there to help the school's overworked principal research a solution that wouldn't require the school to leave the district.
Part of GO's mission is to advocate for change in a manner that is careful and builds consensus. In a recent effort to improve teacher quality, GO began by convening community groups, including a local chapter of the Service Employees International Union. The assembled coalition commissioned a report on Oakland from the National Council of Teacher Quality, which helped convince district leadership to pilot three teacher-evaluation approaches at six schools. The various evaluations include observation, student test data, and parent and student surveys, and they will be implemented school-wide. No consequences are attached to the scores teachers receive — the stated goal is to provide better feedback.
If the participating schools find the pilots helpful, they could help generate more support for professional development for teachers — without setting off alarm bells for the union, which doesn't want to tie teacher's job security or compensation to a subjective measure. Union leaders want to see teachers supported instead of demonized; they also want to make sure that teachers have a voice in efforts to improve the schools.
Even so, GO's political activities can sometimes put it in conflict with the local teacher's union, as happened during a recent school board election. "They're Astroturf for charter schools," charges Oakland Education Association President Trish Gorham. The union was astonished at the amount of money GO's PAC was able to raise in a city this size: more than $186,000, including three donations of more than $35,000. The California Charter Schools Association gave almost $50,000, according to local education reporter Katy Murphy.
Increased community involvement in Oakland schools is a trend that isn't likely to turn around any time soon. On the state government front, a new California law gives Oakland a reason to increase collaboration. The Local Control Funding Formula, enacted in 2013, is set to direct more state money to the neediest students, with a requirement that school districts engage parents and community members in planning how to spend it. In the 2013-14 school year, the school district is hoping to get $331 extra dollars per pupil, and to see that increase to an additional $1,580 per pupil annually by 2020.
Changing demographics have also helped fuel a more inclusive approach to school improvement. Between upwardly mobile parents like Cash — who are being encouraged by GO and other community organizations to speak out — and an influx of middle- and upper-class families to the area, OUSD schools are coming under increasing pressure from parents.
Middle-class arrivals who fled the high costs of San Francisco are demanding quality public — underline public — education in Oakland, says James Harris, a school board member whose candidacy was backed by GO. That requires innovation to occur within the district. "It's easy to all day long go to the table and say, 'Here's my charter, and I'm out,' " he says. "What can we do to say, 'Let's use their innovation? Let's invite their innovation?' "
There are great teachers in Oakland, and a lot of people looking out for kids, says Cash. "When I was growing up — I didn't hear about that, I didn't get to see it," she says. Cash was born in Nicaragua, but has lived in Oakland for most of her life. Although she has both an associate's degree and a bachelor's degree, she thinks a lot about how much more she would have achieved academically if she'd felt so well supported. Then she vows to do more for her daughter.
CORRECTION: An earlier version of this story misstated the year Kathy Cash's daughter entered kindergarten. She did so in the fall of 2011.