Could Blue Moon Really Be America's Favorite Beer?
A new survey claims Americans are in love with the tasteless Belgian imitator. But they're certainly not voting with their wallets.
There's a map floating around the Internet today purporting to show that America's favorite brand of beer is Blue Moon—that bland excuse for a Belgian white ale brewed by MillerCoors. (Ever wonder why they suggest serving it with an orange slice? Because it doesn't taste like anything otherwise. But I digress.) The map was created by the purveyors of "hangover cure" Blowfish,  and is apparently based on a survey of some 5,000 drinking age adults. Sam Adams was the second most favored brew, while Bud Light came in third.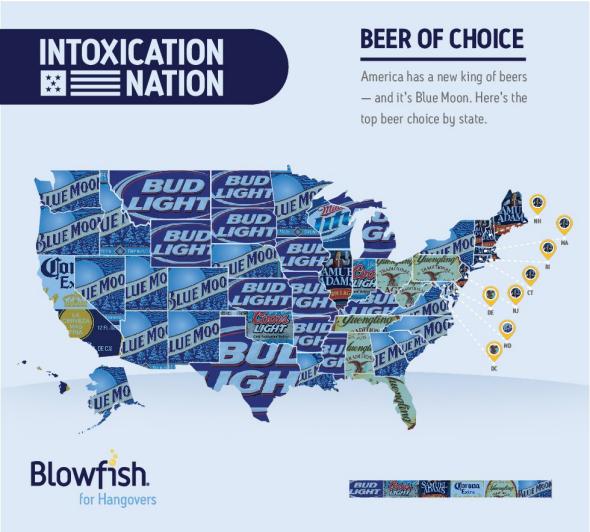 Something about these results smells a bit off. While both Blue Moon and Sam Adams sales have been growing, neither claims much more than 1 percent of the U.S. beer market (as shown in the BloombergBusinessweek graph below). By comparison, beers like Coors Light and Budweiser each claimed more than 8 percent, as of 2011. Bud Light, the reigning champ, took 19 percent. Even Heineken—and Dennis Hopper can tell you how real Americans feel about Heineken—managed 2 percent.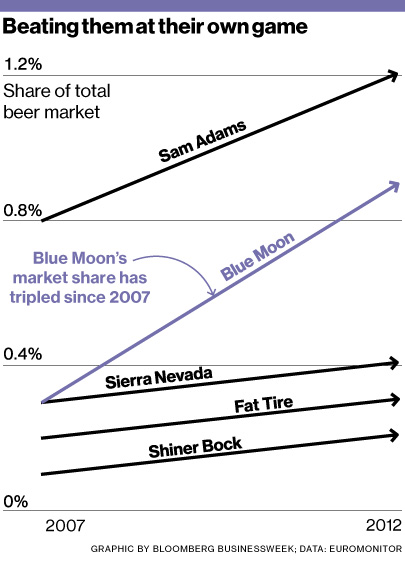 It is possible that Americans are consciously choosing quantity over quality, opting for relatively cheaper brands and more cost effective buzz at the expense of taste. It could also be that, compared to other brands, Blue Moon and Sam Adams simply have a more dedicated contingent of fans who punched above their weight in voting. Sam Adams in particular fairs well in Yougov's survey of top beer brands.
But if the makers of Blowfish are to be believed, Americans' two favorite beers are brands they just don't drink very much of. It's almost as if someone surveyed the country about our favorite genre of music, and we collectively answered jazz. You wouldn't believe that, would you?