Can Oakland Escape San Francisco's Shadow?
Democratic Mayor Jean Quan explains why the city is another Brooklyn--and the violent Occupy protests are just a blip.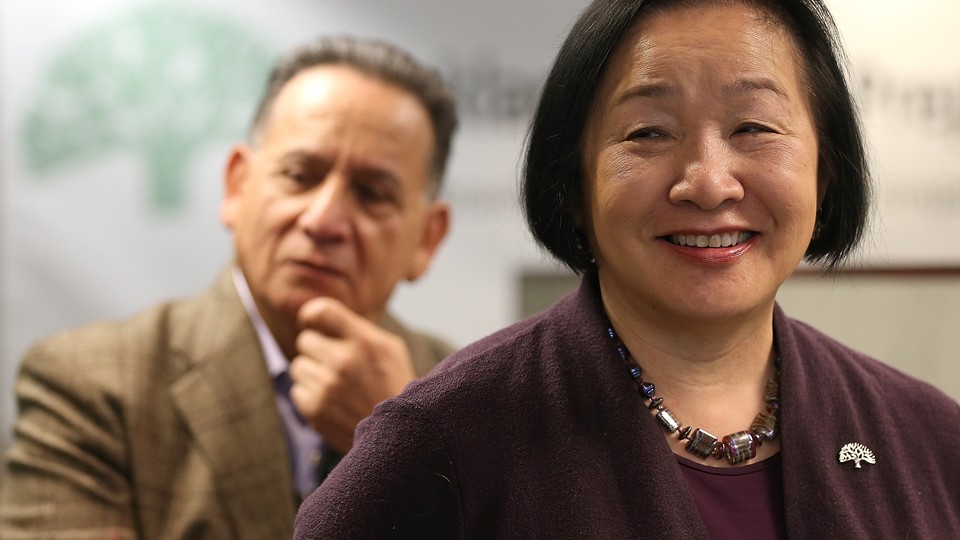 This article is part of a weeklong America 360 series on Oakland.
*CORRECTION: The original version of this story included a heavily-edited series of quotes that inaccurately reflected Mayor Quan's sentiments, while also omitting crucial context. It has been replaced by an unbroken quote from the mayor.
Oakland is the Bay Area's Rust Belt town. For years, the city of some 400,000 has struggled to cope with the loss of manufacturing jobs and the exodus of prosperous residents to the suburbs. City and county government and hospital systems remain the largest employers here. Many people associate Oakland with poverty and crime.
But the region's tech boom hasn't passed Oakland by. Soaring rents in San Francisco are pushing entrepreneurs, artists, and young people into the East Bay. There's a higher rate of new business creation in the low-cost East Bay than in San Francisco and Silicon Valley, according to the Bay Area Council Economic Institute. Pandora, the online music streaming service, got its start in Oakland and remains headquartered there.
When Mayor Jean Quan took office in January 2011, Oakland was facing big municipal debts, a foreclosure crisis, and state budget cuts for everything from schools to prisons. Later that year, the police force initiated a violent crackdown against Occupy Oakland protesters. National Journal sat down with Quan in her Oakland office to talk about her tenure and the city's future. Edited excerpts follow.
What makes you most hopeful about Oakland's future and what is your biggest challenge?
Oakland has been in the shadow of San Francisco for a long time, but it has a very interesting history of its own, of being very diverse and a place where innovation takes place. It was the end of the transcontinental railroad and the home of the Pullman porters. Like New York, it's a port city where immigrants first come and maintain ties.
We're contradictory. I have neighborhoods in the African-American community where more than 50 percent of the young men don't graduate from high school. But we also have high numbers of graduate degrees. We're the original home of the University of California; we're close to the University of Berkeley. You've got this immense diversity, not just in terms of ethnicity but also income. It generates a kind of energy and innovation that's at the heart of the city.
We're a little bit like Brooklyn. Because Oakland is so much more affordable than San Francisco, the whole arts scene has shifted over here. The food scene has taken off. Those kinds of cultural things have made Oakland very desirable.
* And so, you asked me what my challenge is. Well, my challenge is to let people know what the new Oakland looks like. Somebody just sent me an email saying, 'Oh, you should have more black police since more than 50 percent of your residents are black.' And I'm like, 'Actually, no, 28 percent of my residents are black, but we're pretty evenly divided between blacks, whites, Latinos, and Asians these days.' But that's their image of Oakland--and this is somebody who lives in the Bay Area.
So if you're on the East Coast... I was really mad when the Wall Street Journal did this article, and they talked about Stockton, and they threw us in. Our finances are the best they've been in a decade.
The state of California eliminated redevelopment funding in 2012 that helped cities combat urban blight. How are you coping with the loss of that money?
We've been able to get investments — particularly from Chinese investors. The Zarsion loan in the Brooklyn Basin is the largest single investment in the United States from a Chinese company: $1.5 billion to do about 3,100 housing units. Quite a few downtown buildings have been bought by developers, renovated and restored using EB-5 dollars [an immigration program that grants visas to foreigners who invest and create jobs in the U.S].
Oakland is this place — because of the high percentage of immigrants, and because we're a port city — where the connections between East and West can really be experimented with. [San Francisco Mayor] Ed Lee and I are some of the first Chinese-American mayors of major cities. I think the relationship between China and the U.S. will be the most important relationship in this next century.
Much of the new money that will be available from the state for housing will be for transit-oriented development. I'm going to the Twin Cities to look at one of the projects they're doing. It's a development along a thoroughfare between the two cities, similar to what we're going to be doing over on International Boulevard [a bus, car, and bike corridor that spans much of the city].
What about addressing crime? That's another area where budgets are tight.
You have to have enough enforcement to give the neighborhood some teeth, but you can't just have police. You have to have an intervention that will change behavior. And lastly, you have to have some investment in prevention, and that includes good-paying jobs, good schools, and increasingly we all believe programs like the Harlem Children's Zone.
We've beefed up our police academy, and that should bring us almost back to where we were [in police staffing] in prerecession days. We're giving each area a crime reduction team of eight officers that they can move around to hotspots. How you use your cops, and not the number of cops, is important.
And we've built collaborations. We were able to get the attorney general and the White House to agree to put more federal marshals out here, and we agreed to some joint actions that really helped take out some of our toughest gangs. We've tried to do diversion programs, where we provide counseling instead of sending kids to juvenile hall. We've spent some time pulling in some churches and social agencies. I'm pretty confident that as we continue we'll be able to bring violent crime down more.
Oakland has a long history of activism. Do you think that history contributed to the intensity of the Occupy Wall Street protests here?
I think two things happened in Oakland. We're in the center of the Bay Area, so it's easy for people to just get on a BART [Bay Area Rapid Transit] and show up here. Since the World Trade conference in Seattle [in 1999], there have been groups of anarchists floating around.
A lot us agreed with the goals of Occupy--with fighting what's happening in America, this huge gap between the rich and poor. I was in the first march. But on that first march, already the anarchists were taking over and wouldn't let the union leaders and others use their microphone system. And I realized we were going to have a problem. The actual evacuation [of activists from the encampment in Frank Ogawa Plaza] was pretty peaceful. Then a very small group of very violent anarchists created a police riot.
By the end, Occupy had very few local leaders. When they smashed the windows of the Obama campaign offices in Oakland, that was probably the last straw; they showed that they didn't support anything, they were against, against, against. Too many of the Occupy people had not a clue about this city and how much harm they were doing to the local economy. They thought they were being revolutionaries. We think they were very reactionary. If you want to find people who are working on race, who are working on affordable housing, the environment--all of that hard work of taking progressive ideas and actually making them into government policy happens in this city every day.