Why Are Companies Reluctant to Hire Military Veterans?
Lowering the high unemployment rate for recent veterans requires special commitments by employers.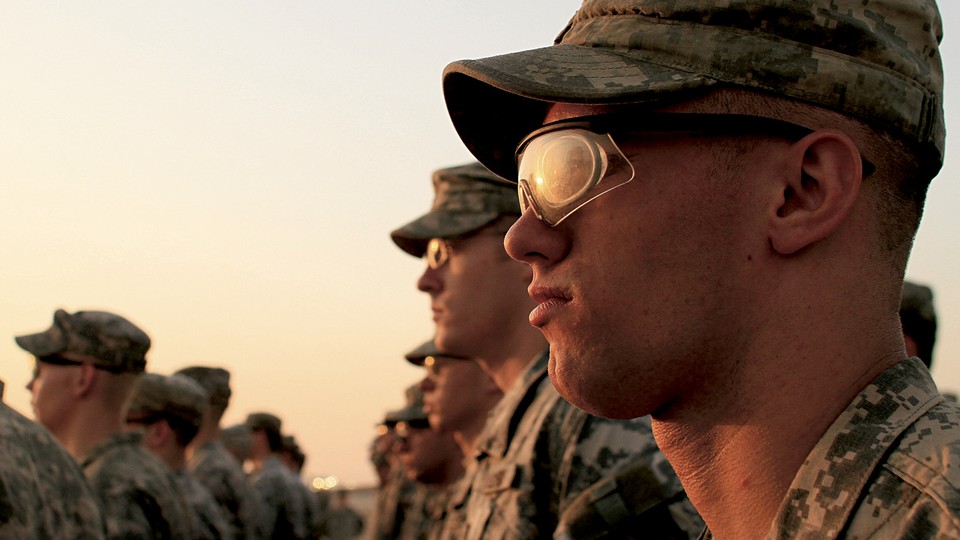 The U.S. military is the most trusted institution in America, according to Gallup surveys. Honoring service members is a no-brainer for businesses looking to please consumers. Even people who oppose current military engagements want to support the troops. Yet despite all this goodwill, many recent veterans find it hard to transition into the civilian labor force. In 2012, nearly 10 percent of veterans of Iraq or Afghanistan were unemployed, compared with 7.9 percent of the general population, according to federal statistics.
The typical veteran of recent conflicts is under age 35, a demographic group that has a higher-than-average unemployment rate. While some of the 2.6 million recent veterans suffer from health problems that affect their ability to work, most have a much less obvious problem: They don't have résumés that hiring managers understand. A 25-year-old Iraq war veteran may have significant leadership and technical experience, but he may not have a two- or four-year college degree, two or more years of nonmilitary work experience, or references from past employers. It's not immediately clear how his experience prepares him to work in, say, a bank branch.
In 2011, President Obama challenged the private sector to hire and train 100,000 veterans and military spouses by the end of 2013. Since that time, dozens of employers have made vocal commitments to do so, and last August, first lady Michelle Obama announced that these efforts had already led to 125,000 hires. At the same time, corporate commitments to hiring veterans and reintegrating them into the civilian workforce have forced many companies to take a hard look at their hiring practices.
Former service members have become a minority population little understood by many civilians. Less than 1 percent of the U.S. population has served on active duty in the past decade. On the private-sector side, "there's a lack of understanding of the breadth of occupations and jobs that people hold in the military," says James Schmeling, managing director and cofounder of the Institute for Veterans and Military Families at Syracuse University. Many military jobs involve responsibilities that aren't reflected in their official title, like logistics or project management.
The disconnect cuts both ways: 58 percent of post-2001-conflict veteran job seekers worry about how to translate their military skills into a business environment, according to a 2012 report by Prudential Financial and Iraq and Afghanistan Veterans of America.
Last month, when Hilton Worldwide announced its commitment to hiring 10,000 veterans in five years, it also launched a job-application system that matches military experience with employment opportunities. The hospitality company hires some 20,000 employees each year in the U.S. alone, and it relies on an online system that — typical for major companies — weeds out applications that don't fit hiring requirements. "If you don't have two years of experience in a particular area, you may never get a job interview," says Rodney Moses, vice president of global recruitment.
That was a big problem for veteran applicants with little or no private-sector experience. The new website recognizes military occupation codes as relevant experience, and job seekers can use their military codes to find available positions that fit their skill set. Hilton is also working to get the word out that they welcome veterans. "If you think about the size and scope of some of our hotels, they're like some of these large ships that are in the Navy," Moses says.
At JPMorgan Chase, a commitment to hiring veterans led the company to establish a whole new corporate team: the Office of Military and Veterans Affairs. In 2011, the consumer and investment bank joined 10 other companies in committing to hire 100,000 veterans by 2020. To help meet that goal, JPMorgan established a training program called "Military 101" to teach hiring managers and recruiters about the military, created a program to educate veteran hires about the bank's corporate culture, and hired 15 recruiters whose sole purpose is to find veterans. Every veteran job applicant gets a callback within five business days, says Shannon O'Reilly, executive director in communications for military and veteran affairs.
The effort JPMorgan joined, called the 100,000 Jobs Mission, now involves 113 private-sector companies that are sharing best practices on how to recruit, retain, and support veterans. Although reaching out to veterans can involve extra effort, many companies have concluded that it helps their bottom line. By hiring veterans, companies gain motivated employees, public accolades for supporting the troops, and federal tax credits of up to $9,600 for each veteran they hire, noted a 2012 McKinsey report.
Corporate commitments provide a bridge from the military to the civilian labor market. But they can't address labor market challenges that all job seekers face. "We know that it is a major barrier to entry, especially in this economy, to not have the educational experience that a company is looking for," says Brian Hawthorne, an Iraq war veteran and a board member for Student Veterans of America. Veterans with advanced degrees are much more likely to find employment — and to find family-supporting jobs — than those with just a high-school diploma. Likewise, those who go home to poor or rural areas where jobs are scarce struggle to find work just like their neighbors do.
Hawthorne worries that the public focus on posttraumatic stress and suicide rates among veterans may lead employers to dismiss young veterans as risky hires. "I know vets who don't include their military service on résumés. To me that's a real shame, not only for the service member but for the organization," he says. If a company rejected him based on a negative stereotype, Hawthorne says, he wouldn't want to work there anyway.
Correction: An earlier version of this article incorrectly named the vice president of global recruitment at Hilton Worldwide. His name is Rodney Moses.