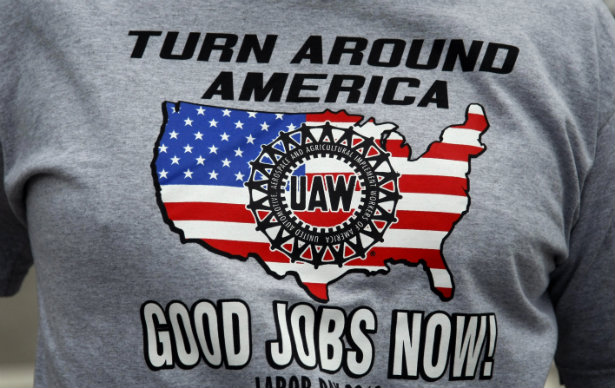 Lately, the only battles labor unions have seemed capable of winning in the private sector have been PR battles. McDonald's workers go on strike for a day to raise awareness about low wages? That counts as progress. A few Walmart workers walk out in protest on Black Friday, only to be casually ignored by the hoards of shoppers racing for waffle irons? Well, at least they nabbed a few headlines. 
However, something a bit different, a bit more tangibly significant, appears to going on in the auto industry right now.
The United Auto Workers may well be on the verge of accomplishing a longstanding and elusive goal: organizing a foreign car maker on American soil. This week, its leaders reported that more than half the workers at Volkswagen's manufacturing plant in Chattanooga, Tennessee had signed cards favoring union representation. As a next step, Volkswagen could simply choose to recognize the UAW without a fight, or it could force a certification election through the National Labor Relations Board. Negotiations between the two sides are ongoing, but the union seems to have at least some momentum.
If the UAW does prevail, it will be a camper-sized milestone for the auto industry. The once-mighty but long fading union has never successfully organized a factory owned entirely by a foreign car maker. And with its finances wobbling thanks to membership declines, many believe that cracking transplants like Volkswagen, Nissan, and Toyota has become a do or die task. Union President Bob King put it bleakly in a 2011 speech, telling the crowd: "If we don't organize these transnationals, I don't think there's a long-term future for the UAW, I really don't."