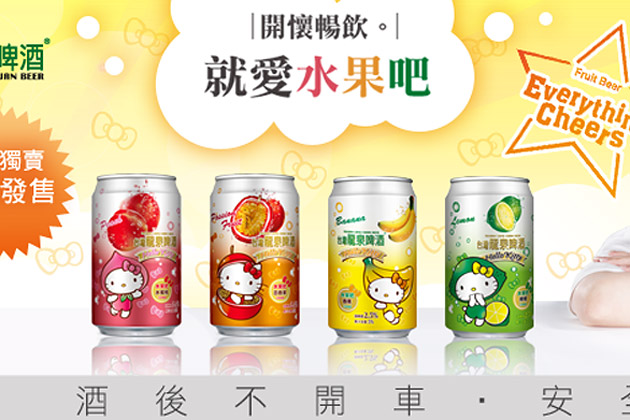 Hello Kitty, having been slapped onto just about every other imaginable consumer product on this little blue marble of ours, is now being used to market beer in Asia.* 
Consumers in China and Taiwan can now pick from six fruit-flavored brews, including peach, lemon-lime, passion fruit, and banana, sporting the cartoon cat on the can. With about half the alcohol content of a Budweiser, they're not very potent. But as Kotaku's Eric Jou put it, "They're so ridiculously smooth and tasty that one can barely tell they're drinking beer. It's almost like drinking fruit juice, even if the cans do say 'beer.'"
This is for the kids, right? Maybe not. Hello Kitty has plenty of adult fans, especially across Asia (we are, after all, talking about a 40-year-old icon). This seems more like a silly but smart branding ploy to reach China's great untapped booze market: women.
Reliable figures on drinking habits in China are apparently tough to come by. But as a World Health Organization bulletin recently argued, the statistics we have suggest that, "high-risk drinking behaviour has reached epidemic proportions" in the country. That is, epidemic proportions among men. Only 15 percent of women considered themselves drinkers, compared to 55.6 percent of males, according to another national survey. For every 1 female alcoholic, there are approximately 33 male alcoholics.