The GOP Plan to Sabotage Raleigh's Successful Growth
The area attracts more young families than any other. But conservative attacks on public education could change that.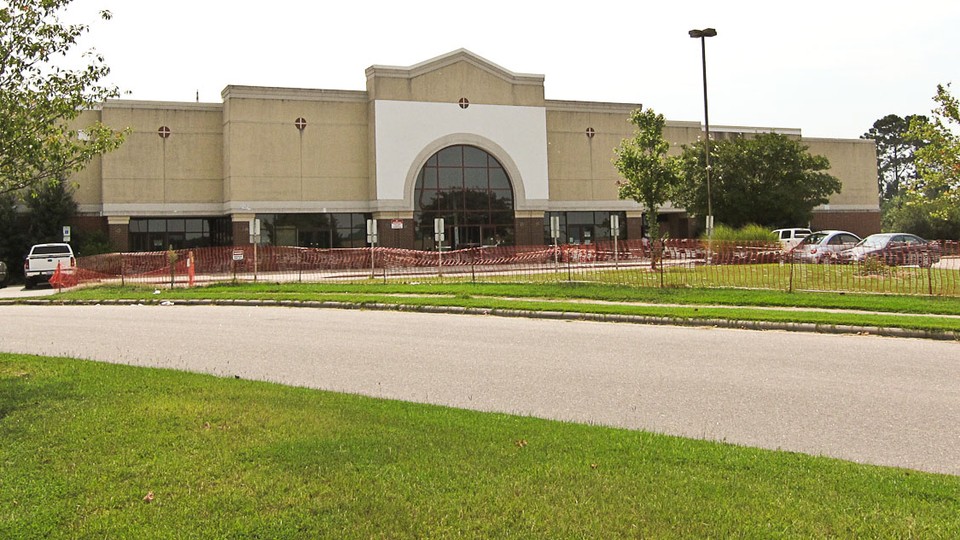 This article is part of a weeklong America 360 series on Raleigh. 
RALEIGH, N.C. — To get to the future Garner High School satellite campus, you have leave the main road south of the city and find a wooded turnoff that leads to the rear of a huge, decaying shopping plaza. There, nestled in the trees near the school, is an abandoned movie theater. Wake County bought the vacant Garner Towne Square 10 property in early 2012 for $1.75 million, and will use it to ease the school's severe overcrowding. The cinema, which fell victim to the economic downtown, closed three years ago and has sat vacant ever since. Now it will be used to house ninth-graders.
Still, that won't solve the overcrowding issue completely. Garner's main campus is almost entirely surrounded by portable modular classrooms that take up nearly every available plot of land, and the high school currently operates at almost double its capacity. It's the price of success for a booming metropolitan area. With a diverse economy, temperate climate, and relatively low cost of living, Raleigh, and the surrounding Wake County, is viewed as one of the most desirable places to live in the nation; the region continually ends up on best-of lists. According to a Forbes magazine study that culled data from the 2010 census, Raleigh leads the nation in attracting young families, having experienced the biggest increase over the last 10 years in kids ages 5 to 17.
Those kids have to go to school somewhere. Since 2006, Wake County Schools have been adding 6,000 new students a year, pushing the system toward a breaking point. "We're having a hard time keeping up," says Joe Desormeaux, the system's assistant superintendent for facilities. The rapid growth has led to the use of modular classrooms on almost every campus and the use of an innovative year-round scheduling system that platoons sets of students to take maximum advantage of classroom space. It's still not enough. The large majority of the system's 170 schools are maxed out, even with the use of 11,000 temporary classrooms.
A bond issue on the ballot in October would allow the system to build about 30 more schools. But because this is Raleigh, and because North Carolina is a state now gripped in an epic scorched-earth battle between conservatives and liberals, its approval won't come easily. Just about everything in the region, down to local level, has become deeply politicized.
Witness the furor that developed in 2010, when tea party-backed conservatives engineered a takeover of the Wake County School Board and abolished a long-standing integration policy that had sent suburban kids into hardscrabble urban neighborhoods and inner-city kids to suburban schools in favor of an approach that emphasized neighborhood schools. Critics such as the NAACP argued the system was reverting to segregation. Liberals counterattacked and retook the board in 2011.
At the same time, the state's GOP-dominated General Assembly has injected itself squarely into education policy by expanding the use of vouchers, which allow low-income students to attend private schools, and charter schools, which will compete directly with traditional public schools. It has also frozen pay for K-12 teachers and eliminated a salary increase for teachers who hold advanced degrees.
These recent fights have led some on the Wake County school board to fret openly that the system will lose good teachers to private schools or other states — and that new families will stop relocating to the region in response. That would solve the county's overcrowding problem, but not in the way board members want.
Even John Tedesco, who was elected as part of the conservative bloc, is concerned about the Legislature's actions. "In all honesty, this is about to crash in a way that we have no clue," Tedesco said at a school board meeting in August. "We keep talking about want[ing] the best and the brightest teaching our children, but we don't provide the resources for them. Again, I'm a strong fiscal conservative. I'm a strong free-market guy. But one of the cruxes of any free-market system is competitive wages."
The Wake County Republican Party recently came out against the bond issue, much to the dismay of local officials. Desormeaux says that some critics doubt the school is using every available foot of space it can for students, and they wonder if art, music, and special-education rooms, which have fewer desks, can be converted into regular classroom space.
Meanwhile, prominent local employers such as Red Hat, a publicly traded open-source software firm, have lined up in favor of the bond issue, saying the Wake schools are critical to their ability to recruit and retain talent. "We have a ton of young families," said DeLisa Alexander, an executive vice president at the Raleigh-based company. "We need good schools for our kids."
The district deliberately scaled down the bond issue to make it more politically appealing. But that still may not do it. Part of the problem is that the Wake County Commission, which is controlled by the GOP, wants to take control of school construction from the board. It gives Republicans a reason to oppose the bond with the hope that if it fails and the system ends up in dire straits, the political justification will exist to seize control. Cynical? Yes. But par for the course these days in this deeply divided region.
CORRECTION: An earlier version of this story misstated when the issue would come before voters. It is on the ballot for Oct. 8. It also misstated when the school board reverted to Democratic control. That was in 2011.