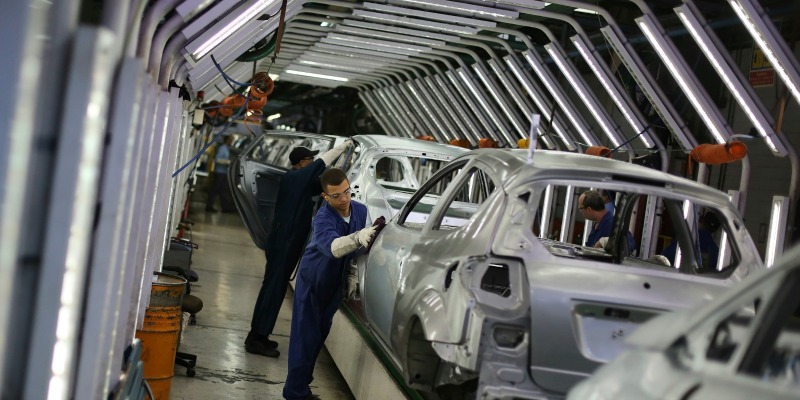 REUTERS
There was a time, not so long ago, when cars supposedly personified the American character. Our aggression, our style, our rugged independence. In the last 30 years, the automobile has faded slightly in the American imagination, but today the car industry does, in fact, explain the American economy.
It is a surprisingly durable, fantastically productive juggernaut, whose success relies on the old, the rich, and foreign trade -- and less on American workers.
***
To begin this story, let's appreciate the big picture. The car economy, a small but mighty sliver of American industry, has been on a roll. Since 2009, car production has nearly doubled, accounting for between 15 and 20 percent of our whole recovery.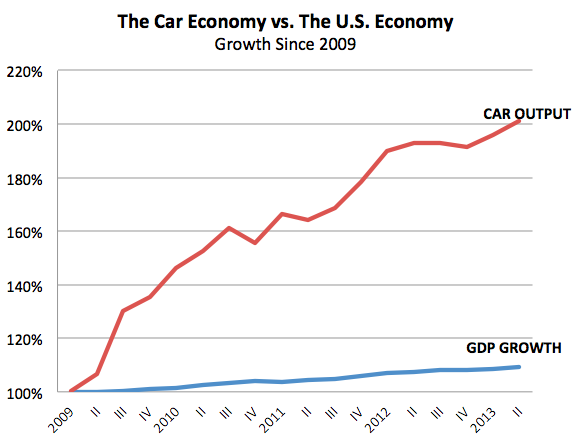 Ford and GM said this past August was the best month for car sales in seven years. JD Power is saying it might be the best month on record. But man cannot live on cars alone, and neither can countries. "We're not big enough to tow the whole boat," Sean McAlinden, chief economist at the Center for Automotive Research, told me. "It's lonely all out there by yourself."
For decades, housing has been the engine the moves recoveries. When people would clean up their debt, they'd swing a house. And, at least since 1950, a house meant a garage, and a garage meant a new car. As Jordan Weissmann has written , cars and houses accounted for more than half of the recovery in the 1970s, a third of the "Reagan Recovery" in the early 1980s, a sixth of the recoveries in the early 1990s and 2000s.