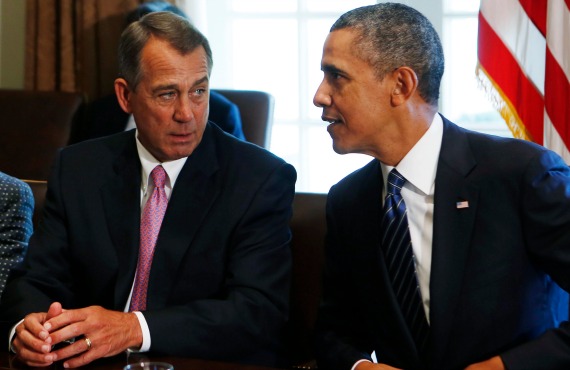 "You know I'm not delaying Obamacare, right?" "You sure? What if we blow up the economy?" (Reuters)
It's what Donald Rumsfeld would call a known unknown.
We know that we don't know what would happen if we don't raise the debt ceiling before we run out of cash to pay all our bills on time. It might "only" crush consumer confidence, send markets cliff-diving, and slow down our already slow recovery -- if not push us back into recession. Or it might be a historic blunder that not only flattens the economy today, but also forever raises our borrowing costs and lowers our standard of living tomorrow. So the stakes are fairly high. We just don't know how high. And that, as my colleague Derek Thompson puts it, is the most terrifying thing of all.
But there are a few things we do know. We do know what will determine whether this is a self-inflicted wound to the foot or to the head. That's whether we outright default on the debt or not. Remember, the debt ceiling doesn't stop us from borrowing more to pay for new spending. It stops us from borrowing more to pay for old spending. And it only stops us from borrowing more, because we say so. See, it's not that lenders don't want to lend to us anymore; after inflation, they're still paying us to borrow for 5 years. No, it's that we've said we won't borrow anymore, just because. It's a self-imposed limit.