Can the Teach for America Model Work Better in College Advising?
This nonprofit places recent graduates in high schools that need help guiding students through the college-admissions process.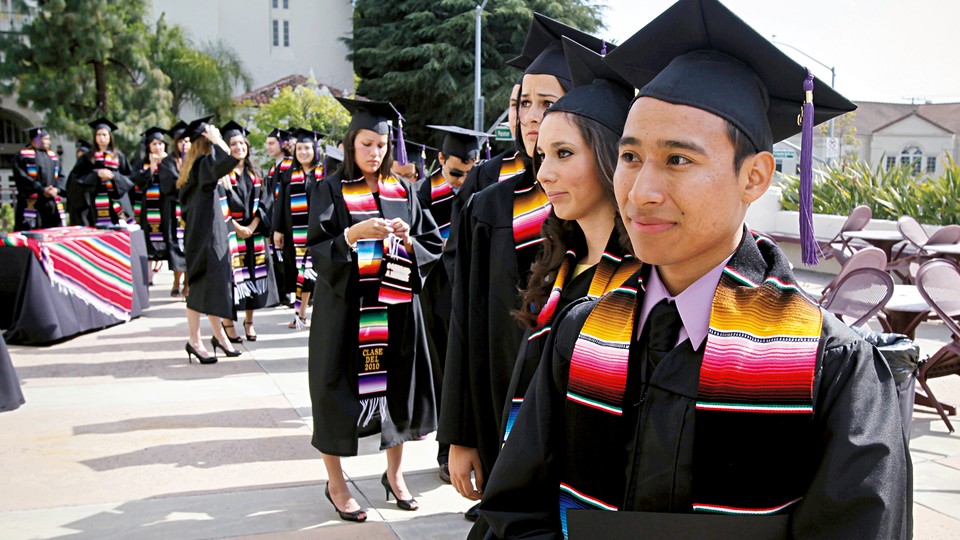 This article is part of a special weeklong series on innovative programs and ideas that are improving American education.
Most teenagers in Erica Elder's hometown of Bassett, Va., don't think they're college material. The county's median household income is $33,600 — about half the Virginia average — and only 11.3 percent of residents have a bachelor's degree or higher.
Elder graduated from the University of Virginia this year, becoming the first in her family to obtain a B.A. She probably wouldn't have applied to UVa, a highly ranked flagship school, without the encouragement of her college adviser in high school. Despite less-than-stellar SAT scores, "he never told me I couldn't go to college," Elder says. "He just gave me hope." This fall, she's heading back to Bassett High to serve, in her mentor's shoes, as a member of the National College Advising Corps.
The college-applications process can be overwhelming for any high school student. But for low-income minority students like Elder with no graduates in their families to guide them, it is often paralyzing. Many such students choose two-year schools by default, or they decide not to go to college at all. The National College Advising Corps gives underserved students better information about their options by placing recent college graduates in high schools across the country to serve as college advisers.
"The people who really got pummeled by this recession were people with a high school degree or less," says Nicole Farmer Hurd, founder and executive director of NCAC. Higher education continues to be a powerful weapon against inequality: Low-income students who earn a four-year degree, reports the Pew Economic Mobility Project, become nearly four times more likely to catapult into the top fifth of earners. Yet low-income students are 30 percent less likely to go directly to college than their wealthier peers, according to the National Center for Education Statistics.
In the early 2000s, when Hurd was dean for undergraduate research and fellowships at UVa, she had an epiphany. "We're sending all these graduates off to Los Angeles to teach or to Ecuador to do water purification," she says. "If we can send them to L.A. and to Ecuador, surely we can keep them here in Virginia to help kids to go to college." A $623,000 grant from the Jack Kent Cooke Foundation in 2004 allowed Hurd to recruit and train 14 college advisers, all UVa seniors about to graduate, and to install them in targeted high schools across the commonwealth in the fall of 2005.
Today, NCAC works with 19 partner institutions and fields 334 advisers in 14 states, reaching more than 116,000 teenagers. Sixty percent of NCAC advisers are first-generation graduates, are minorities, or are from low-income families. They're all younger than 25. Advisers are recruited, trained, and deployed by partner institutions; four years after they partner with NCAC, institutions bear 60 percent of the cost of maintaining their program. NCAC, a nonprofit funded by foundations and grants, provides the remaining 40 percent of necessary funding.
During training, advisers learn about the admissions process from financial-aid and admissions officers on their partner campus who coach them through the steps. They also tour other colleges and universities in the area, allowing advisers to make connections with admissions staff. As well as a stipend, advisers receive a $5,500 grant each year toward paying off their student loans or for graduate school.
Advising Corps members help students decide how they want to continue their education and come up with a list of colleges to apply to. They help seniors get waivers to cover standardized test fees, write admissions essays, and meet deadlines; they help parents fill out financial-aid forms; and they hold classroom presentations to get underclassmen thinking about college options. One corps member in Durham, N.C., changed all the nameplates in school to include the college affiliation of each teacher and administrator to remind teenagers that they were already part of a college-going community.
Corps members live in the communities they serve and work closely with school administrators. Many advisers, like Elder, are natives who know how the local school system works. Hurd tells advisers that they're not on a mission to "save" a struggling school: They're there to listen.
The one-on-one attention from a near-peer resonates with students. In the 2010-11 academic year, students who met with an NCAC adviser were 25 percent more likely to apply to college than their classmates at that school and 34 percent more likely to be accepted into a four-year institution, according to an independent evaluation. First-generation students at NCAC schools were 53 percent more likely to receive a college acceptance letter than students at comparable schools without a NCAC presence.
Preliminary evidence suggests that working with a NCAC adviser also helps underserved students finish college. An evaluation in North Carolina found that students served by NCAC advisers who matriculated into the UNC system had an 88 percent chance of continuing into their sophomore year — higher than the UNC average of 82 percent. Many of the students NCAC works with are used to seeing friends or family members drop out of college. Advising Corps members are living proof to them that it's possible to cross the finish line.
Near-peer college advisers cannot replace guidance counselors, but they can supplement them, says Yolanda Keith, program coordinator of the Carolina College Advising Corps, the NCAC program headquartered at UNC (Chapel Hill). "There's a lot that's put on a counselor's plate," she says, from suicide prevention to helping students register for classes. As a result, counselors are often spread too thin to truly focus on individual students through the college decision and application process. Nationally, the student-counselor ratio at public schools averages 470 to one.
NCAC isn't about to change education disparities overnight. But by giving college-ready students a hand up, it's hoping to foster a college-going culture where none existed before. When, during her training, Elder went back to Bassett High to shadow the adviser currently placed there, she instantly connected with students. "They were really excited, and really glad to listen to me," she says. It was like they were thinking: "If she can go off to college, we can go off to college, because she was one of us."