Maybe we should think about dropping the word "recovery" from our vocabularies, at least for the time being. 
The Census Bureau released its annual report on income, poverty, and health insurance today and it is, by and large, a snapshot of a country in stagnation. As shown on the two graphs below, median incomes didn't budge in a statistically meaningful way from 2011 to 2012. Nor did the poverty rate. About 46.5 million people continue to live beneath the threshold.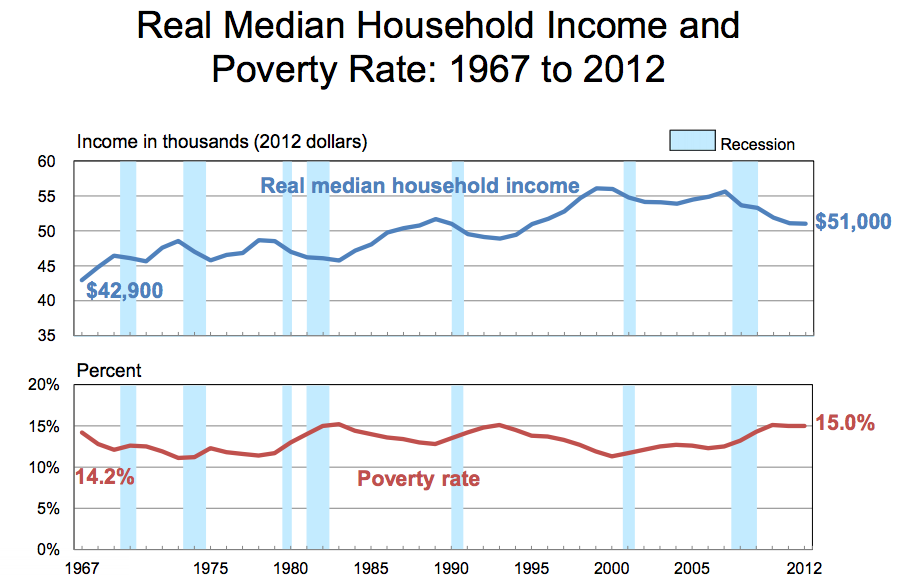 Again, this is a reminder that, for perhaps the majority the country, this has been a recovery in name only. Neil Irwin notes that an American family at the exact middle of the income distribution now earns slightly less than it did in 1989, in inflation adjusted dollars, meaning they've said goodbye to 25 years of economic progress (in fairness, median incomes were at about the same place in 1996). The Economist, meanwhile, gestures to the graph below, which shows that incomes have essentially flatlined or declined slightly for everyone, rich and poor alike, since the dotcom bust. What little rebound we've enjoyed has largely benefitted the top 1 percent of households, who, according to Thomas Pikkety and Emmanuel Saez, have captured 95 percent of all income growth since 2009. But as The Economist notes, even those households aren't earning the way they did 2000. We're in a "lost decade" that, depending where you are in the economy, has now stretched on for at least 12 years.