Young People Are Fleeing TV As a Main Source of News
And yet it's still bigger than newspapers and radio combined.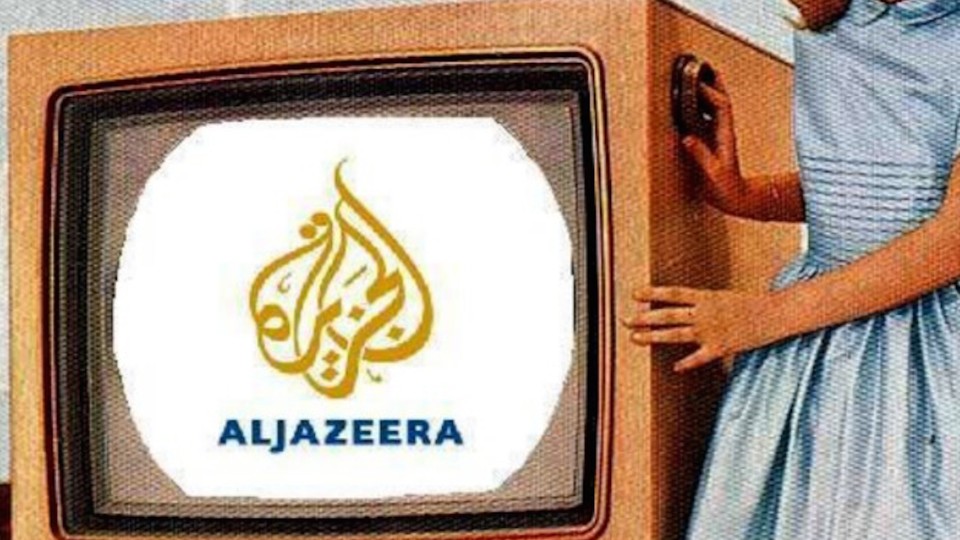 Al Jazeera is making a big bet on cable TV news tomorrow when it launches a new, 24-hour network. Maybe it will find a large audience, and maybe it won't, but one thing you can bet is that it will be very difficult to attract young eyeballs, as television has fallen behind the Internet as twentysomethings' main source of news, according to a recent Pew report. Here are five things Pew tells us about young people and the small screen:
1. Young people are watching much less TV news than they did a decade ago. In 2001, 72 percent of people aged 18 to 29 picked TV as one of their top two sources for news; in 2013, that number dropped to 55 percent. The Internet is now the main source of news for everyone under 50, and it's not just Millennials driving traffic to the web. 2013 was the first time that 30- to 49-year-olds said that they got just as much news from the Internet as they did from TV.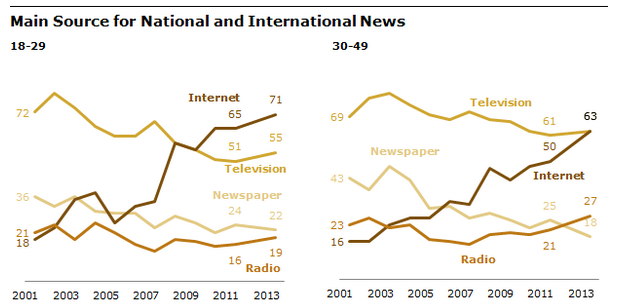 2. They don't sit still for hour-long news binges. Close to 80 percent of people aged 18-29 said they like to check the news in spurts throughout the day instead of tuning in at a regular time, like for the five o'clock news. The people who most regularly sit down to watch long news shows are older. This is especially true for cable news -- half of people over 65 said they watch regularly, compared to less than a quarter of people under 30.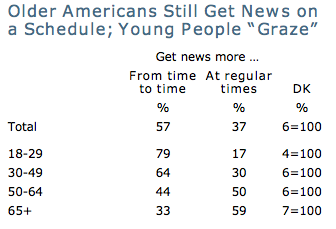 3. They're not watching Hannity. Cable news is particularly known for its "talking heads" business model: Largely partisan show hosts who provide commentary on current affairs or interview guests. But this model isn't drawing younger crowds, apparently; Millennials make up only a tenth of the audiences for Hannity, The O'Reilly Factor, and The Rachel Maddow Show. On the other hand, maybe young people do like talking heads, only more cynical: People aged 18-29 make up about 40 percent of the audience for both The Colbert Report and The Daily Show.
4. They don't believe what they see on cable news. In a 2012 Pew survey, only 45 percent of Millennials said they could believe stories aired on Fox News. 55 percent said they could believe stories on MSNBC, and 63 percent said they could believe stories on CNN. Also interesting: The older the audience, the less they seem to believe. Only 38 percent of people over 65 said they believed stories aired on MSNBC.
5. But in general, Millennials think journalists keep political leaders in check. In 2011, only 56 percent of people aged 18 to 29 believed that press criticism keeps politicians from doing stuff they shouldn't be doing. In 2013, that percentage ballooned to 75 percent. This echoes a trend in the overall public -- since hitting a low point in the late 90s, people's perceptions of media's watchdog role have gone up significantly.