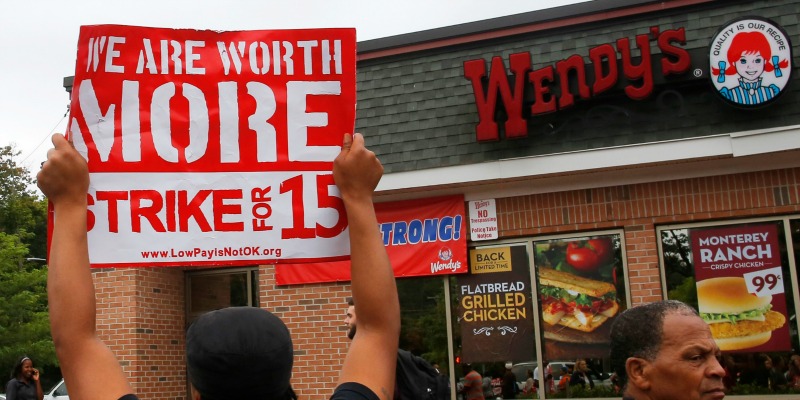 It's amazing when you stand back and think about it. The fastest-growing industry in the world's most powerful economy can scarcely pay its workers enough to live.
No wonder thousands of fast-food workers have gone on strike to protest their measly wages and non-existent benefits, demanding a $15-per-hour minimum wage, which would more than double some of their hourly income. These aren't teenagers, after all. A quarter of fast-food workers are raising a child. Forty percent are older than 25. 
But sympathy and optimism are two separate things. And when it comes to the fast-food worker strikes and dramatically raising wages for food service employees, I'm only feeling the former.
Let's begin by acknowledging that it's still early, you can't rush to measure the success of a national protest movement, and workers have already achieved some small, store-specific victories, "from scheduling changes, to raises, to the restoration of a tip jar."
But let's also be realistic. The strikes would have a much better shot at inspiring a change in franchise- and corporate-level policy if fast-food chains perceived one of two threats: (a) a threat to the steady supply of food-service workers who want to be employed at any wage and (b) a threat from consumers demanding higher wages for their fast-food clerks by not buying burgers and fries at McDonald's.