Why Jeff Bezos Got a Better Deal on The Washington Post Than You Think
Turns out the new mogul won't have to worry much about the newspaper's pesky pension costs. And that means it could be much closer to profitability than most realize.
With his $25.2 billion fortune, Jeff Bezos has enough wealth to backstop losses at The Washington Post for more or less as long as he likes. This, of course, is one of the advantages of going into the media business when you're one of the world's 20 richest humans -- the potential downside barely even registers as a rounding error in your personal finances.
The interesting thing, though, is that that the Amazon founder might not actually have to do much backstopping. For all that's been made of the financial troubles at the Post, the newspaper business Bezos just snapped up for a measly (by his standards) $250 million might actually be closer to profitability than many realize.
For each of the last several years, the Washington Post Company's newspaper division, which included several local dailies and online publications like Slate along with the Post itself, has indeed lost millions. In 2012 alone, the division bled $53.7 million, up from $21.2 million in 2011. But much of those "losses" didn't have much to do with the everyday functioning of the publication. Rather, they were due to the arcane (but important) rules of pension accounting (yes, that's right, there are still a few companies outside the auto industry that provide old-school, defined-benefit pensions). Even though the company's retiree obligations are in fact way overfunded, for various reasons the newspaper division still got dinged with more than $110 million worth of expenses related to them over the past three fiscal years.*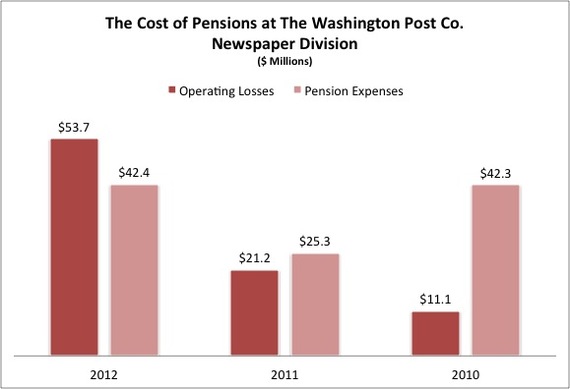 Without those expenses -- many of which may only end up existing on paper -- the newspaper division would have shown a profit in 2011 and 2010, as well as this past quarter.
Now here's the key bit: it looks like Bezos won't have to worry much about those pension costs. Under the terms of the sale, the soon-to-be-renamed Washington Post Co. will hold onto pension obligations for the paper's current retirees, while Bezos will take them on for current workers. But -- and this is a big but -- the Post Co. is also essentially handing Bezos enough cash to cover his end of the bargain. Specifically, the deal calls for them to pay him a sum equal to the current staff's projected retirement benefits, plus $50 million.**
So Bezos just got to buy The Washington Post minus its pension issues. None of this changes the fact that the paper is still dealing with rapidly declining print advertising and needs to find new ways to spin its large digital audience into income (revenues are down 2 percent so far for the year). But its new owner might not have to be concerned about a flood of red ink, either.
____________________________
*For those wondering, some of those expenses have been due to early retirements. I'm guessing that, like other companies with defined benefit pensions, WaPo has probably been struggling with the low interest rates of the past few years, which in turn make future pension obligations more expensive, at least on paper. 
**A couple of outlets have reported that the Post Co. is only paying Bezos $50 million to cover his end of the pension costs. A company spokeswoman, Rima Calderon, told me that was inaccurate and directed me to the sale proposal filed with the SEC. She added: "The agreement described in the LOI (8K filing) is that Mr. Bezos will assume pension obligations for current Post employees. TWPC (seller) will fund those obligations, and contribute an additional $50 million to the pension plan to be set up by buyer for those employees."