The Tragic Trap of Longterm Unemployment
Even if you find a job, it will likely pay far less than you're used to earning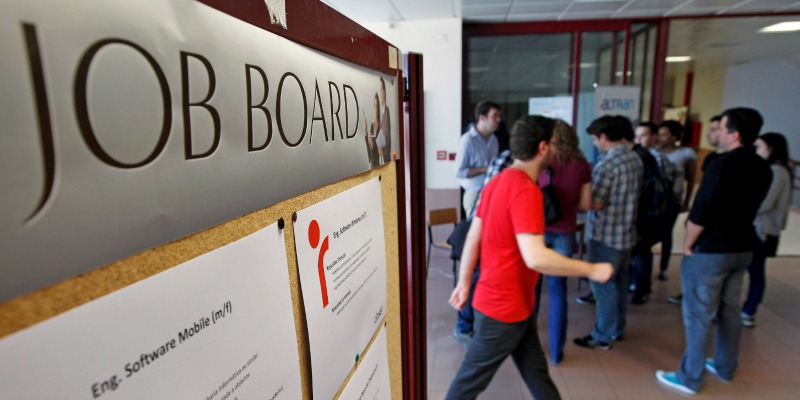 The nightmarish thing about longterm unemployment is that it's self-perpetuating. The more time you're out of work, the less likely employers are to even consider your resume. Because you are unemployed, you stay unemployed.
But if you're lucky enough to stop the cycle and find a job? Well, according to a recent Bureau of Labor Statistics report, there's bad news on that front too. Chances are, you'll take a steep pay cut, compared to your previous salary.
As shown in the chart below, the BLS found that on average, men's wages decline by more than 15 percent in the four years leading up to a spell of longterm unemployment, which is officially defined as a period of joblessness that lasts at least 27 weeks or longer.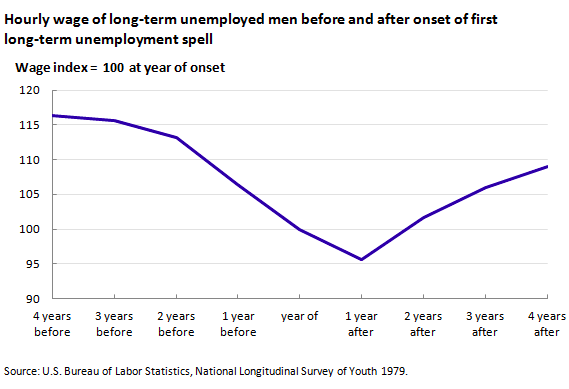 There might be a few reasons for this. Their company could be in financial trouble. Their skill sets might become outdated. Either might lead to a pay cut before eventually ending in a layoff. Once the longterm unemployed do find new work, on average they make 5 percent less per hour than they did the day they were fired.
It seems intuitive why workers would take a pay cut in their new jobs. The BLS found that the first time a man experiences longterm unemployment, it lasts for 55 weeks on average. During that time, skills can atrophy further. Desperation kicks in. What's interesting is that four years later, the average employee still hasn't made it back to their peak wages. The process that leads to longterm unemployment, and the period of joblessness itself, seems to put a lasting dent in their earning power.
The BLS report analyzed data on men who were tracked between 1979 and 2009, from the time they were teens and young adults until middle age (it excluded women because their labor market changed so significantly over that time period). So, while this report incorporates part of the Great Recession, it's more of a historical look at the impact of longterm unemployment. If anything, though, it seems reasonable to suspect that the god awful labor market we've been living with for the last five years has made these effects worse.
And remember, these are the lucky ones.