The Maddening, Unmoving Economic Gap Between Blacks and Whites
Fifty years after Dr. King's speech, unequal educations continue to produce unequal outcomes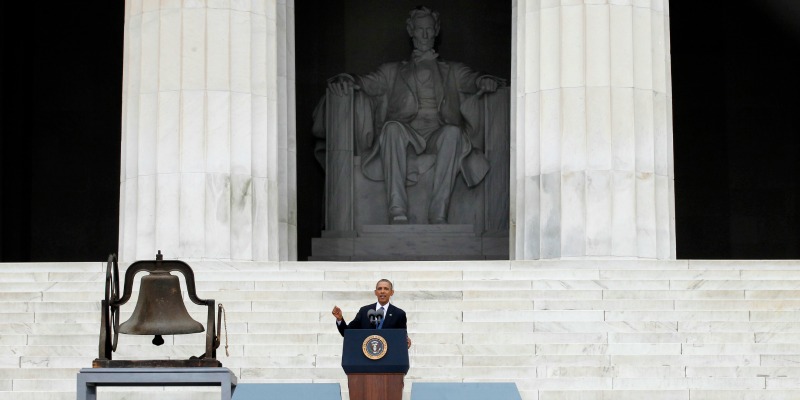 President Obama's powerful address today, on the 50th anniversary of Martin Luther King Jr.'s "I Have a Dream" speech, included a beautiful turn of phrase linking social and economic progress for blacks in America.
"For what does it profit a man, Dr. King would ask, to sit at an integrated lunch counter if he can't afford the meal?" Without equality of economic opportunity,  legal equality can only accomplish so much.
Social and economic progress since King's speech has been slow but spiky. Here's a brief tour.
We'll start with the good. The life-expectancy and high-school completion gap between blacks and whites has shrunk tremendously, according to Pew Research ...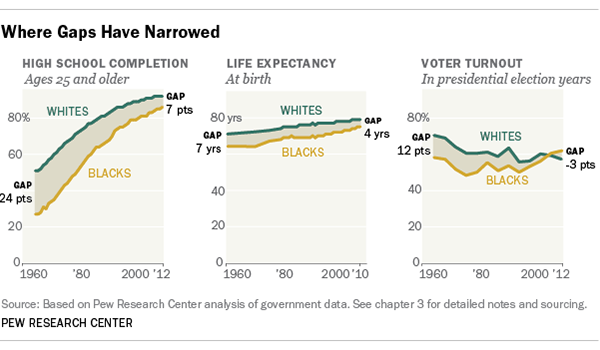 ... while blacks experience the same disadvantage in poverty and homeownership that they witnessed in the 1960s ...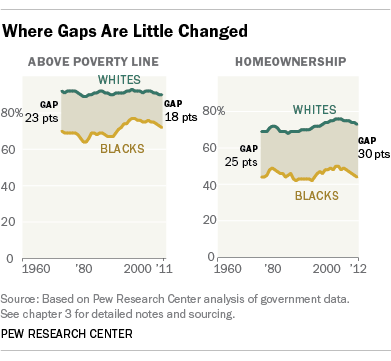 ... meanwhile, in the last half-century, the median income of families with black heads-of-household has grown, but the gap between black families and white families has expanded.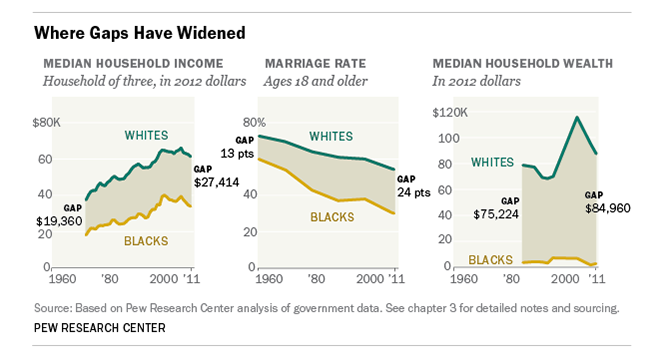 What you don't see in these pictures is the all-important college story, where blacks still lag. "Today, white adults 25 and older are significantly more likely than blacks to have completed at least a bachelor's degree," Pew tells us. On the one hand, the black completion rate as a percentage of the white completion rate has increased from 42% then to 62% now. On the other hand, whites are still far more likely to graduate from a bachelor's program by 25. This college advantage -- reinforced through dual-earner households -- translates into higher family incomes, higher home-ownership, and (as a result) higher wealth for whites. There is a reason why so many discussions of social mobility begin and conclude with education.
For more on this topic, see Brad Plumer's wonderful post on Wonkblog.